FERGUSON, Missouri — A haze of tear gas has wafted through this small, tired town for the past couple of nights. And beyond the scorched earth, shouts of "kill the police" and demands for justice for Michael Brown, there are far deeper troubles.
Brown, an unarmed black teen who was shot and killed by a police officer on Saturday afternoon, lit a fuse that snakes back as long as most here can remember. That fuse is a winding twine of what many black residents in Ferguson -- and the broad patchwork of poor black towns that dot the near suburbs of St. Louis -- say is daily harassment by police and occasional acts of brutality.
RELATED: Eyewitness to Michael Brown shooting recounts his friend's death
The public schools in the area have long been failing. Unemployment and poverty are among the highest in the state. And long and hard-drawn segregation continues to pervade most aspects of life here, even down to the mostly white police forces that patrol this black belt draped beside the big city.
In Ferguson, where about two-thirds of the residents are black, the police force is reportedly about 93% white.
"This incident is just one more step in the road," said Anthony Gray, a family attorney for Brown's family.
But this step sparked something almost alien in this region. For decades dating back to the assassination of Dr. Martin Luther King Jr., folks here just haven't responded with anything more than marches or brief flare-ups of anger and discontent. This time was different, marked by rioting by angry young crowds, some looting and a heavy hand by local law enforcement who've launched tear gas and fired rubber bullets into those same angry crowds.
But what of this incident is markedly different than any of those controversial incidents that came before?
"You've heard of black kids being killed before but it never sparked off like this. This is like being a part of St. Louis history."'
"These youngsters right now, they're mad, they're ready to go to war with the police if they have to," said Gerald Washington, 40, who said he's close to many of the young, disaffected young people in the neighborhood. "Some of them, they're willing to lay down their life for this, for real."
"You've heard of black kids being killed before but it never sparked off like this," he said. "This is like being a part of St. Louis history."
Police say Brown was shot and killed after he shoved an officer and attempted to take the officer's gun, but a number of witnesses have come forward to refute those claims. One witness, Dorian Johnson, told msnbc that the officer shot Brown not long after he demanded that the pair move off the street where they were walking and to  "get the f--- on the sidewalk." He said the officer grabbed Brown's neck from the driver's side of his car and then, as Brown tried to yank away, the officer fired the first of several shots at his friend. Some of those shots, he said, struck Brown in the back as he attempted to flee.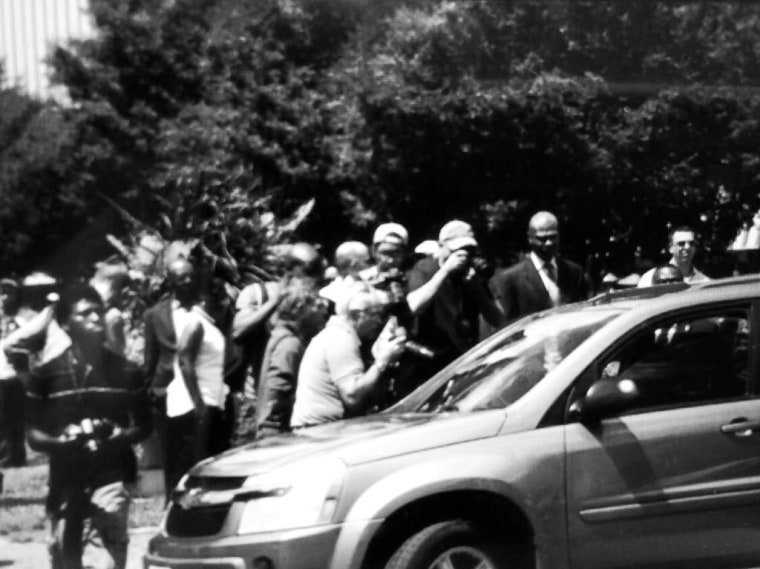 The preliminary results of an autopsy conducted by the medical examiner revealed that Brown's death was the result of gunshot wounds. As yet, however, police will not specify how many times the teen was shot. Full autopsy results including toxicology are expected in the next four weeks.
Meanwhile, local civil rights groups including the NAACP, national civil rights leaders who have descended on the area and attorneys for Brown's family have all called for federal oversight of the investigation. The Ferguson police have turned over the investigation into the shooting to St. Louis County police. 
The Department of Justice said they are keeping a close eye on the case and a DOJ spokesman told msnbc that the FBI, federal civil rights attorneys, and a team from the Community Relations Service are on the ground observing.
On Tuesday, President Obama weighed in:
"The death of Michael Brown is heartbreaking, and Michelle and I send our deepest condolences to his family and his community at this very difficult time," Obama said. "I know the events of the past few days have prompted strong passions, but as details unfold, I urge everyone in Ferguson, Missouri, and across the country, to remember this young man through reflection and understanding. We should comfort each other and talk with one another in a way that heals, not in a way that wounds. Along with our prayers, that's what Michael and his family, and our broader American community, deserve."
RELATED: President Obama calls Michael Brown's death 'heartbreaking'
Calls for peace have been echoed from Brown's family and community leaders. But those calls may be falling on deaf ears, as the gulf between the established and much-older generation of leaders and those taking action in the streets is broad.
"The elders had their time, they did what they had to do for their time. They showed us what we needed to know about boycotts and all that. But now it's time for our generation to stand up for justice," said Frankie Edwards, 24, standing not far from a burned out convenient store, torched and looted during the first wave of rebellion over the weekend. "With Trayvon Martin they let that get away," he said, referring to the unarmed black teen killed in 2010 by a volunteer neighborhood watchman who last summer was acquitted in his death.
"But this ain't Florida, this is St. Louis and we were already having problem. Mike Brown was just the spark of it," he said. "Until they bring jobs down here, get us the schools we need, its going to get shut down. I promise you that."
But not all residents agree that the last few days should be hoisted up as a sign of rising youth. Michael Kyles, in his 30s, said that the rioting and shouts of "Kill the police" do little more than reinforce stereotypical perceptions of the black community here.
"Ain't nobody giving Michael Brown momma money to say, hey look, here's money for a lawyer, let's stand up with you, lets hold your hand, let's get on our knees and pray," Kyles said, just below a yell. "But you want to walk around with your hands up. Many of the people that's walking around with their hands up now are the same people that vandalized our community. Now, you tell me how I'm supposed to feel when my kids gotta walk through all this mayhem, through all this mess."
"Am I angry? Yes, I'm angry. Am I angry at what's happened? Yes. But I'm angry at my people. My people," he said.
But Kyles also aimed his anger at local and national officials now absorbing the spotlight in the shadow of Brown's death.
"We got politicians out here, the same politicians ain't giving it to these schools, ain't given no computers to our schools, out here making recognition for themselves like they really fighting for justice," he said. "No justice no peace? For real, they're making a mockery of our community."
Related: Follow Trymaine Lee's reporting on the ground in Ferguson