Back in April, I sent a letter to Tennessee Gov. Bill Haslam, urging him to to veto SB 13-91, a bill that would criminalize women who use drugs while pregnant.
I argued that doing so would put women and their infants in danger by discouraging pregnant women from seeking medical treatment for substance abuse -- and possibly avoid prenatal care altogether.
Well, the governor signed it anyway. And it went into effect July 1.
And on Tuesday, the first arrest was made.
And that's why my letter this week is again to Tennessee Gov. Bill Haslam.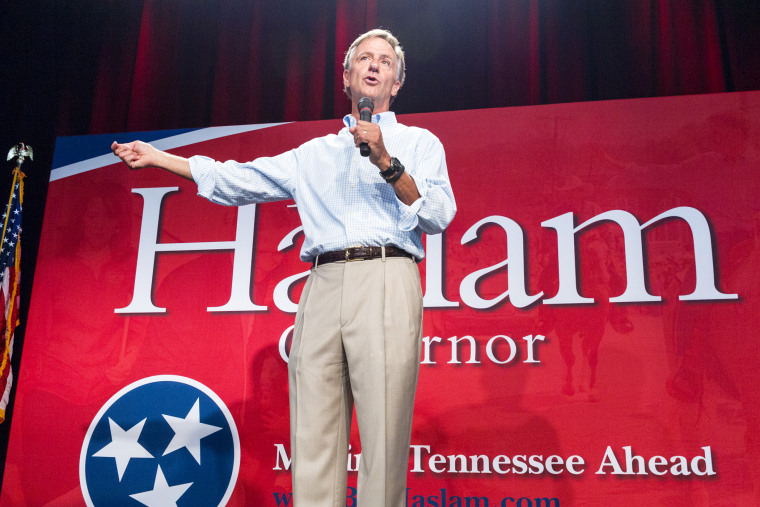 Dear Governor,
It's me. Melissa.
This is Mallory Loyola. She's 26 years old.
On Sunday, she gave birth. On Tuesday, as she was being discharged from the hospital, deputies from the Monroe County Sheriff's Office arrested her and took her to jail.
She's still in jail, unable to post a $2,000 bond. She's there without her baby. Her daughter is less than a week old.
Governor, this woman was arrested and charged with assault under the law you signed at the end of April, because she, and her baby, tested positive for methamphetamine.
The law makes this a crime. Specifically:
 "the illegal use of a narcotic drug while pregnant, if her child is born addicted to or harmed by the narcotic drug."
We don't know that the baby showed signs of physical harm. All we know is that the baby tested positive for meth, triggering a call to the Department of Children's Services, which called the sheriff.
Let me be very clear. I am not advocating for pregnant women to use methamphetamines or any other illegal drug, or to abuse prescription drugs. Absolutely not. The same way I would never suggest women should smoke or drink while they are pregnant -- legal drug use that can cause just as much harm, if not more, to newborns.
Drinking alcohol while pregnant can cause serious birth defects and lifelong developmental and behavioral problems. Smoking while pregnant increases the risk of pre-term birth and sudden infant death syndrome. Babies born to mothers who smoke are more likely to develop asthma.
Tennessee has not made illegal the use of alcohol or cigarettes by pregnant women -- nor should it -- even though more pregnant women drink and smoke than do illicit drugs.
About 6% of pregnant women use illicit drugs. Nine percent drink alcohol. And one in six pregnant women -- 16% of them -- smoke cigarettes while pregnant.
We have to treat these things the same way -- and that means treatment over imprisonment. We already get help for the pregnant smokers and the drinkers. We urge them to quit. Tennessee even had a special program to help pregnant women and mothers quit smoking -- administered, smartly, through the WIC program.
That is how we should treat the use of illegal drugs -- by getting women help instead of putting them in jail.
Look, governor, I know Tennessee has a major problem with babies born with drug dependency. But this law creates another problem -- the real and lasting harm caused by separating a mother from her infant child.
"... this law creates another problem -- the real and lasting harm caused by separating a mother from her infant child."'
Study after study has found that separating an infant from her mother can lead to lifelong mental health and emotional problems, including aggression, anxiety and an inability to deal with stress. Being separated from your mother changes the very way your brain develops.
Drug abuse is a problem in Tennessee, but the solution cannot be putting a woman in jail two days after she gave birth. The solution cannot be separating her from her newborn child and keeping them separated just because she can't post bail.
What could possibly be the point of keeping a woman from her baby?
Let's go back to what you said when you signed this bill into law -- that the point is, in your words, quote:
"The intent of this bill is to give law enforcement and district attorneys a tool to address illicit drug use among pregnant women through treatment programs."  
Well, that's just not what happened for Mallory. What happened was a new mother was arrested as she was being discharged from the hospital with her two-day-old baby.
That is what this law does. And that is what it will continue to do. And, governor, it is your signature on the law that is allowing it to happen.
Sincerely,
Melissa.