The numbers are in. The People's Climate March brought out more than 300,000 people Sunday in New York City, according to organizers, making it the largest climate demonstration in history. Ahead of the United Nations Climate summit Tuesday, demonstrators came from all over the world to demand global leaders take meaningful action on climate change.
Some notable attendees included Minnesota Democratic Rep. Keith Ellison, Vermont Democratic Sen. Bernie Sanders, former Vice President Al Gore and actors Mark Ruffalo and Leonardo DiCaprio. But among the big names and political heavy-hitters were diverse demonstrators coming together to represent all the different stakeholders in the fight for climate justice. And while their reasons for demanding action on climate change may differ, they all made it clear they want political leaders who are ready to #WalktheWalk when it comes to addressing climate change.
Meet just a few of the new faces of the fight for environmental justice: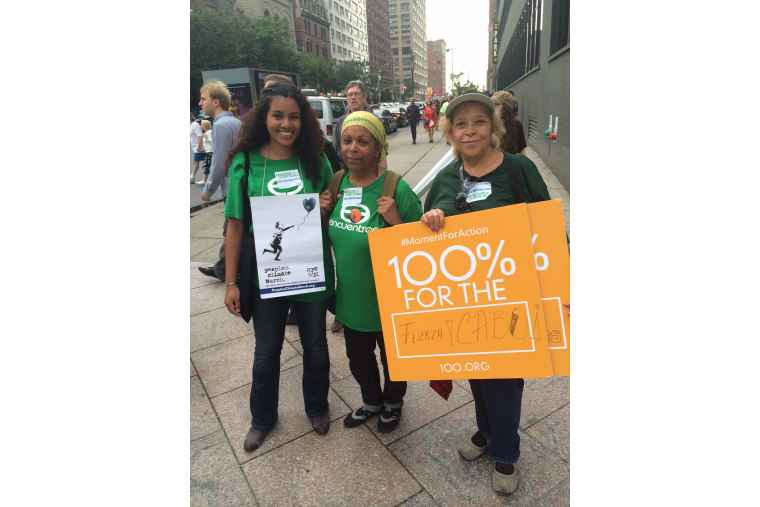 Joanna Martínez and her daughter live in New York. Martínez, right, said they came to the People's Climate March to raise awareness about the ways climate change can impact health, saying, "We come from the Bronx. The Bronx has one of the highest rates of asthma in New York. We know that the way we treat the earth has a lot to do with that."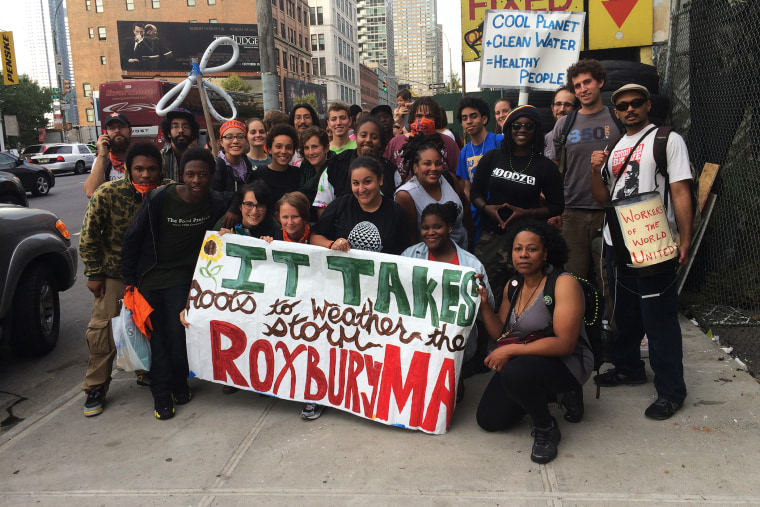 A Roxbury, Mass.-based organization called Alternatives for Community and Environment (ACE) chartered six buses to bring together young people from a diverse group of activist organizations to attend the march. On its website, ACE says the group's goal is to build "the power of communities of color and low-income communities in Massachusetts to eradicate environmental racism and classism, create healthy, sustainable communities, and achieve environmental justice."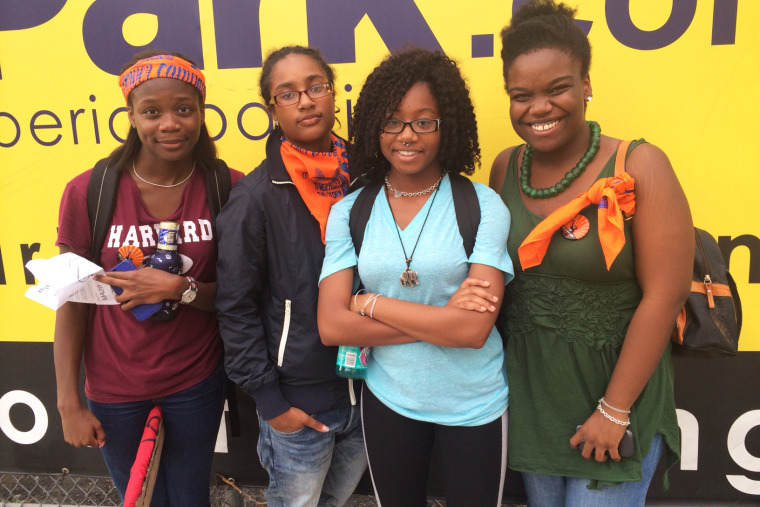 These young people came from Boston to attend the march. Sydney Frederick, far left, said she felt like attending the march was one of the "most impactful things" she could be doing about climate change. Asha Carter, far right, agreed, adding "it's important that the people most impacted by systemic issues like climate change, low income people and people of color, are at the forefront of making these changes."
Similarly, Aiden Holiday, second from the right, added, "I'm here because my people are here."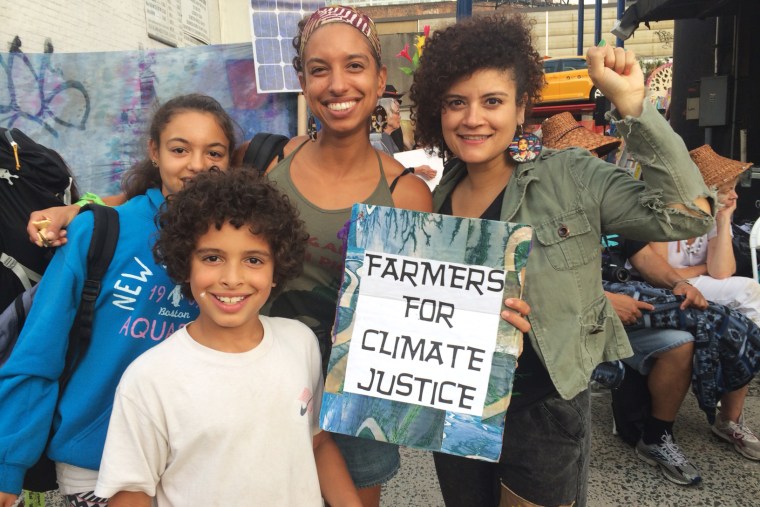 Leah Penniman, center,  came to the march from Grafton, New York. She works at Soul Fire Farm, which calls itself "a family farm committed to the dismantling of oppressive structures that misguide our food system." Penniman says climate change is particularly concerning because she's a farmer. "As farmers, we really rely on the seasons being predictable. We produce food for low-income people in food desert neighborhoods. When we had the hurricanes and then the flooding and then the drought and then the warm weather … it had a huge impact on our ability to get food to people." She also thought it was important to attend the march as a Haitian-American, saying, "We're island people. Island nations are at a huge risk for sea level rise and thermal expansion. I want to protect our coastal communities."
"I'm here because I want my kids to inherent a beautiful earth that's livable," she added.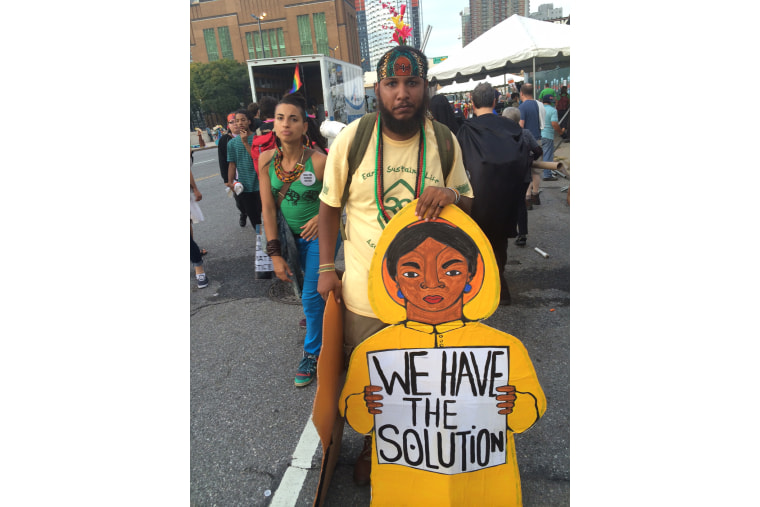 Julien A. Terrell is an advocate for environmental justice from Harlem, New York. He works as an organizer for Brotherhood and Sister Sol, an organization that  provides mentoring and "comprehensive, holistic and long-term support services" for young people. Terell says he attended the march as  "an ally to young people."
"They need to understand that we've been waiting for a long time for our solutions to be heard," he says. "I think the march really represented a lot of people bringing their stories together and showing that not only do we have the solutions in our own neighborhoods, but when we come together the power of those solutions are undeniable."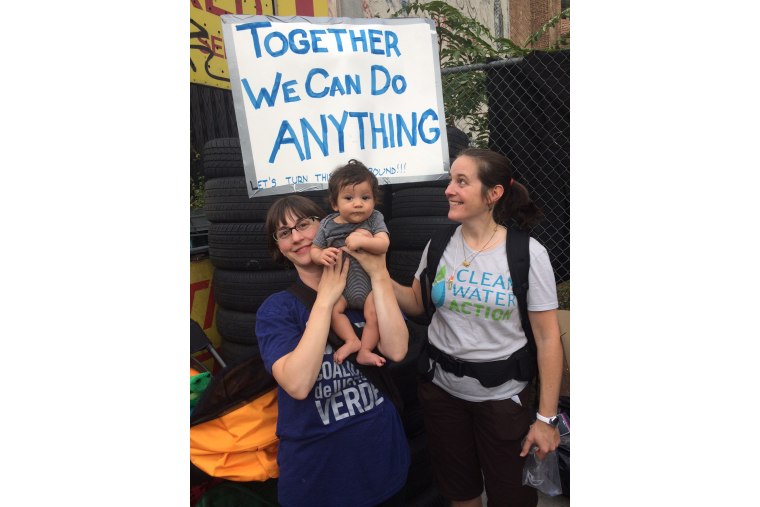 Becky Smith, left, and Elizabeth Saunders, right, work for Clean Water Action, an organization that uses grassroots organizing and mobilization to protect America's water. They said they came to the march because they want to "protect the planet" for baby Lula Pearl.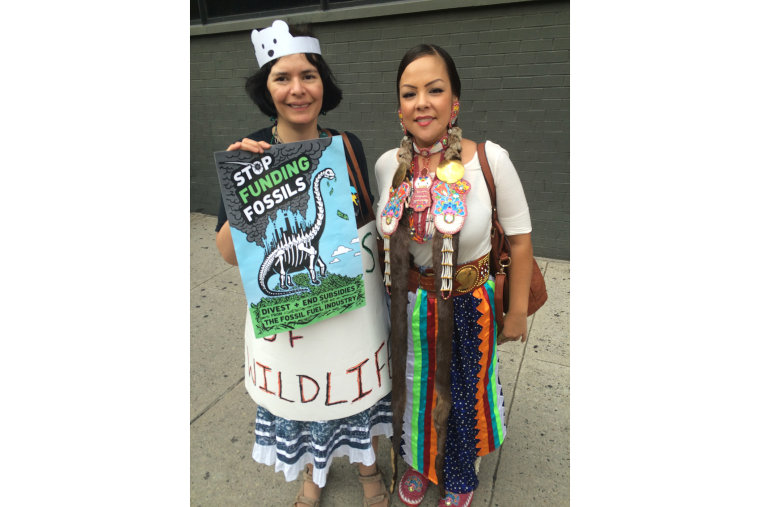 Crystal Lameman , right, is a member of the Beaver Lake Cree Nation from Northern Alberta. She said she came to the march to "send a clear message that this is everybody's problem. This is no longer an Indian problem. If you breath air and drink water, this is about you."