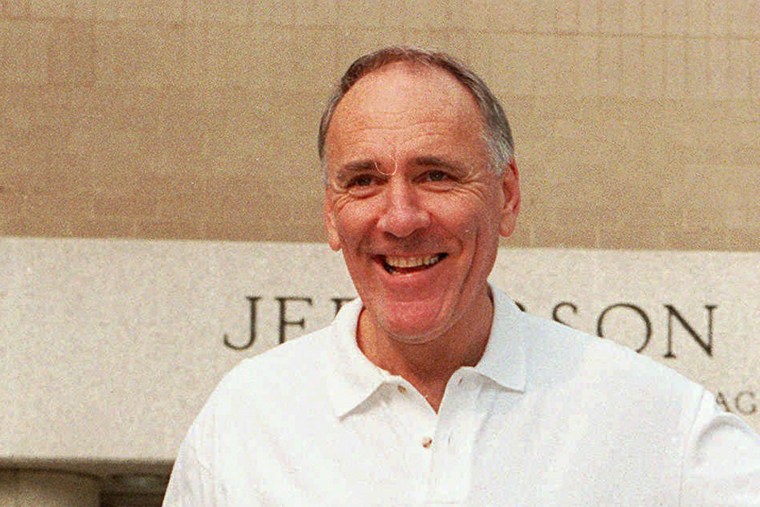 An Alabama mayor said Sunday he was violently beaten with a sawed-off baseball bat outside his part-time barbershop job by his former radio talk show co-host.
Larry Barton, who is about to run for his fifth term as mayor of Talladega — and who was re-elected in 2011 after serving prison time for fraud — told NBC News from his hospital room at the University of Alabama that the attack began around 7:30 a.m. (8:30 a.m. ET) Saturday in the parking lot of Cahaba Heights Plaza Barber Shop in Vestavia Hills.
"Before I could do anything, he jerked the door open and he started hitting me," said Barton, 75. The man was wearing a trench coat and a hood, and Barton said he repeatedly hit him in his face, legs and knees.
Barton said that he eventually grabbed the bat and held on to it, then kicked the man twice in the groin.
"Finally, I got the hood off of him," Barton said. "That's when I recognized who he was."
Barton identified his assailant as Benny Green, who he said he's known for more than a decade and who was a co-host on Barton's current events show, "In the Interest of the People," until a few years ago.
"If I hadn't been successful getting him off of me, he would've killed me," Barton said.
Police declined to identify either man, but they said that the victim was transported to the hospital with serious injuries, while the assailant was taken to the city jail. They told NBC station WVTM of Birmingham that the suspect would likely be charged Monday.
Lt. Brian Gilham described the attack as "obviously premeditated."
"He planned to do this," Gilham said.
Barton said that he didn't know why Green would attack him, but The Birmingham News reported that it could have been over an alleged sex tape.
"Barton was caught on hidden video having sex with Green's wife," a former divorce lawyer for Green said, according to the newspaper.
Barton, however, told NBC News that he didn't know anything about a sex tape. "I don't know what they're talking about," he said.
Barton said he didn't suffer any permanent injuries — "a lot of "licks in the head," he said — and he hoped to go home Monday.
This article originally appeared on NBCNews.com.