Two senior members of Gov. Chris Christie's administration warned a New Jersey mayor earlier this year that her town would be starved of hurricane relief money unless she approved a lucrative redevelopment plan favored by the governor, according to the mayor and emails and personal notes she shared with msnbc.
The mayor, Dawn Zimmer, hasn't approved the project, but she did request $127 million in hurricane relief for her city of Hoboken -- 80% of which was underwater after Sandy hit in October 2012. What she got was $142,000 to defray the cost of a single back-up generator plus an additional $200,000 in recovery grants. 
In an exclusive interview, Zimmer broke her silence and named Lt. Gov. Kim Guadagno and Richard Constable, Christie's community affairs commissioner, as the two officials who delivered messages on behalf of a governor she had long supported.
"The bottom line is, it's not fair for the governor to hold Sandy funds hostage for the City of Hoboken because he wants me to give back to one private developer," she said Saturday on UP w/ Steve Kornacki. "... I know it's very complicated for the public to really understand all of this, but I have a legal obligation to follow the law, to bring balanced development to Hoboken."
Constable and Christie -- through spokespersons -- deny Zimmer's claims.
"Mayor Zimmer has been effusive in her public praise of the Governor's Office and the assistance we've provided in terms of economic development and Sandy aid," Christie spokesman Michael Drewniak wrote in a statement.  "What or who is driving her only now to say such outlandishly false things is anyone's guess."
Christie's office later issued a second statement attacking MSNBC. "MSNBC is a partisan network that has been openly hostile to Governor Christie and almost gleeful in their efforts attacking him, even taking the unprecedented step of producing and airing a nearly three-minute attack ad against him this week," spokesman Colin Reed said.
Zimmer's statements and documentation suggest that Christie's administration -- hailed for what seemed like a heroic response to Hurricane Sandy -- in fact refused to help some of the neediest.
"I'd be more than willing to testify under oath and -- and answer any questions and provide any documents, take a lie detector test," Zimmer said, referring to the Christie administration's denials. "And, you know, my question back to them is, 'Would all of you? Would all of you be willing do that same thing, to testify under oath, to take a lie detector test?'"
Zimmer's interview comes on the heels of a scandal in which other members of Christie's inner circle conspired to create huge traffic swells, possibly in an act of political retribution, on another New Jersey town on the outskirts of Manhattan.
Christie, who sailed to re-election last year and has made no secret of his presidential ambitions, has denied any knowledge of the plot that shut down lanes at the foot of the George Washington Bridge, one of the most heavily trafficked in the country. His office and several former senior aides are currently the subject of a number of federal and state inquiries into what has become known as "Bridge-gate."
RELATED: Who's who on the 'Bridge-gate' subpoena list
In this account -- supported by email, public records and Zimmer's own diary entries -- Christie's inner circle was willing to cut off devastated constituents, muscle a friendly mayor and arrange public funds to finance a study for a project the governor supported.In a news conference last week, Christie rejected the notion that his administration engages in retribution or seeks political payback. Zimmer's account paints a different portrait.
Zimmer claims they leaned on her twice to get their way. By the second encounter, Zimmer said -- this time with Constable -- the 45-year-old mayor and mother of two young children was despondent, according to her own notes.
"I was emotional about governor Christie," she wrote in a diary entry she provided that is dated May 17, 2013. "I thought he was honest. I thought he was moral. I thought he was something very different. This week I found out he's cut from the same corrupt cloth that I have been fighting for the last four years."
New Jersey Democratic Rep. Frank Pallone told UP Saturday that Zimmer's accusations suggest an "abuse of power" by the Christie administration. "This is something that the U.S. attorney should be looking at, and has to be further investigated," he said. 
Zimmer and Christie
Among the great ironies in the latest claims about the New Jersey governor is that without Christie, Zimmer would not likely have become the mayor of Hoboken.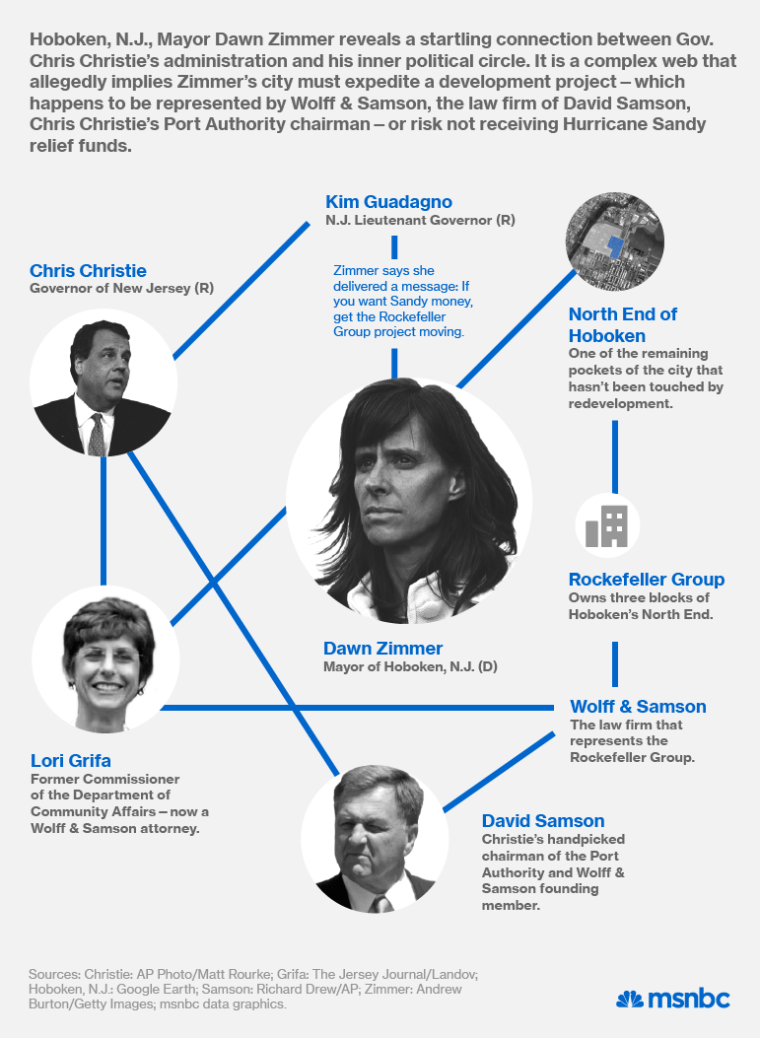 What pole-vaulted her to the Mayor's Office was a corruption scandal five years ago that enveloped a number of New Jersey politicians, including Zimmer's predecessor. The investigation, which netted high profile convictions, was launched by the U.S. Attorney's office then led by Christie. By the time of the arrests in 2009, Christie had already resigned from office to run for governor. But it helped boost his image as tough on corruption and crime.
For Zimmer, it was a welcome sign for New Jersey's future and while she is a Democrat, she became a Christie supporter.  
Swept into office from the city council, Zimmer inherited preliminary plans for a redevelopment project supported by the previous mayor.
The deal, as envisioned in 2008, would have awarded the Rockefeller Group -- a New York developer -- the right to redevelop a stretch of Hoboken. The project would have been eligible for tax incentives and it would have given the Rockefeller Group a much freer hand to build whatever they wanted while asking for millions in subsidies. If done right, it would have been an immensely lucrative deal in a town that has become a hip bedroom community of Manhattan. 
Zimmer wasn't against the deal but she wanted a professional study done on the projected development. The problem was that Hoboken's finances were in disarray and she wanted to wait until the community was on sounder footing before spending the money for a study.
Zimmer told the Rockefeller Group they'd have to follow the same process as everybody else. That process couldn't start until the city had enough money to pay professionals -- planners and engineers -- to study the issue.
The sides were at an impasse: the Rockefeller Group had big plans for hugely valuable land but Zimmer wasn't moving forward on it yet.
The dispute became public and that's when the Christie administration came in. Lori Grifa, who in 2010 served as Christie's first community affairs commissioner, went to Hoboken that June and told Zimmer the administration might be able to help track down a source to pay for the study.
Soon enough, the Christie administration connected Zimmer to the Port Authority -- the same jointly run New Jersey-New York agency that operates the George Washington Bridge, and is littered, on the New Jersey side, with Christie's political appointees.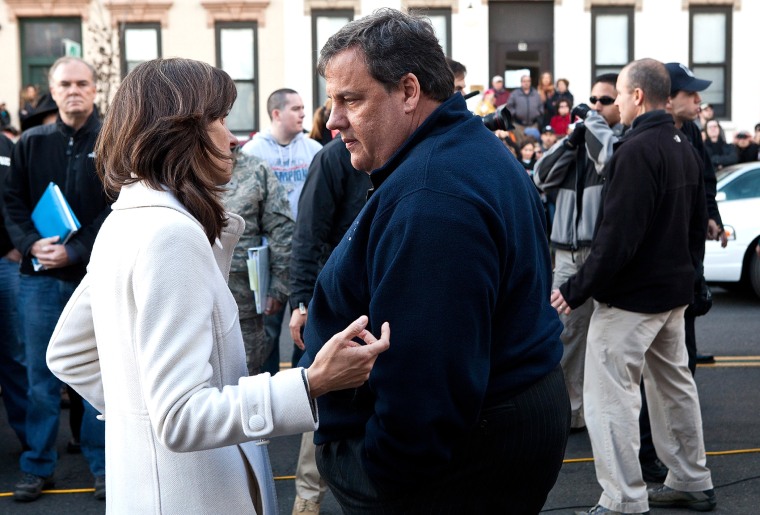 On Dec. 28, 2010, the Port Authority approved a $75,000 grant for the study but there was a catch. The Port Authority alone would choose the firm that conducted the study. In February 2011, it selected Clarke Caton Hintz -- a reputable firm -- to carry out the redevelopment study. It took a long time: the rest of 2011 and all through 2012, with Hurricane Sandy slowing things down.
Finally, in January 2013, the firm -- which was tasked with evaluating a 19-block area -- concluded that only the three blocks in which the Rockefeller Group had an ownership stake were fit for redevelopment.
Zimmer's team was concerned. The landowners for the other 16 blocks were angry. They hired a lawyer who called the study "curious, disturbing and suspect to the say the least." 
The Rockefeller Group had its own representation -- Wolff & Samson -- the most powerful, politically connected law firm in all of New Jersey. It's heavily involved in development deals and it's known for its close, intimate ties to the Christie administration. It is the firm of David Samson, the chairman of the Port Authority, the former attorney general of New Jersey, and a Christie appointee who's coming under increasing scrutiny in the Bridge-gate scandal.
The firm is also now the professional home of Lori Grifa, the former Christie aide who now lobbies on behalf of the Rockefeller Group.
"Our client, The Rockefeller Group, has specifically asked us to speak with you regarding its property in Hoboken," Grifa emailed an attorney employed by Hoboken in early 2012.
Over many months, Grifa kept up the heat on Hoboken, with calls and email pressing for a decision on the project.
By April 5, 2013, Joe Marazati, the Hoboken lawyer, wrote to Zimmer's director of community development. "I am getting the full court press on this," Marazati wrote in an email. "I have a voice mail from last night from Lori asking that I join a call this am with Lori and Dave Samson (chair of the PA) or suggest another time."
Email obtained by msnbc shows a raft of exchanges between the town of Hoboken and the law firm until May 8 when the Hoboken Planning Board voted 4-3 against the project, finding "insufficient evidence" to designate those three blocks for redevelopment.
Instead, the board declared the entire 19 block area "in need of rehabilitation." The designation didn't make it impossible for the Rockefeller Group to get what it wanted but it was a strong signal that Zimmer's team wasn't going to roll over for them.
In a statement to msnbc, a spokesman for the Rockefeller Group said: "We have no knowledge of any information pertaining to this allegation.  If it turns out to be true it would be deplorable."
Sandy Aid
At the same time that the planning board voted against the study, Zimmer was applying for funding from the Hazard Mitigation Grant Program, a huge vault of money overseen by Christie to help communities hit hard by Sandy prepare themselves for the next storm.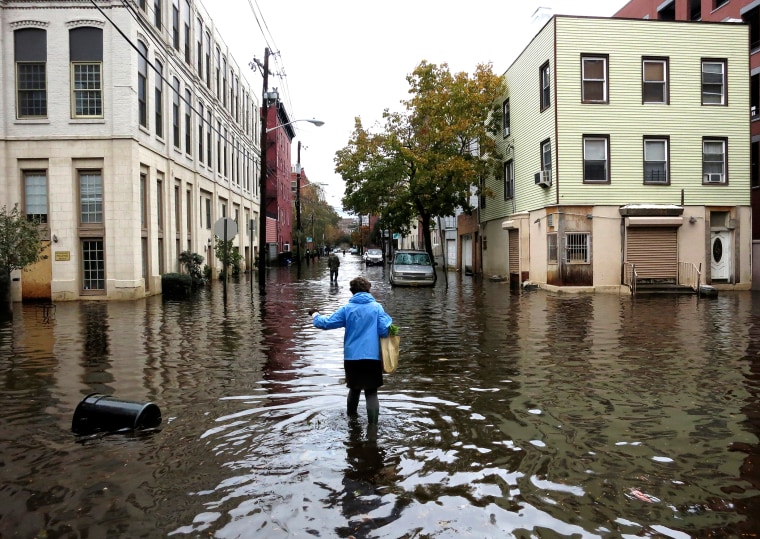 After Sandy hit, in Hoboken's darkest hour, Christie came to town and told residents they could count on him.
"I spoke to the mayor this morning, and I told her Hoboken is in the front of my mind, and whenever there's any assistance that's needed here, I'll be here to help. 
Christie's people came back with less than 1% of what Hoboken had sought. With $250 million to disburse statewide, just $142,000 went to Hoboken -- enough to help defray the cost of one backup generator to power a flood pump. Out of another pool of money for recovery grants -- $1.8 billion in all -- Hoboken received $200,000.Hoboken is perched above the mouth of the Hudson River, directly across from lower Manhattan. Following Christie's visit, city officials submitted seven letters of intent for around $100 million in funds from programs the state was now running. Among the requests were money for storm surge coastal protection, money to buy properties to be used as open space and money for backup generators.
"Please governor," Zimmer wrote in a letter following the decisions, "we need your help. I have tried to assure Hoboken residents that we would be treated fairly because you have always treated Hoboken fairly in the past."
There was no response to that letter, dated May 8 of last year, the same day the Hoboken Planning Board did not adopt the redevelopment recommendation for the Rockefeller property.
Two days later, Zimmer got a call from the Lieutenant Governor, Kim Guadagno, who wanted to come to town to do an event at a ShopRite to spotlight businesses that had recovered from the storm.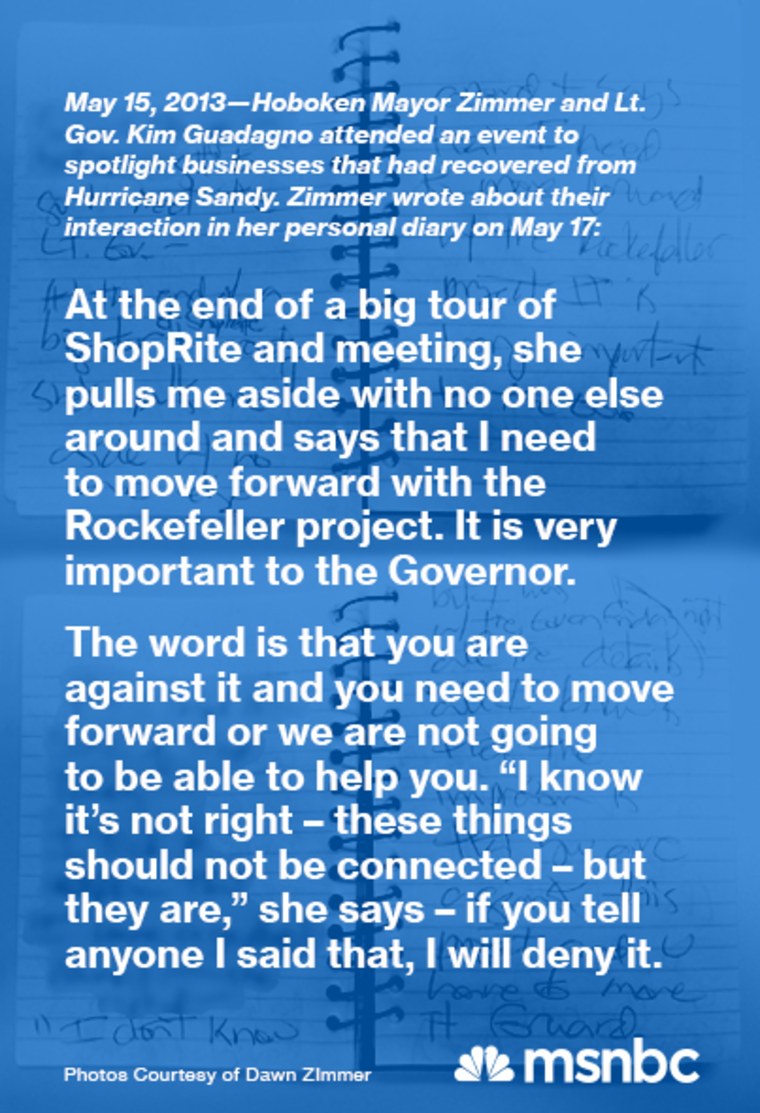 On May 13, Guadagno and Zimmer met at the Hoboken ShopRite. That is where, Zimmer said, Guadagno delivered the first message about the relief aide.
Zimmer shared this diary entry which she said she wrote later that day. "At the end of a big tour of ShopRite and meeting, she pulls me aside with no one else around and says that I need to move forward with the Rockefeller project. It is very important to the governor. The word is that you are against it and you need to move forward or we are not going to be able to help you. I know it's not right -- these things should not be connected -- but they are, she says, and if you tell anyone, I will deny it."
The second warning, according to Zimmer, came four days later. She and Constable, who now led Christie's department of community affairs, were seated together on stage for a for a NJTV public television special on Sandy Recovery.
Again, Zimmer provided this diary entry from May 17, which she said captured the incident.
"We are mic'ed up with other panelists all around us and probably the sound team is listening. And he says "I hear you are against the Rockefeller project". I reply "I am not against the Rockefeller project; in fact I want more commercial development in Hoboken." "Oh really? Everyone in the State House believes you are against it -- the buzz is that you are against it. If you move that forward, the money would start flowing to you" he tells me.
Lisa M. Ryan, spokeswoman for Constable, said in a statement: "Mayor Zimmer's allegation that on May 16, 2013, Commissioner Constable conditioned Hoboken's receipt of Sandy aid on her moving forward with a development project is categorically false."
Publicly, Zimmer has not spoken out against either Constable or Christie and the governor's office was quick to point to two supportive tweets she wrote about the governor.
In the diary entry she shared, Zimmer concluded with these lines:
"My beloved governor who wants to run for President. I cannot understand it. Why is he so concerned about Rockfeller? What has he promised them? What have they promised him? I cannot figure it out but I have no option but to stand up to him."
Dafna Linzer and Jack Bohrer contributed to this report.