A year and a half ago, it was 200 striking workers in a single city. As of this week, it's a global movement.
On Thursday, thousands of fast food workers across the United States initiated the latest in a series of day-long strikes against their employers. As with every successive strike, this one was the largest yet, encompassing workers and fast food restaurants in 150 American cities.
But that's not the only thing that made this strike different. Thursday was also the day that the movement became truly international, as workers in 33 different countries rallied in support of the American strikers.
The American fast food workers are demanding a $15 industry-wide wage floor and the right to form a union. Walkouts took place in every region of the country, including the South, where labor organizing is notoriously difficult. Major cities such as Philadelphia and Miami had their first-ever fast food strikes, as workers across six continents rallied in support. The solidarity protests occurred in countries as diverse as Germany, India, New Zealand, Malawi and Brazil.
The strike in New York City, which kicked off at 6:30 a.m., was Sabrina Storey's first. A part-time KFC employee, she decided to join the movement in part because she said she doesn't get paid enough to move out of her current residence, a homeless shelter.
"Right now, $15 would do me a whole lot better than $8, living-wise," she said. "I wouldn't have to worry about food or going to the city to get them to help me. I would just be able to do the necessary things I need to do for me as a woman and not have to depend on someone else."
Yum! Brands, parent company of KFC, was not immediately available for comment.
McDonald's has previously claimed that the strikes were actually astroturf "rallies" organized by outside groups. But on May 15, the day of the global protests, the statement making that claim was gone from the McDonald's corporate website.
In its place was a statement from McDonald's global spokesperson Heidi Barker Sa Shekhem on the day's rallies, saying that the company "respects our employees' right to voice their opinions and to protest lawfully and peacefully."
"We value our employees' well-being and the contributions they make to our restaurants, and thank them for what they do each and every day," she said. "Our restaurants remain open today and every day thanks to the dedicated employees serving our customers. We respect the right of employees to choose whether or not they want to unionize."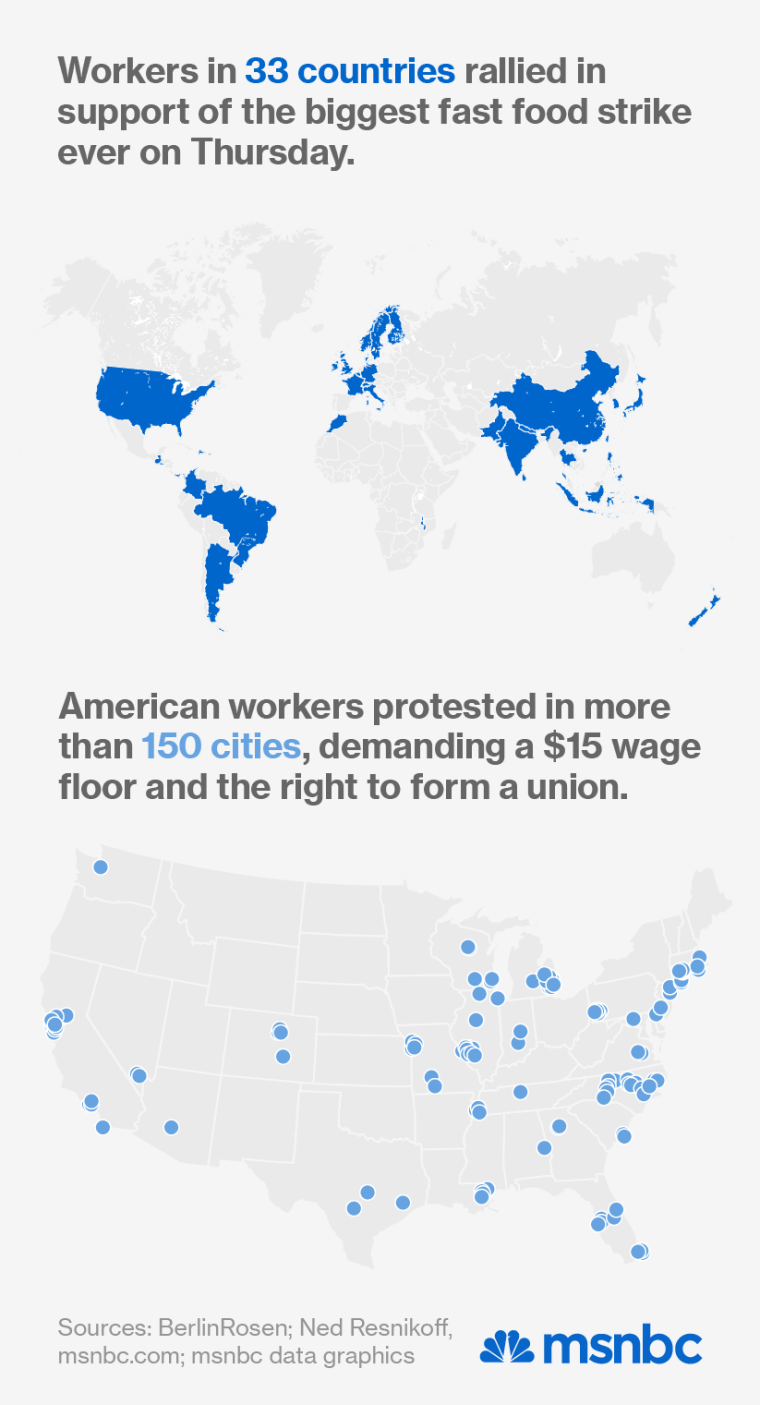 Liz Rene, another striker based out of New York, started working at McDonald's when she was 16. She said she initially had high hopes for the job, until she noticed that "the work ethic didn't even match the pay." The May 15 strike was her third such rally.
"My heart was palpitating out of my chest" during her first strike, she said. "I didn't know what to expect, because I didn't think they were going to protect me afterwards. I didn't know if my manager was going to fire me the following the day."
But she returned to work with the backing of the striking workers -- "came in with the union," in her words -- and didn't experience any retaliation.
As the movement has grown, more elected officials and high-profile activists have rushed to associate themselves with the strikers. Members of the Congressional Progressive Caucus joined picket lines in their own districts, as did various state and local officials.
"Where Congress is failing to take action to address inequality, these workers are leading the way," said Rep. Keith Ellison, D-Minn., co-chair of the Progressive Caucus and an early supporter of the strikers, in a statement. "Their fight for $15 and a union is a shining light that will ultimately benefit all workers in the country and help lift up our economy. It's clear this movement isn't going to stop until fast-food companies listen to the voices of these workers, who are struggling to support families on as little as $7.25 an hour."
The strikes have given some juice to state and local campaigns for a minimum wage increase over the last year and a half, including in Seattle, where self-identified socialist Kshama Sawant won an historic city council race in 2013 on a platform of solidarity with the $15 wage movement. That city now appears poised to ratify a compromise version of Sawant's proposed $15 minimum wage increase.
Yet nearly every fast food worker interviewed appeared unwilling to compromise on their core demands, or stop until they've been met.
"I think people are beginning to listen and open their eyes to the situation that's going on," said Rene. "We're noticing that things are becoming really more serious, and really more confrontational."