MANCHESTER, New Hampshire – Marco Rubio is nothing if not on message, and when he talked to the press after a national security panel on Thursday, his answers hit the same theme over and over again. 
"The bottom line is if I'm the nomine of the Republican Party, we're going to beat Hillary Clinton," Rubio said in response to a question about Ted Cruz attacking him.
A beat later: "The most important thing we have to achieve in this election is to keep Hillary Clinton out of the White House."
One question later: "We're going to beat Hillary Clinton, which is the most important thing we must achieve."
As Iowa and New Hampshire voting nears, Rubio is trying at every turn to refocus the conversation on electability. His newest ads feature smiling millennials of all races proclaiming their support for his candidacy, a reminder to Republican voters of how badly they lost these voters to President Obama in 2012. Who better to turn it around than a charismatic 44-year old Hispanic Republican who mixes conservative credentials with universal rhetoric? 
RELATED: Marco Rubio is finally briefed on Flint water crisis
Rubio's whole campaign has been planning for a moment just like this to make that argument. While other candidates rise and fall, he has patiently waited for the day when, faced with the possibility of a divisive nominee like Ted Cruz or Donald Trump, Republicans would flock to a reassuring Rubio and beg: "Save us!"
Except it hasn't happened. Trump and Cruz are closer to the nomination than ever, but the public conversation among conservative elites is more about which of the two they could begrudgingly tolerate rather than how to rally voters behind Rubio. There's been a trickle of high-profile endorsements for Rubio, but not a flood even as prominent senators grumble that Cruz would wreck the party in a general election.
The situation has left Rubio looking a little too much like the baby-faced "Saturday Night Live" parody version played by Pete Davidson who's constantly baffled why the party ignores him. "I mean, come on!" Davidson's Rubio complained in a sketch over the weekend. "I'm young! I'm smart! I'm the only one up here with a chin!"
The big culprit behind Rubio's failure to consolidate support is the trio of governors who are also offering themselves up as establishment saviors: New Jersey Gov. Chris Christie, former Florida Gov. Jeb Bush and Ohio Gov. John Kasich. Polling in New Hampshire this month has consistently shown Trump on top with a double-digit lead with one of Rubio, Cruz, Kasich or Bush a distant second and trapped in the pack.
"No one has distinguished themselves, other than Trump being completely off the reservation," one GOP lobbyist told MSNBC. "It's sort of a revolving wheel at the number two spot." 
Like Rubio, each candidate has been just successful enough to stay relevant and too underwhelming to break away. Now they're all left fighting each other. As Rubio reminded reporters Thursday, pro-Bush super PAC Right to Rise has spent over $20 million on ads attacking Rubio.
"That's not grassroots money, that's money from the establishment," Rubio said. "We have always had to take on the establishment, we'll do it again because the Republican Party needs to turn the page and move forward, and we will."
It was a nice answer to the charge Rubio is part of "the establishment," but of course the reason they're attacking him is because he fills a similar space. Rubio has plenty of big money donors of his own lobbing attack ads right back.
Rubio, Kasich and Christie each spoke at the New Hampshire statehouse in Concord on Wednesday, giving the state's citizen legislators a chance to personally weigh their options. Christie discussed drug abuse; Rubio emphasized states' rights; and Kasich talked up bipartisanship.
Republican state Rep. Skip Rollins told MSNBC that he was choosing between Rubio and Kasich but wanted to see which one could prove they had momentum first. He thought Rubio looked stronger in polls for now, but he liked Kasich's speech that morning better.
"With Rubio, he more or less read from the script," he said.
WATCH: 'Dire situation' for Rubio ahead of primaries?
Kurt Wuelper, another GOP representative, was still choosing between Cruz, Kasich and Christie. Rubio had fallen off his list, partly because of immigration.
"It's not like I have a real problem with Rubio except there's too many too good guys so you get into fine distinctions," he said.
The pile-up in New Hampshire has raised concerns about Rubio's path to the nomination given that Iowa looks like a showdown between Cruz and Trump, and some Republicans believe Trump has locked down the Granite State. According to National Review, Rubio aides have floated a "3-2-1" strategy to donors, in which Rubio places third in Iowa, moves up to second in New Hampshire, then wins South Carolina, where polls currently show Trump dominating as well.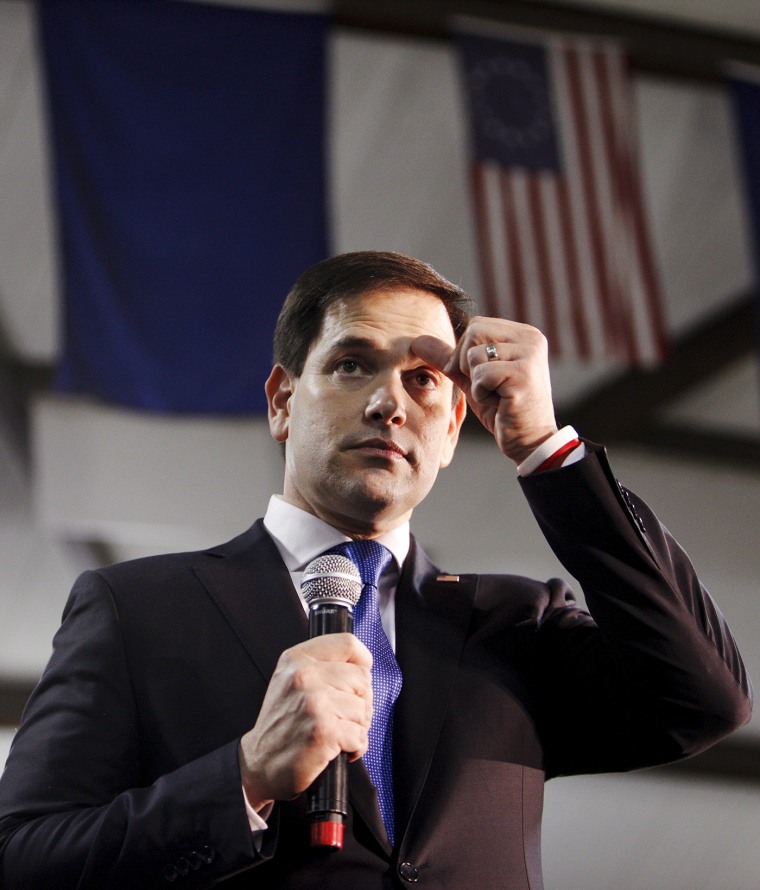 Rubio, for his part, denied that was his plan when asked about it by NBC News.
"I don't think that's our strategy," he said. "Our strategy is to do as well as we can."
Rubio's team has sounded confident throughout the race that the party would eventually come to its senses. But, for the first time, he and his allies are starting to make moves that look more nervous and reactive.
You can see it the main super PAC supporting him, which is running nonstop ads in New Hampshire asking "What's Canadian about Ted Cruz?" with a giant maple leaf flag in the background. They're ostensibly about taxes, but blatantly tie into Trump-fueled doubts about the Texas senator's eligibility over his Canadian birthplace.
You can also see it in the way Rubio has gradually shifted his tone on a crucial issue in order to copy Trump and Cruz rather than confront them: Immigration.
Rubio moved to a tougher stance on illegal immigration long before he started his campaign, but he balanced it by regularly celebrating the immigrant experience as the nation's highest ideal. When he announced in his hometown of Miami, he memorably pledged to fight for "the workers in our hotel kitchens, the landscaping crews in our neighborhoods, the late-night janitorial staff that clean our office."
Not so much anymore. At a senior center in Plymouth on Wednesday, Rubio recalled how he was raised by Cuban parents, which used to be the cue for his soaring tribute to the can-do spirit of immigrants. Instead, that section in his stump speech has morphed into a Trump-esque riff that paints immigrants as a mysterious force to be feared and controlled.
RELATED: Rubio: Cruz decries NY 'values' but raises money there
"This issue, above all and everything else, is about keeping ISIS out of America," he said.
In another reflection of his darkening message, Rubio told CBS over the weekend how he had purchased a handgun just in case he personally has to fight off an Islamic terrorist.
This effort by Rubio to please all sides – the moderate voters prizing electability and the conservative rabble-rousers attracted to Cruz and Trump – gives him more upside than many rivals, but it's also left him struggling to find his core message. For a while he tried to position himself as the wonk reformer with a sheaf full of middle class policy ideas, but they've never become the focus of the race. He tried positioning himself as the field's leading hawk, but everyone has adopted the same general message of destroying ISIS without mercy.
Still, buried in the last few minutes of a town hall in Plymouth this week were moving flashes of the optimistic message that had launched his campaign.
"I will never ask you to hate another group of Americans in order for me to win an election," Rubio told the crowd. "The president has to be president of everybody, and I will be."
The upside for Rubio is that there's still lots of room to grow in New Hampshire. Large chunks of the state's voters make up their mind at the last minute, and he seems better positioned than Christie, Bush or Kasich to leave Iowa with at least some momentum. Some New Hampshire Republicans are still holding out hope that – no matter what the polls and crowd sizes say – Trump's support is an illusion.
"I believe in the consistency of New Hampshire voters -- they know their vote isn't a PR stunt, it has a springboard effect for the country," Anne Caplin, a 60-year old marine biologist supporting Rubio, told MSNBC as she held a sign to greet him at the statehouse.
She added a caveat: "Unless the entire state has radically changed overnight."