DENVER -- A Denver man convicted of rape after a woman said his face appeared to her in a dream walked free Tuesday following more than a quarter-century in prison for an attack he denies committing and to which another man confessed.
Clarence Moses-EL, 60, left a Denver jail after a judge overturned his 1988 conviction on rape and assault charges and found that he would likely be acquitted if his case went to trial again. Supporters posted a $50,000 bond for his release after Moses-EL was transferred from the prison where he was housed for decades.
RELATED: Man convicted of 3 rapes cleared after DNA tied to fugitive
A statement from his lawyers said he looked forward to living with his wife in Denver, spending time with his son and meeting his 12 grandchildren for the first time.
Moses-EL has long maintained his innocence, and his case inspired legislation requiring preservation of DNA evidence in major felony cases for a defendant's lifetime after police threw out body swabs and the victim's clothing.
He was sentenced to 48 years in prison in the attack against a woman after she returned home from a night of drinking. When police initially asked who assaulted her, she named the man who later confessed to having sex with her.
More than a day after the assault, while in the hospital, the woman identified Moses-EL as her attacker, saying his face appeared to her in a dream.
Moses-EL's efforts to appeal his conviction were unsuccessful and the legal and political system repeatedly failed him in his decades-long attempt to win his freedom.
RELATED: Lewis Fogle freed by DNA after serving 34 years for teen's murder
He won a legal bid for DNA testing on the evidence to clear his name, but Denver police threw it away, saying they didn't see any notice from prosecutors to hold on to it.
In 2008, the governor, a former Denver prosecutor, objected to legislation that would have given him a new trial and that received widespread support from lawmakers.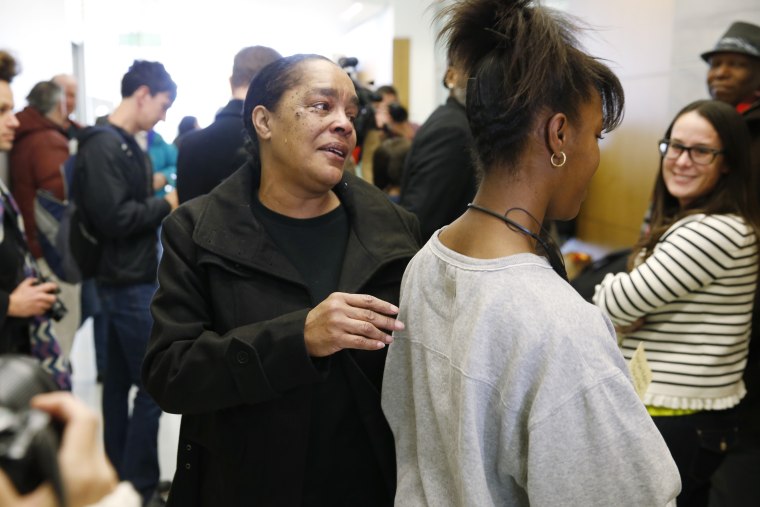 Moses-EL's break came when L.C. Jackson, whom the victim had initially identified as her rapist, wrote to Moses-EL in 2013 saying he had sex with the woman that night. Jackson has not been charged in this case but is imprisoned for two other rapes in 1992.
Prosecutors have not decided whether to try Moses-EL again, saying they are considering the age of the case and the availability of witnesses. A tentative trial date was set for May, if prosecutors decide to pursue new charges.
Judge Kandace Gerdes, who dismissed Moses-EL's conviction, ruled Tuesday that he could be released on bond, which supporters quickly posted. He wasn't able to walk free until hours later, after an interview with officials who will supervise his release.
His family and other backers said they were preparing a celebration complete with the banana cream pies that he had requested.