A majority of Americans support legalizing marijuana, a first in more than 40 years of Gallup polling the question.
In 1969, when President Richard Nixon first directed significant federal resources toward interdicting marijuana smugglers at the U.S.-Mexico border, only 12% of Americans supported legalization.
According to Gallup, 58% of Americans now support legalization, up more than 10% in just the last four years. Two states, Washington and Colorado, legalized recreational marijuana use following statewide referendums in 2012. Perhaps sensing the size of the shift in public opinion, the Obama administration announced in August it would allow such states to continue their experiment with legalization—marijuana is still illegal under federal law—as long as they follow certain guidelines.
The reversal in public opinion is so rapid, it's comparable to perhaps one other issue: same-sex marriage. Here's Gallup's chart showing polling on same-sex marriage throughout the years: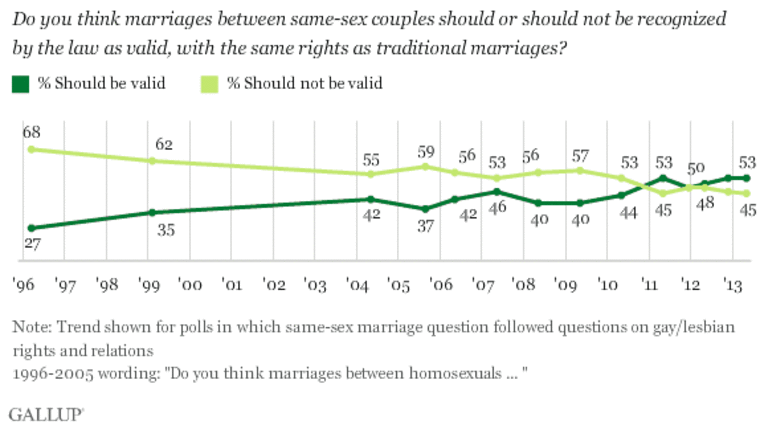 And here's their chart on marijuana legalization: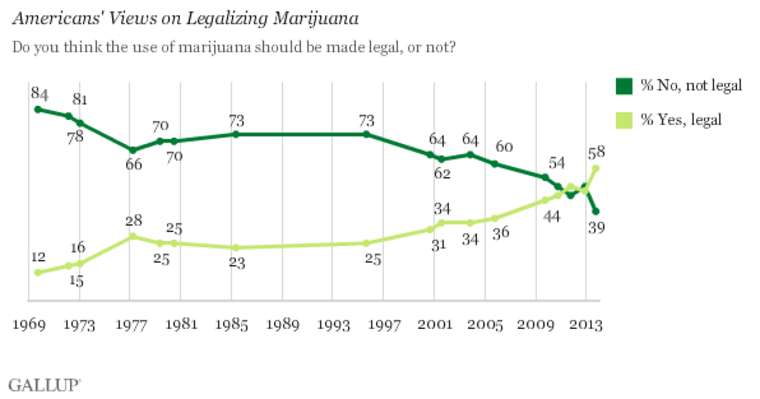 What accounts for the shift? Though sexual orientation and recreational marijuana use aren't comparable, it's possible that Americans' increased willingness to be public about recreational marijuana use has eroded the once widely held stigma associated with smoking weed. It's also possible that Americans are more aware of the uneven racial impact of the war on drugs, which disproportionately targets minorities despite the fact that levels of drug use are similar across ethnicities.