In the 7 months since Russian President Vladimir Putin signed into law a series of restrictions on the country's LGBT population, activists have held meetings, staged protests, organized festivals, and strategized about how to take advantage of the world's attention during the Sochi Olympics.
Turns out, they won't be doing much during the Games after all.
Despite widely publicized outrage over Russia's anti-gay laws -- one in particular banning the promotion of "nontraditional" sexual relationships among minors -- the 2014 Winter Games will be surprisingly devoid of LGBT activism.
Sure, there still could be a watershed moment for gay rights on the podium--à la Tommie Smith and John Carlos' history-making salute at the 1968 Games--or a lone demonstrator waving a rainbow flag, as happened recently in the city of Voronezh, 560 miles north of Sochi, during the Olympic torch relay.
But as for organized demonstrations at the Games themselves, Russian activists say they're not likely.
"In all honesty, it's probably not a good idea to have real protests at the Games," Anastasia Smirnova, coordinator of the Russian LGBT Network, told msnbc. "It might not be the right place for that. But we hope for individuals to make their own statements in support of equality and human dignity...wearing a T-shirt, things like that."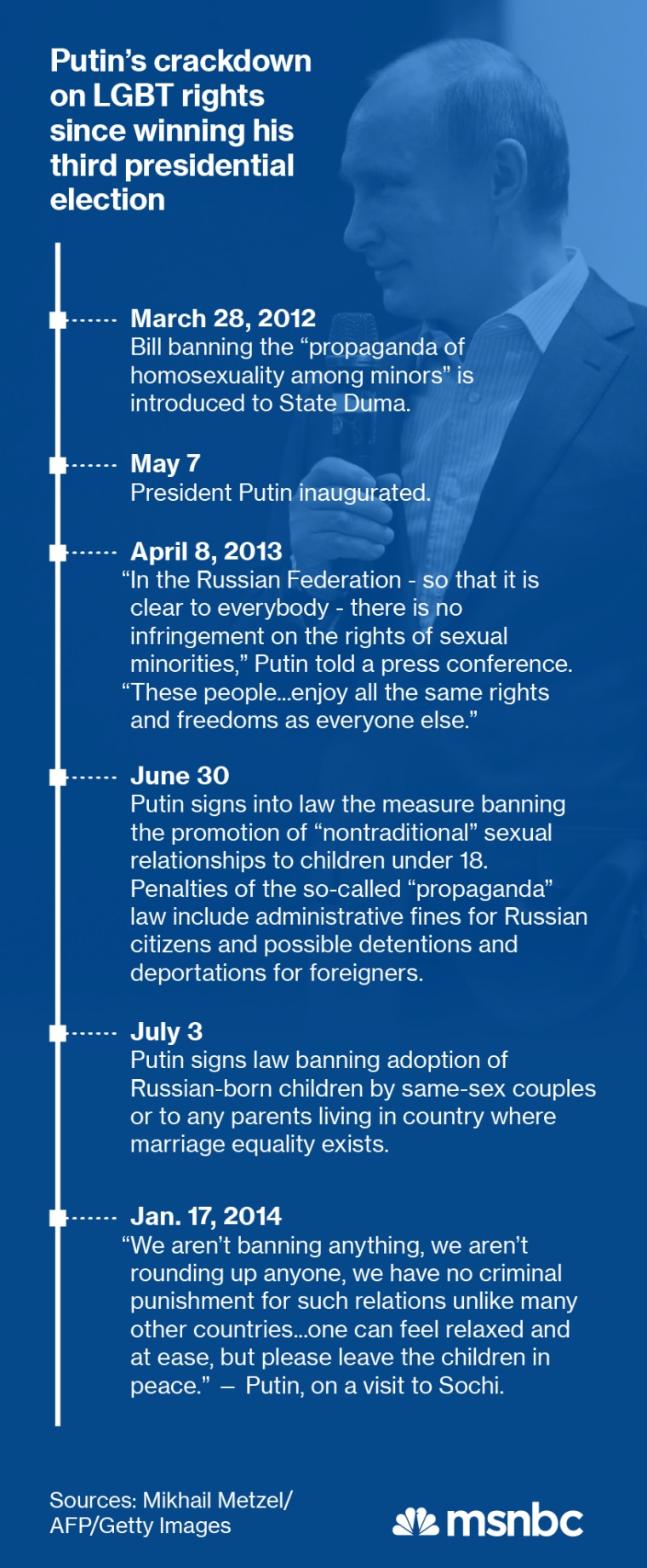 Under the so-called "propaganda" law, any Russian citizen who promotes information about homosexual relationships to children could be subject to administrative fines, while any foreigner who does so could face detention or possible deportation. So far, very few people have been prosecuted under the law's vaguely-worded terms, and LGBT advocates are largely unconcerned of any prosecutions during the Olympics, when the whole is watching.
"It's probably going to be the safest time," said Polina Andrianova of the St. Petersburg-based group, Coming Out. "I don't think our authorities want to continue the international scandal."
The biggest hindrance to any protest at the Games, however, stems from escalating terror threats. Following recent suicide bombings in the neighboring city of Volgograd, Putin responded by deploying close to 60,000 police officers, troops, and special forces to Sochi — twice the number Britain enlisted in London for the 2012 summer Games. With that level of security, activists say, any planned demonstration would likely be impossible.
"Anyone who is going to be present in the greater Sochi area related to human rights should be prepared for increased attention from the authorities, and from the police who will be overlooking anyone doing anything in the region," said Smirnova, the only LGBT activist interviewed who plans on attending the Games. "I was recommended by my colleagues to be very attentive, to take care of myself, and to be prepared for a lot of attention toward my plans."
The absence of activism should in no way suggest that advocates are giving up or discarding month of hardships, including government retaliation and vigilante violence. Rather, while most people look with anticipation toward Feb. 7, the Games' opening ceremony, activists have become far more focused on Feb. 23--the day they end.
"There is a lot of fear the situation is going to degrade after the Olympics are over," said Andrianova. "That will be the most vulnerable time."
Under pressure to rein in his harsh policies--or at least look like he is-- Putin has recently made several attempts to soften his government's image around human rights and LGBT issues in particular. Last month, Putin released jailed Kremlin critics--businessman Mikhail Khodorkovsky and the punk rock group Pussy Riot--in a high-profile amnesty approval. Before that, Putin dropped piracy charges against 30 Greenpeace activists, replacing them with lesser hooliganism charges for trying to scale an offshore oil platform. He also lifted a blanket ban on protests at Sochi, though plans to keep them restricted to a designated zone, largely removed from the Games' events.
And in the latest gesture, Putin declared three weeks before the Olympics that gay visitors should feel "relaxed and at ease," while requesting that they keep in line with the propaganda law and "leave the children in peace."
Activists worry, however, that those moves were nothing more than a PR stunt designed to keep criticism at bay and generate enthusiasm for the Olympics, on which Putin has staked his presidential legacy.
Signs of a potential reversal after the Games have already begun to surface. Last week, Konstantin Dolgov, the Russian foreign ministry's human rights commissioner, presented a 153-page report in Brussels attacking the European Union for trying to push "an alien view" of homosexuality onto other countries.
"I am sometimes afraid," confessed 20-year-old Daniil Grachev, who has had several run-ins with the law since joining the ranks of Russia's small but determined LGBT advocacy movement. Grachev was most recently arrested during an October rally in St. Petersburg to mark National Coming Out Day, along with 67 others. Initially, he said, police did nothing to protect them, even after anti-gay campaigners began to attack.
"It's not like in other countries, where the police will protect you," said Grachev. "You have to make the whole government stop hating you and blaming you for everything."
Andrianova has faced less violence in protesting Russia's laws, but she can still attest to the government's intimidation tactics. In September, during the 5th annual international pride festival organized by Coming Out, Vitaly Milonov, a Russian politician and author of the notorious propaganda law, showed up with friends and insulted festival participants.
"They called them animals, perverts, faggots," said Andrianova. "One of our members sued him for emotional damage."
Her group, Coming Out, was investigated along with several hundred non-government organizations last March under a new law requiring any group financed from overseas or engaged in political activities to register as a "foreign agent"--a term more readily associated with Cold War-era espionage than with a modern-day host of the Olympic Games.
Coming Out was fined over $16,000 for functioning as a foreign agent without registering, but the charges were eventually dropped, Andrianova said.
Unlike a law adopted 80 years ago by the Soviet Union, the current propaganda law does not carry criminal sanctions for homosexuality. What it does do, activists say, is create an environment of fear, whereby homophobic attitudes are encouraged, hate crimes ignored, and LGBT individuals kept silent.
"I am an adult, and in many cases I can protect myself," said Dmitry Musolin, an openly gay member of the Straight Alliance for LGBT Equality. "But I never hold my boyfriend's hand in the street."
Musolin and his mother were detained along with Grachev last October during the St. Petersburg National Coming Out Day rally. Though their group was outnumbered 4-1 by violent anti-gay protesters, he said, police arrested the LGBT activists and held them for five hours--two hours longer than the law allows.
What's worse, there may be pending legislation that would make homosexuality grounds for removing children from their parents. The bill was briefly introduced last year, then withdrawn from the State Duma for revisions. Already, families are looking for ways to emigrate before it's reintroduced, Andrianova said.
"It's a really sad day for this country when a group of people doesn't have any other way but to leave," she said.
Despite these concerns, activists plan on continuing their work once the Olympics are over, and will fight to keep international attention from fading away. Many were encouraged by President Obama's decision to sit the Games out, and to include three openly gay athletes in the U.S. delegation. The presidents of France and Germany also chose not to travel to Sochi.
Immediately after the Games' conclusion, a group called the Russian LGBT Sport Federation will be hosting a gay-friendly event in Moscow called the "Open Games," where athletes of any sexual orientation can participate. It will be the first major test to see how the Russian government will treat its LGBT population post-Olympics.
"We have hopes that the Olympics will continue to reveal the hypocrisy of policies being implemented now," said Smirnova. "On the one hand, the Russian government wants to be part of the international landscape, and host major international events. But then on the other hand, the country is just not ready to be in line with international standards."