Just an hour south of St. Louis sits the Southeast Missouri Lead District, home to the largest lead deposits in the world. Some 150 years ago, the area boomed alongside its lead mines, an exploitation of natural resources that altered economic fortunes as well as the physical terrain. A particularly plentiful subdistrict now known as the Old Lead Belt thrived.
Today, that landscape looks vastly different. Once-prosperous communities have declined, mines have closed and moved elsewhere. Environmental and health hazards loom large over a community that's both proud and wary of its heritage as a major supplier of the world's lead.
Recently, public concern over lead poisoning's persistent issues across the United States has renewed, particularly in urban environments. Widespread lead contamination of tap water in Flint, Michigan, is only the most recent example. As time passes, it has become increasingly clear that lead has had a more lasting and profound effect on human beings, the environment and our culture, than may ever have been foreseen, and that impact will continue for generations to come.  
Rich Beginnings
Lead was first discovered in Missouri in 1719 by the French explorer Philip François Renault. Large-scale surface mining commenced quickly after that, according to Art Hebrank, site administrator at the Missouri Mines State Historical Site. "It was a large operation," Hebrank said. "It wasn't just a couple of farmers or fur trappers mining in their spare time. It was 200 experienced miners and smelter men with black African slaves."
With the advent of new technologies, lead mining expanded in 1864 from simple surface level mining to subsurface mining that followed the lead to depths hundreds of feet below the surface. More technological advances, including the diamond drill, electric rail and steam shovel, ushered in a new era of industrial-scale lead mining in southeast Missouri. From 1864 to 1972, in the Old Lead Belt mining subdistrict, roughly 8.5 million tons of elemental lead were extracted from mines that reached hundreds of feet below the surface.
During this 108-year period, lead mining in the Old Lead Belt completely reshaped southeast Missouri, through the establishment of company towns in rural areas where none had existed before and the permanent altering of the landscape by bringing to the surface hundreds of millions of tons of lead ore. Of that ore, only 3 to 5 percent was lead, creating massive piles of mine tailings that still protrude on the horizon. Lead mining in the Old Lead Belt also played a key role in the construction of Bagnell Dam in 1929, creating the Lake of the Ozarks, the largest man-made reservoir in the United States at the time and still one of Missouri's most recognizable landmarks.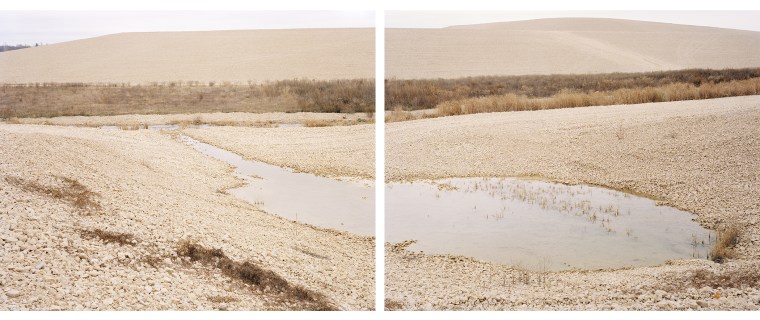 "The southeast Missouri deposit of galena [the natural mineral form of lead] is the world's largest," John Weber, a biologist with the U.S. Fish and Wildlife Service said. "There's no other lead districts in the world that compare to that."
The Old Lead Belt: A Community Tied to Industry
During its peak years of production throughout World War I, the lead mines of the Old Lead Belt employed thousands of miners and included a network of mines that would eventually be connected by over 300 miles of subterranean electric rail lines used to bring lead ore to the surface. Lead was used extensively at the time to produce ammunition and lead-acid batteries. In fact, the largest use of lead today is in lead-acid batteries, which are primarily used in automobiles. In 1992, lead-acid battery production used an estimated 3 million tons of lead, a large portion of which was reclaimed lead.
Lead mining completely shaped and defined the communities in the Old Lead Belt and its impact can still be seen today more than 40 years since mining operations ceased. Most residents in the Old Lead Belt still have familial connections to the mining industry and feel strongly about its legacy.
"I'm very proud of my heritage," Keith Kinnard, a resident of Leadwood and modern-day lead miner, said. "My grandfather Kinnard, he had 47 years in with mining. My grandpa White, my mom's father, he had way into the 30s and both my grandfathers retired from mining. They raised their families; mining was how they made their money."
In the 1970s, deindustrialization and the decline of the auto industry in Flint began to leave behind a post-industrial community struggling with unemployment, poverty and other challenges. Similarly, 600 miles away, the closing of lead mines in the Old Lead Belt also left behind a community that knew of no other way to support itself. Today, the Old Lead Belt is a shadow of its formal self, suffering from a severe shortage of employment opportunities and extreme levels of poverty. Businesses have mostly fled its historic downtown streets.
After growing up in Bonne Terre, Fred McDaniel lived most of his life outside the area working in healthcare administration, but returned after he retired to help care for his elderly mother. "I don't know, it's a stretch to really think about anything that would be advantageous for a young person, especially if they had gone away to school and gotten a degree," McDaniel said. "I don't know what would bring them back here."
What the Mines Left Behind
In addition to the economic impacts that continue to plague the Old Lead Belt, lead mining also left behind approximately 250 million tons of contaminated mining waste in the form of chat piles, huge piles of mine tailings from which lead has been extracted, and slime ponds, reservoirs where even more finely-ground mine tailings were collected. This waste is highly contaminated with lead that was unable to be extracted, other heavy metals, and toxic chemicals used during the extraction process.
Today, the Old Lead Belt is a shadow of its formal self, suffering from a severe shortage of employment opportunities and extreme levels of poverty.'
Prior to remediation efforts, these tailings were extremely susceptible to wind and water erosion, enabling the leaching of contaminants into the surrounding environment and ecosystem, especially the Big River, a Mississippi tributary that passes through the Old Lead Belt. In the last decade, the EPA began to remediate most of the chat piles by covering them in thick layer of heavy gravel; however, by this time significant contamination had already occurred. Multiple scientific studies have found that the area is highly contaminated. According to research conducted at Missouri State University, the Big River floodplain is among the most contaminated in the entire world with heavy metals as a result of mining activity.
According to Weber, the biologist with the U.S. Fish and Wildlife Service, this contamination has significant consequences for the ecosystem, particularly aquatic life.
"The aquatic community has been especially injured, in my opinion. There has been significant reductions, in especially aquatic invertebrates, crayfish and other insects that live in streams. The mussel community, freshwater mussels inhabit the bottom of the stream and so they're interacting with the lead contaminated sediment for their whole life," Weber said.
Why should people care?
"Everything is related," Weber said, "and if we suddenly see some aspect of an ecosystem, whether that's the insects and the invertebrates that live in the stream or the lower level mammals like the rodents that are suddenly no longer present or not present in the same numbers, then that has a ripple effect on up the food chain."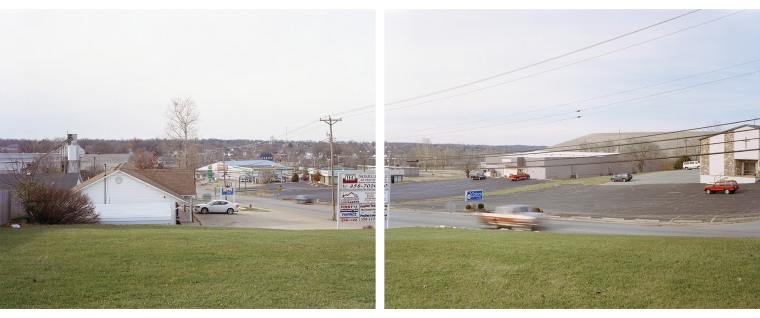 The Lingering Effects of Lead on Residents
Although lead poisoning is much more common in urban communities afflicted with peeling and flaking lead paint — or, in the case of Flint, aging water pipes — the contamination in the Old Lead Belt extends beyond the environment to its residents. Up until widespread remediation efforts began in the early 2000s, chat piles were used as recreation areas. Boy Scout troops were known to camp atop the chat piles. During the Christmas season, trees would be placed on their summits and decorated. The chat itself was also often used to fill yards and gardens, as well as in the production of asphalt and concrete.
"Looking back, that is some of my fondest memories," reflected Shelly Bess, a lifelong Bonne Terre resident whose family worked in the mines before they closed. "We were raised with it, didn't know anything different, and certainly weren't afraid of it. My uncle was about 15 years older than me and he rode his sled off the chat dump and broke his collarbone. It was just in our backyard and we played with it." 
"I was beyond terrified. I'm very picky on health and to find that my daughter's level was that high scared me to no other."'
Lead poisoning is one of the oldest environmental and work hazards known to humans, however, our understanding of the severity of lead poisoning did not develop until the later half of the 20th century. Acute or chronic exposure can cause serious gastrointestinal, neuromuscular and neurological damage. There is no known safe level of lead exposure.
Children are particularly susceptible to lead poisoning due to both their tendency to play on the ground and for hand to mouth behavior. Furthermore, because their brains are still developing, lead can have a much more significant impact. Children in the Old Lead Belt are regularly tested for elevated blood lead levels while attending school. Students with elevated levels are immediately treated and their home environment examined for contaminants.
One day, seemingly out of the blue, Cassandra Benton's four-year-old daughter was found to have elevated blood lead levels.
"I was completely terrified," Cassandra Benton said. "I was beyond terrified. I'm very picky on health and to find that my daughter's level was that high scared me to no other."
Children are often found to have a blood lead level of 1-2 micrograms per deciliter, which is consistent with background levels of lead. However, if a child is found to have a blood lead level of 5 micrograms per deciliter or higher, the state must intervene. Benton's daughter had a blood lead level of 16.8 micrograms per deciliter, more than three times the acceptable upper limit. The most likely cause was the dirt in her yard, which was contaminated by chat and tracked into the home by the family's dogs.
"It's really cool historically to know that all this [lead mining] was going on around in this area literally underneath our feet," Benton said. "But it's still scary at the same time, to know that you're being affected. There's still a hazard whenever you go home."
Her yard was remediated by removing all of the topsoil from the yard and replacing it with new, clean soil. Additionally, Benton's daughter must follow a hygiene regimen and have more frequent, follow-up testing to monitor her blood lead levels.
Beyond the Belt: Lead Mining in Missouri Today
Although lead mining ended in the Old Lead Belt in 1972, mining continues today in the Southeast Missouri Lead District in an area known as the Viburnum Trend, about 50 miles to the west of the Old Lead Belt. Further technological advances have significantly decreased the number of miners needed to operate a full-scale mine, resulting in a much smaller community of miners. Today, there is no bustling mining town in southeast Missouri like there was 50 years ago in the Old Lead Belt.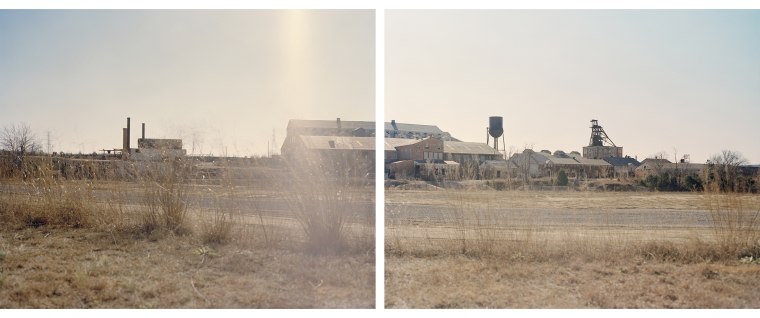 However, this does not minimize the health and environmental implications that lead mining presents. Old hazards linger, and new ones are diverted elsewhere.
What remains of the last operational lead smelter in the United States can be found just north of the Old Lead Belt along the Mississippi River in the town of Herculaneum, Mo., named after the Roman town of the same name that was destroyed by Mt. Vesuvius. The Herculaneum lead smelter was built in 1892 and operated continuously for 121 years before finally being shut down in 2013 after decades of environmental and safety violations.
The contamination from the smelter was so severe that the lead mining company, Doe Run, was forced to buy out and level 160 homes near the smelter, essentially demolishing the historic downtown Herculaneum district in the process. Subsequently, all lead mined in the United States must be smelted overseas, simply shifting this process, and the pollution that accompanies it, to less developed countries with fewer regulations and protections.
"Now everything is shipped overseas where they have no EPA, no controls, they're not worried about their environment or anything else, and the United States ships their ore over there, lets them smelt it and take all the hazards. And then we buy it back," Keith Kinnard, a lead miner who works in the Viburnum Trend, said.
Chat piles and slime ponds, both in the Old Lead Belt and now in the Viburnum Trend, still present significant risks with few clear solutions. At the very least, it seems obvious that just as the lead that originates in Missouri will continue to be used around the world for generations to come, so too will the region be marked by the lead mining industry and the waste it leaves behind.
Bob Thompson, a local photographer who shoots sports, school yearbook photos, dances, and aerial photos – and at times works as a substitute teacher – sums up the competing perspectives on the region's natural resource and the far-reaching impact it has in the world.
"It's a great heritage, I know not everything was perfect and we do have criticism of the downside of lead, but yesterday in school I did show a video that featured this area and showed the importance of lead in all the batteries, any electric vehicle that is lead-acid battery driven," Thompson said. "It's terribly important. It's kind of neat to think that we had a big part of that."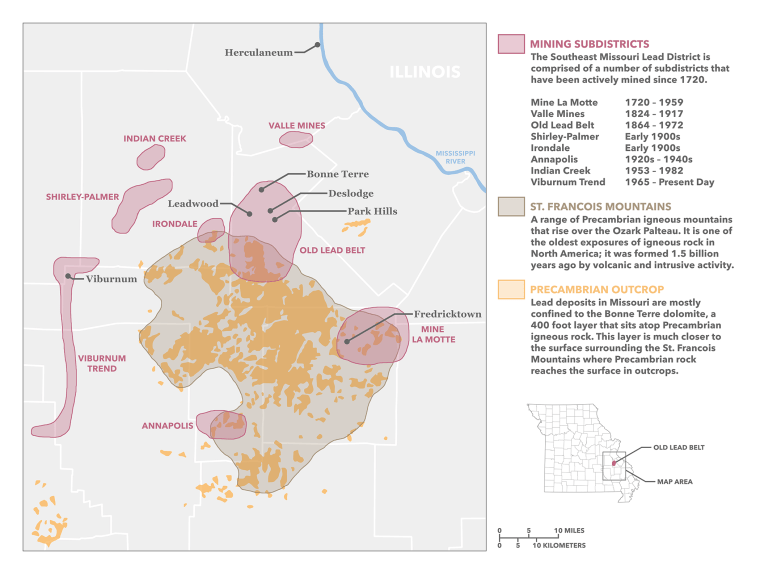 Photographer Benjamin Hoste explored Missouri's Old Lead Belt, a largely defunct region of lead mining towns, meeting the people who have remained there despite the collapse of the industry. He recorded their range of opinions over the region's fading history and the dangers of lead contamination, which in recent months have ensnared Missouri politics and reflect country-wide fears of water pollution. To read more about the effects of lead contamination, see our feature on Flint with photos by Danny Wilcox Frazier.