A small pop-up shop in a quiet neighborhood in Pittsburgh is sending a loud message: men make more than women, men should pay more than women. 
At Less Than 100 the tagline is "pay what you're paid." In Garfield, Pennsylvania that means men pay 100% of the price of items, while women are charged 76%, reflective of what women earn in the state compared to men. It's a concept that creator Elana Schlenker thought up less than a year ago, who told msnbc that the gender gap is an "issue many people still don't realize is an issue."
"We're only at 76% right now in Pennsylvania. I want people to come into the shop and talk about that. I want to raise the visibility of the project locally so people see it's still an issue," the 31-year-old Pennsylvania native said. 
RELATED: Meet the women who want to help families 'make it work'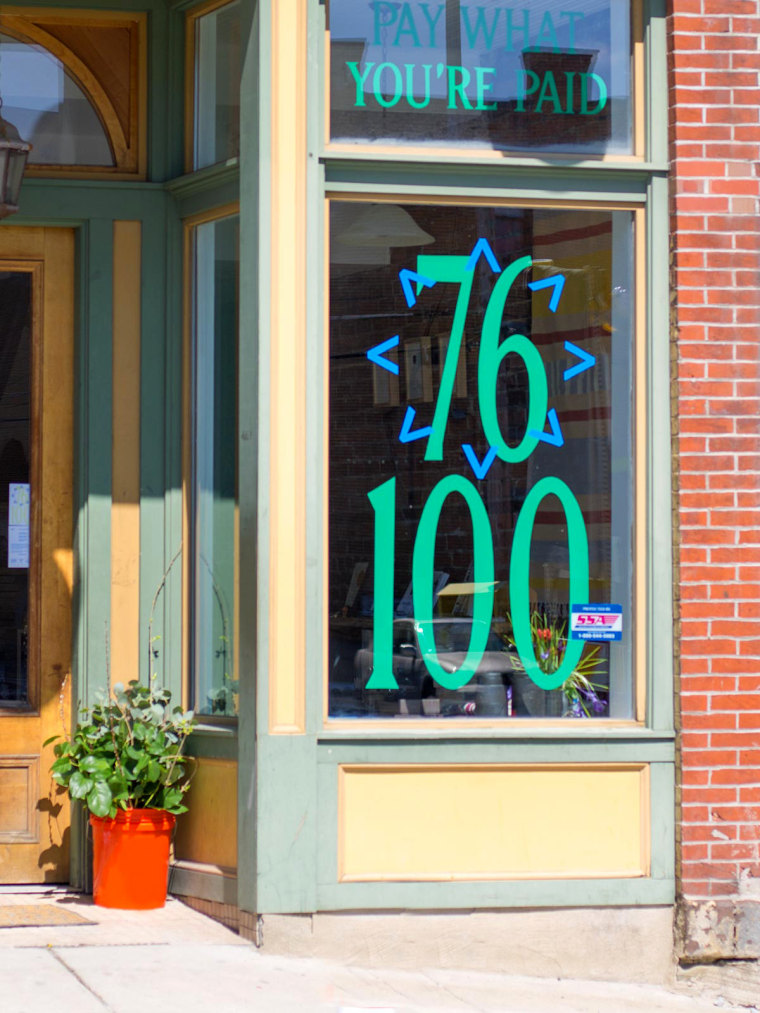 The pop-up shop offers ceramics, textiles, publications, art prints, stationery, and more all made by women artists around the United States; most items are priced under $50. "I want people to also come in and say these women are amazing," Schlenker said.
A 2015 study from the Institute for Women's Policy Research found that while the rate of women's income has increased over the years -- though only gradually -- men still earn more in every state across the country. Women on average make 78 cents to each dollar a man pockets. And those numbers are far worse for women of color, according the study.
The report found that ultimately it will be another 43 years until women in the U.S. see equal pay.
"I've read article after article about the wage gap and the ways in which women continue to be undervalued in the workplace," Schlenker said. "I want to help take steps toward remedying this."
In the shop, people can take a print out that explains the current status of the wage gap across the country and in the state, from a chart outlining the average annual income for a man in Pennsylvania versus a woman to tips on how to ask for more money in the workplace. 
Women have come into the shop with their kids and grandkids to try and educate them on the issue, Schlenker said. "One woman brought her granddaughter in to talk about it. She told her that this is still an issue and she needs to understand that and the granddaughter was like 'oh yeah, we learned about this in school.'"
Men are also frequent customers, some even come alone. "They are more than willing to pay full price," Schlenker said. "A few men who've come in individually and weren't aware of the project until I explained it to them have responded by telling me about the women in their lives -- mothers, sisters -- who they value and respect."
Schlenker has tried to get the attention of local politicians, too, from the mayor to city councilwoman. "I've been bothering them," she said. "My dad told me the write to the governor, but I haven't done that yet."
The pop-up shop will be picking up and moving to New Orleans, Louisiana this coming fall, where the gender wage gap is the worst in the country at 66%.