A coastal Mississippi city is accused in a new federal lawsuit of throwing poor people into jail if they're unable to afford court fees and fines.
The suit, filed Wednesday by the American Civil Liberties Union, charges that Biloxi, Mississippi threatened jail time if fines weren't paid up front and in full, and often followed through on those threats. It's the latest step in a broader push by advocates for civil liberties and the poor to challenge what they call the "scourge" of debtor's prisons across the U.S.
"It's a debtor's prison out of the dark ages," Nusrat Jahan Choudhury, a lawyer with the ACLU's Racial Justice Program, told msnbc, referring to Biloxi's system. "Bottom line: people are jailed because they don't have money."
RELATED: How falling behind on child support can end in jail
It's been more than three decades since the Supreme Court banned the practice of locking people up because they can't afford to pay court fines or fees, but allegations of modern-day debtor's prisons have continued to crop up throughout the country. And while heightened scrutiny and public awareness have led to significant reforms across several states in recent years, Biloxi is not alone. Similar lawsuits filed by the ACLU and Southern Poverty Law Center are also pending in Louisiana, Alabama and Washington state.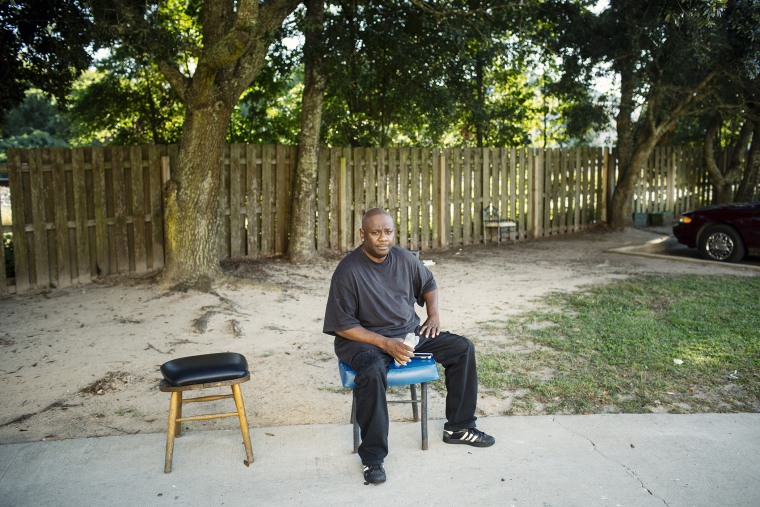 The suit filed Wednesday—which names as defendants Biloxi Police Chief John Miller, Judge James Steele, and the for-profit Judicial Correction Services, Inc., in addition to the city—paints a picture of a city government that padded its coffers on the backs of the poor by establishing a probation program to collect significant fines for minor misconduct like traffic violations and misdemeanors.  and it charges that the city adopted a policy to aggressively chase down court fines and fees. Indigent people who couldn't pay were slapped with arrest warrants and subject to serve jail time.
"The city routinely arrests and jails impoverished people in a scheme to generate municipal revenue through the collection of unpaid fines, fees and court costs imposed in traffic and other misdemeanor cases," the suit alleges.
Vincent Creel, public affairs manager for Biloxi, said the city had not yet received the lawsuit. "However, based on media inquiries, we believe the ACLU is mistaken about the process in Biloxi, and we look forward to explaining it to the ACLU. The City of Biloxi treats all defendants fairly under the law. In fact, the court has used community service in cases where defendants are unable to pay their fines," Creel said in a statement. 
RELATED: Ferguson sued over alleged modern-day debtors' prison
According to the lawsuit, seven months of public records released by the Harrison County Adult Detention Center show that at least 415 people were jailed between September 2014 and March 2015 on charges for failing to pay off their debts owed to Biloxi. The suit goes on to allege that city officials routinely prolonged jail time for indigent people in order to coerce them into paying off their fines.
The alleged victims include Joseph Anderson, a 52-year-old man with disabilities who according to the lawsuit was unable to pay his $200 traffic fine in full -- he made what payments he could using his disability checks. Anderson said he was not aware that police had issued a warrant for his arrest until they stormed into his home and took him away in handcuffs. He spent seven nights in jail before being brought before a judge, and says he was never informed that he had the right to a court-appointed attorney.
Along with Anderson is Qumotria Kennedy, 36, who says she was jailed for five days after she was unable to pay the $1,000 in fines she owed for minor traffic violations. The single mother of two says she lost her part-time job at a cleaning service because she was behind bars.
"I was scared," Kennedy told msnbc. "I can't make money just grow out of my pockets."