America's homeless population has been declining for years. But local laws targeting the homeless—prohibiting them from panhandling, camping outside and sleeping in their vehicles—have been on the rise, prompting lawsuits that are now winding their way through the courts. 
One prominent case has emerged in Idaho, where a federal court is expected to rule this summer on a Boise anti-camping law that makes it illegal for residents to sleep in public places. The law is being challenged by a group of homeless individuals and legal advocates who argue that the ordinance is a violation of the Eighth Amendment, unconstitutionally subjecting residents to "cruel and unusual punishment" simply for fulfilling a basic human need. 
RELATED: Formerly homeless women tell their stories in doc
Such laws essentially criminalize homelessness, according to Howard Belodoff of Idaho Legal Aid, one of the attorneys representing the plaintiffs. 
"This criminalization doesn't resolve problems—it just creates more problems," said Belodoff. "There are programs, there are cities and counties that have programs that really address the issue. Boise does not—it's window dressing."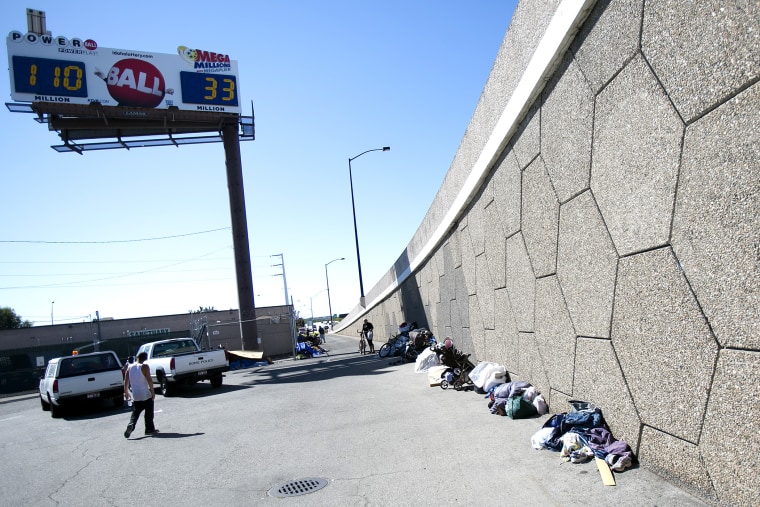 After the lawsuit was brought forward in 2009, the city said it would only enforce the ordinance when the local homeless shelters were full, prompting a U.S. district judge to uphold the law. But a federal appeals court then overturned the ruling in 2013.
Local governments across the country are passing similar laws targeting the homeless. Since 2011, bans on camping in public have risen by 60%; anti-begging laws have risen by 25%; and bans on sleeping in vehicles have risen by 119%, according to a 2014 report from the National Law Center on Homelessness and Poverty (NLCHP), which is also representing the plaintiffs in the Boise anti-camping case. 
"It seems a lot of cities who adopt these laws do so out of concern from the business community or concerns about tourism," said Maria Foscarinis, executive director of the NLCHP. "What they're interested in is not having visible poverty present in the city center."
Homeless advocates have been encouraged by other recent challenges to such laws. Last year, a federal court struck down a law banning car camping in Los Angeles, finding the statute to be unconstitutionally vague. In 2014, a federal judge struck down part of a new anti-panhandling ordinance in Boise.
Boise's mayor and police both declined to comment on the anti-camping ordinance or the ongoing lawsuit. 
"What they're interested in is not having visible poverty present in the city center."'
But Mike Journee, a spokesman for the city of Boise, said that local officials are serious about tackling the problem of homelessness. Preliminary numbers from the annual point-in-time count suggest that there's been a modest increase in the local homeless population since last year, said Journee, attributing the likely increase to a housing crunch in the area. 
More than 40% of Idaho's homeless cited unemployment as the situation that caused their homelessness, while 33% cited the inability to find affordable housing, according to the 2014 point in time survey. 
RELATED: Alaska Rep. Don Young: Wolves could solve your 'homeless problem'
Local officials have previously cited public safety as a major reason to enforce laws like the anti-camping ordinance. In October 2014, a 37-year-old homeless man in Boise was found dead near a long-standing homeless encampment beneath an underpass, and a local man was charged with his murder. 
Police have since stepped up enforcement of the anti-camping ordinance, according to Belodoff. He acknowledges that the living conditions beneath the underpass are less than ideal, but believes that officials are wrong for linking the murder to the city's homeless problem. "That could have happened anywhere in Boise—they tried to sensationalize it," said Belodoff. 
Rev. Bill Roscoe, who runs the Boise Rescue Mission, supports the anti-camping ordinance. "It's absolutely detrimental to business—it's detrimental to public safety," he said. "That kind of scene attracts people who have less than the best interests of the community in mind," Roscoe added, noting the October murder and other crime in the area.
Roscoe says that his shelter regularly has additional bed capacity: "We've reached out to the folks that are camping and invited them to come and stay at the shelter." But some are "frankly not interested," he added.
The plaintiffs argue that there still aren't enough shelter beds in Boise for all the homeless. An independent analysis they commissioned shows that "available shelter beds could only have accommodated 65-75% of the individuals counted as homeless" in the Boise area for most years between 2008 and 2014. 
What's more, it's simply not feasible for some individuals to stay in a group shelter, says attorney Eric Tars, citing one homeless veteran with PTSD and mental illness who is unable to sleep in a group setting because of his condition. "He can't do it," said Tars of the NLCHP. 
RELATED: Working to feed the homeless during blizzard
But a successful outcome won't simply mean striking down the ordinance, but also having the city provide remediation to provide more lasting solutions to homelessness, he added.
"The goal is to ensure the right to housing for people. Can we use this to create the additional solutions to help, rather than make homeless people just slightly less harassed?" said Tars.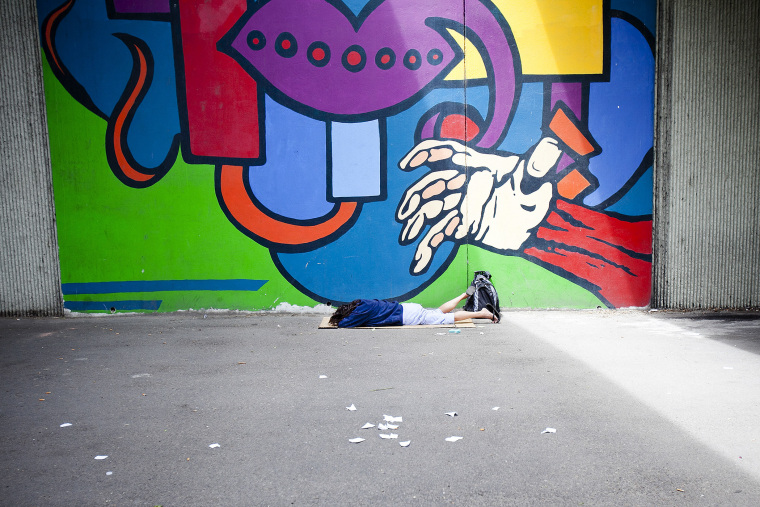 Journee says that Boise officials are committed to tackling the problem in a more holistic way, reaching out to local non-profits, businesses, and service providers. The city has also stepped up its community policing efforts, "understanding that population and getting to know them in order to convince them to go to one of the shelters," Journee added. He points to Salt Lake City's success in providing housing first to the homeless—an approach that's significantly cheaper than the cost of cycling through jails, hospitals, and other public institutions.
He stressed, however, that officials needed to look beyond housing itself to get at the root causes of homelessness. "This is not an issue that's about putting a roof over someone's head—it's often about addiction challenges, mental health challenges. It's about cultural challenges or sudden economic issues that people weren't expecting," said Journee.
But Troy Minton, a homeless Boise resident who was one of the plaintiffs in the anti-panhandling case, says that officials need to stop going out of their way to target the homeless, too. 
"That way they're not helping, racking up these charges and taking people to jail," said Minton. "It's just like the war on drugs, it's going to keep going on and going on—it's a waste of taxpayers' money."