View the photo essay at the top of the page by Peter van Agtmael, who spent time with the Pine Ridge tribal police. 
MANDERSON, South Dakota — There's no rhythm to crime here. All hell could be breaking loose before noon and things could be stock-still after midnight. The young toughs are often on horseback and they prefer baseball bats and knives to pistols. Drugs are everywhere— weed, meth, cocaine— but on the Pine Ridge Indian Reservation, it's almost exclusively alcohol that gives law enforcement fits.
"They go into detox or a holding cell for 8 hours then get an hour of community service," said Becky Sotherland, an officer with the tribal police. "Sometimes they're out before your shift is over, causing trouble."
Alcohol has been illegal on the reservation since 1889 (aside from a few months in the 1970s) but tribal police say that of the roughly 200,000 calls they receive each year, about 80% are alcohol-related. Sometimes it's public drunkenness, fights or domestic violence. Drunk driving is a major killer, and community groups say alcoholism contributes to the reservation's plague-high suicide rate.
The fight to keep the tribe sober may soon be getting tougher. Last summer, tribal members voted to repeal the reservation's century-old ban on liquor sales and consumption. The repeal won't likely take effect for some time, as the Tribal Council must write new alcohol-related laws.
"It kind of feels like we're not making a dent, like we're just running uphill. But we are still running and trying our best."'
Deputy Chief of Police John Mousseau called the repeal "a double-sided sword."
"Once we get it legalized we can stop dealing with the drunks and drunk calls and we can do more follow up on our burglaries and more in-depth police work," Mousseau said. "But I also think it'll probably increase the number of calls because people are going to be more out in the open with it."
In the meantime, a contingent of about 35 tribal officers and more than a dozen supervisors spread out across the 2 million acre reservation, responding to a dizzying amount of drunkenness and misbehavior. Sometimes they're rousing suspected imbibers from their beds. They're pulling over drunken drivers and busting teenagers with cases of beer, often making the kids empty the contents at their feet. Sometimes they're tracking bootleggers. (Almost everyone in the small housing clusters spread across the reservation knows who is selling what and where to get it.)
There are other, easier ways to acquire alcohol. A short walk or drive across the border to Whiteclay, Nebraska, which each year legally sells millions of cans of beer to folks from the reservation, is as convenient as it is lucrative. Activists have been fighting to get the handful of liquor stores in Whiteclay shuttered for years, to no avail.
Related: Pine Ridge: A broken system failing America's most forgotten children
With the reservation's pending legalization of alcohol, the debate now seems as much about morality and law and order as it is profits.
Bryan Brewer, president of the cash-strapped Oglala Sioux Tribe, says profiteers from Whiteclay have been sucking dollars from the reservation but have not stepped up in any way to clean up the mess their products have created.
"If we are going to do this and if our people are going to suffer, I want all of the money. I am going to be greedy here and we are going to manufacture it, distribute it and retail it," President Brewer said shortly after the vote.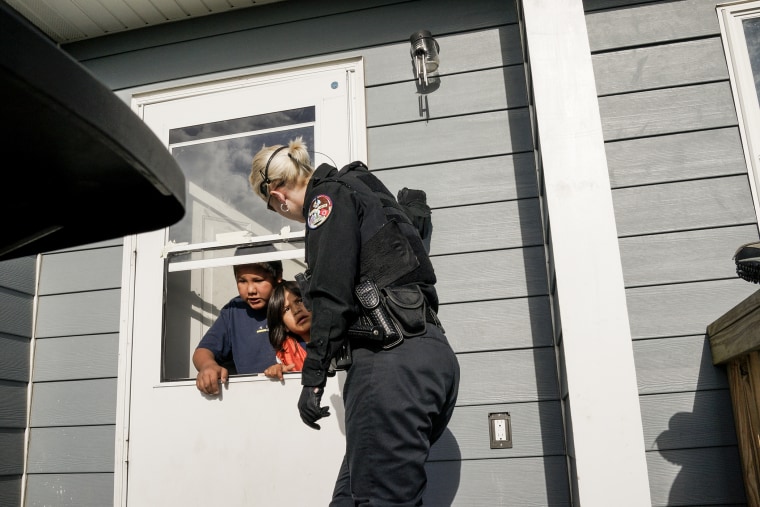 To say the reservation needs the money would be an understatement. 
The unemployment rate here is about 80%. The poverty rate is more than 50%. And in Shannon County, which lies completely within the boundaries of the reservation, more than 40% of the population is under the age of 18. It's a volatile combination on the reservation, where a sense of hopelessness hangs in stark contrast to the beautiful landscape of rolling hills and buttes.
"What's heartbreaking is that everything is preventable," Officer Sotherland said on a recent afternoon. "I can try and try and try but if the people I'm trying to help don't want to help themselves, than what I'm doing will be a moot point."
Sotherland, 32, is somewhat of an oddity on the force and the reservation. Unlike most of her colleagues, she's not a member of the tribe. She's a blonde-haired, blue-eyed, former hair salon-owner, former city coroner who describes herself as a "white mutt."
She grew up about an hour northeast of the reservation, in the town of Hot Springs. She became an officer in 2011 and joined the tribal police department last year. Though the ongoing mission to tamp out alcohol use on the reservation can be daunting and thankless, Sotherland said it's also preventative. One minute's drunk is another minute's abuser, drunken driver or killer.
Because of budget and staffing issues, Sotherland usually patrols her vast district alone.
"They'll catch a horse, ride him bareback and terrorize the community. They'll beat people up and drag them behind the horses. These are young boys, like 11 and 12."'
On a recent night, Sotherland looped and weaved behind a group of houses, each in the non-descript style common on the reservation. She prefers to patrol her beat on foot as It's easier to get the drop on unsuspecting drinkers and other lawbreakers, she says. She steps lightly and always carries a stash of doggy treats for the guard dogs and ferals that are common in the more populated areas of town.
It was dead-silent and dark, all but for the muted haze of artificial light peeking from the otherwise darkened homes.
"The kind of quiet that makes you think something is going on," Sotherland said. 
Last summer, on another quiet night, a man was bludgeoned to death about 100 yards from where she sat in her car.
"I didn't hear a thing," she recalled. "That's the crazy part."
Some of the youth have started or joined gangs. Many of those same young people are master horsemen, having grown up riding and raising them.
"They'll catch a horse, ride him bareback and terrorize the community," Sotherland said. "They'll beat people up and drag them behind the horses. These are young boys, like 11 and 12."
Sotherland said she recently responded to an assault where some of these marauding horsemen beat a guy with a board and left him on the ground bleeding.
"Then they just took off on horseback," she said. "We can't go to where the horses go so they're just off into the sunset."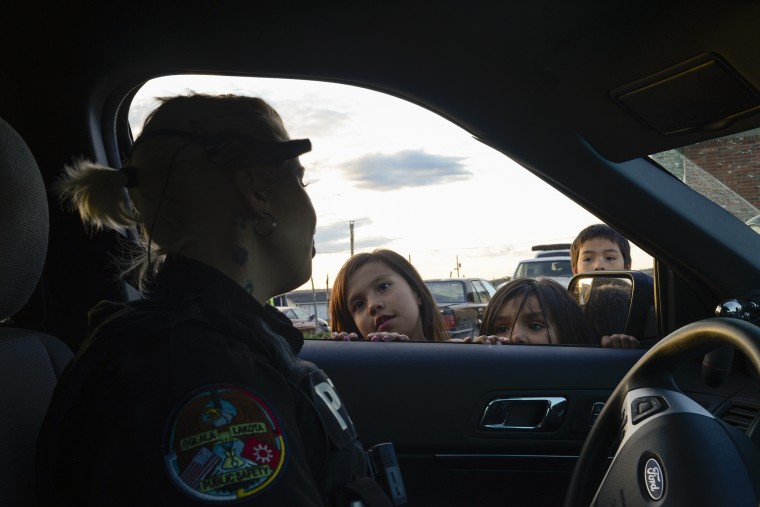 Deputy Chief Mousseau said the department is woefully understaffed and must do more with fewer resources. The department relies heavily on federal funding and grants for its yearly budget. Year by year, as Congress cuts various funding streams, so goes grants and allocations to tribal agencies.
The furthest stretches of the reservation are sometimes 45 minutes to an hour from the nearest jail, so each arrest can take up to two hours of an officer's time. That's critical when some districts are covered by a single officer per shift.
But it's also a drain on the department's fleet of vehicles. Some units log as many as 100,000 miles a year.
"We're always having to find money for units we just don't get enough in our operations budget to buy the fleet that we need," Mousseau said.
The funding woes for law enforcement on the reservation extend to the prosecutor's office, said Tatewin Means, the tribe's attorney general.  
Her office can't even afford a probation department, so its three lawyers not only prosecute cases but also try to keep tabs on those sentenced to probation. Typically probation would mean monthly check-ins and drug tests. But there's no budget for kits or lab fees.
"Probation is essentially a blank check, like, okay you're free," Means said
The funding cuts have gotten so bad in the police department that the department has had to fire about half of its officers since the mid-1990s. It has even had to lay off its officer support counselor, a prize for a department working the front lines of one of the most forsaken communities in the country.
Still, there's hope, Mousseau said.
"It kind of feels like we're not making a dent, like we're just running uphill. But we are still running and trying our best," he said. 
Editor's note: This is the second of three stories on Pine Ridge, exploring the education, social and economic issues facing Native Americans on the reservation.