The NBC News national exit poll found that Latinos voted for the Democratic candidate over the Republican in their House district by a margin of 62% to 36%. That's lower than the 68% Latino support for Democratic House candidates in 2012, and slightly higher than the 60% support level they gave Democrats in the last midterm in 2010.
RELATED: DREAMers' frustrations impact Latino vote
There is no question that Latinos are a growing part of the electorate, but there have been a number of questions about whether Republicans have been able to make inroads with this Democratic-leaning group. It is not clear whether Tuesday's results are a trend or a temporary fluctuation in support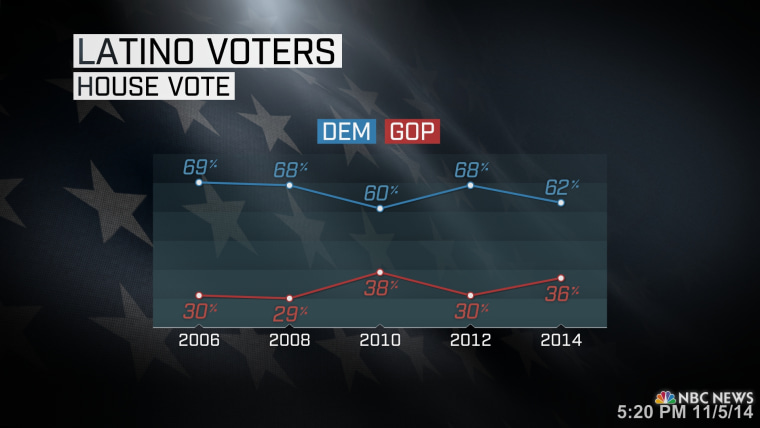 While Latinos are holding steady in their Democratic voting patterns, they have soured slightly on the president, with immigration being one of the issues feeding this decline. Deportations have bumped up since President Obama entered the White House, reaching a record high in 2013. Obama was criticized by some Latino leaders for delaying efforts to revise immigration policy until after today's election. Currently, 57% of Latino voters approve of the job Obama is doing as president. That's down from 71% at his 2012 re-election and 67% at his first midterm election in 2010.
More than 11 million undocumented immigrants are estimated to be living in the U.S. today. The exit poll asked voters' opinions on different options for dealing with this issue.
Among all voters, a majority of 57% say that illegal immigrants who are working in the U.S. should be offered a chance to apply for legal status. Another 38% say they should be deported back to their home country. Support for deportation is up quite a bit from two years ago, when just 29% preferred this option.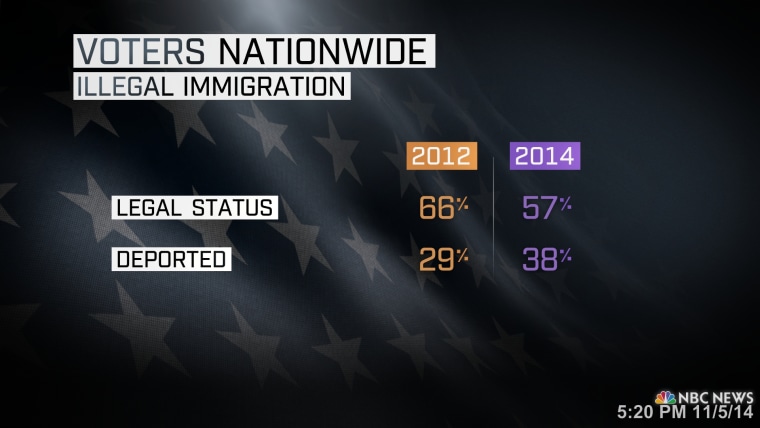 Latino voters, on the other hand, overwhelmingly support giving illegal immigrants, as described in the exit poll, who are working in the U.S. a chance to gain legal status—74% hold this view compared to just 21% who say these immigrants should be deported. This is one reason why a number of political observers think this issue could damage the Republican Party's prospects in the future as the demographic complexion of America changes.
Two years ago, Republican voters tilted slightly in the direction of giving illegal immigrants an opportunity to obtain legal status, but today a majority of them say that illegal immigrants should be deported. Among non-Latino Republican voters in the 2014 midterm, 57% support deportation, and just 38% say illegal immigrants should be offered legal status. Among non-Latino Democrats, fully 75% support finding a way to offer illegal immigrants working in the U.S. a way to obtain legal status, while just 21% prefer deportation.
RELATED: Obama interrupted by protester on immigration
One question is whether immigration really influenced voters in this midterm. The NBC News exit poll asked voters which of four issues was the most important one facing the country. Among all voters, illegal immigration was the choice of about just 14%, far behind the economy at 45% and health care at 25%. Interestingly, Latino voters are no more likely than others to say immigration was foremost in their minds as they voted. Immigration was the most important issue for only 17% of Latino voters, behind the economy at 50% and health care at 23%.