The highly anticipated trial of Lacey Spears, the so-called mommy blogger accused last year of poisoning her 5-year-old son with deadly doses of salt, began this week with the prosecution boldly calling the 27-year old Spears a "calculating child killer."
Opening statements Tuesday focused on witnesses -- or for the defense, lack thereof -- who would be vital in determining whether Spears killed her son, Garnett.
"After she poisoned him and this little boy lay dying in the hospital ... what does she do? She's not by his side. She's not comforting her son ... this mother, this innocent mother, is on the phone, calling her friend to cover up the crime," Westchester County Assistant District Attorney Doreen Lloyd said.
Spears gained attention for blogging about her son's health for years on social media. She sat crying in the courtroom as the prosecutor spoke.
Spears was charged with manslaughter and second degree murder last June and has pleaded not guilty. Garnett was pronounced dead on Jan. 23, 2014 from high levels of sodium which led to swelling in his brain. Spears was accused of force-feeding her son salt through a stomach tube, and prosecutors charge that she phoned a friend while her son was in the hospital, asking the friend to get rid of one of Spears' feeding bags.
"Lacey Spears is not an innocent woman grieving the death of her son," Lloyd charged. "Lacey Spears is a calculating child killer who researched, planned and executed the intentional poisoning of her son, Garnett Spears, with salt."
Defense lawyer Stephen Riebling in his opening statement Tuesday asked the court: "Put your emotions aside," and argued that facts would carry the case for Spears, along with a lack of witnesses and evidence of a motive.
"Let's all turn our attention to the witness stand please and listen to the following," Riebling motioned to the courtroom of more than 35 people to look at the empty stand.
After a 15-second dramatic silence Riebling said "what you just heard, that deafening silence, that represents the sum total of the direct evident of this case against Lacey Spears. You will not hear a single witness testify from that witness stand that anyone saw Lacey Spears do anything, give anything, or feed anything to her son that would cause the sodium level to rise," he said. 
Garnett had been in and out of hospitals his whole short life, during which Spears took to Facebook, Twitter, MySpace and a personal blog to chronicle his visits and health updates. Spears wrote on social media before Garnett was two years old that he had been in the hospital 23 times. During the weeks leading up to Garnett's death, and even when doctors found large amounts of sodium in his system after being transported from Nyack Hospital to Westchester Medical Center, Spears shared photos. An online community supported Spears as she discussed updates, according to The Journal News, which ran a five-part series detailing the case.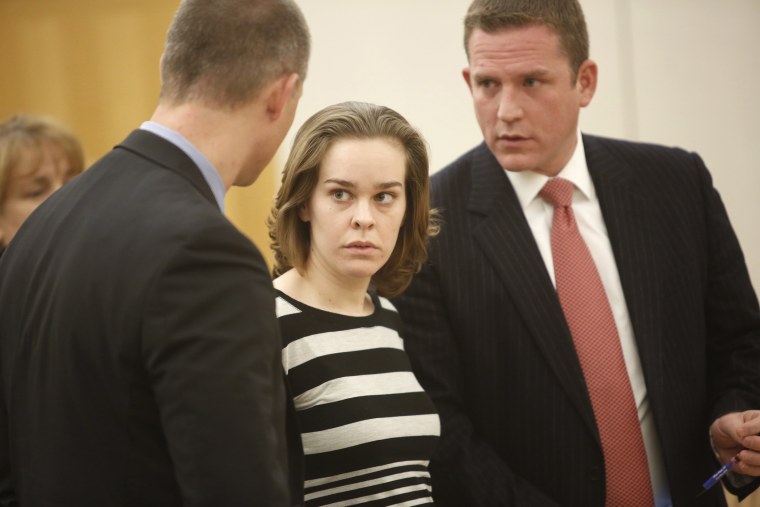 The prosecution plans to release video footage from Garnett's room at Nyack Hospital, where prosecutors allege Spears poisoned him in the bathroom with salt. An emergency room nurse and doctor were called to the witness stand. (The presiding judge will not allow witnesses' testimony to be recorded at the trial.)
Lloyd said investigators also found evidence that Spears had searched "dangers of high sodium in a child" on her computer.
Garnett used a feeding tube for almost his entire life; it was inserted when he was just nine months old and remained when he died; experts who spoke with The Journal News found that implanting a feeding tube at such a young age raises questions in itself. Spears in 2014 told authorities her son may have caused his own death, that "the victim would once in a while play with his feeding tube and could have put something into it," according to documents obtained by PEOPLE magazine.
Investigators previously linked Spears to mental illness Munchausen syndrome, in which a mother makes her child sick or creates symptoms for attention. But prosecutors in January said the illness would not be considered during the trial. 
Garnett's fatality report, which The Journal News obtained in September 2014, showed that Spears was already being investigated two days before her son's death following a formal complaint. A report, as well as a CT scan, indicated inconsistencies with Garnett's actual symptoms with what Spears was describing for her son. The report showed that one day before he died, Garnett's sodium level reached 48 points.