Zoe Foster is 13 years old. She likes going to the beach. When not busy with homework, she also enjoys suing Washington State in King County Superior Court. 
The story of Zoe's lawsuit sounds like a bad movie, something from the same shelf as kid-ninjas save the world: a clique of teenagers, convinced their government is not doing enough to slow global warming, uses the courts to protect their future.
Yet that's exactly what's happening in Washington State. 
Related: The secret weapon in fight against climate change
Zoe and seven other young people petitioned the state to reduce greenhouse gas emissions. The state declined. But a judge recently ruled in favor of the kid-ninjas, asking the state to review the science, reconsider the petition and "do its part to address climate risks." 
Now regulators have the holiday weekend to come up with a response. If they decline the kids' petition a second time, they will have to explain to Judge Hollis Hill why their own reports sound the alarm on global warming but recommend that no change is required in the state's emission standards.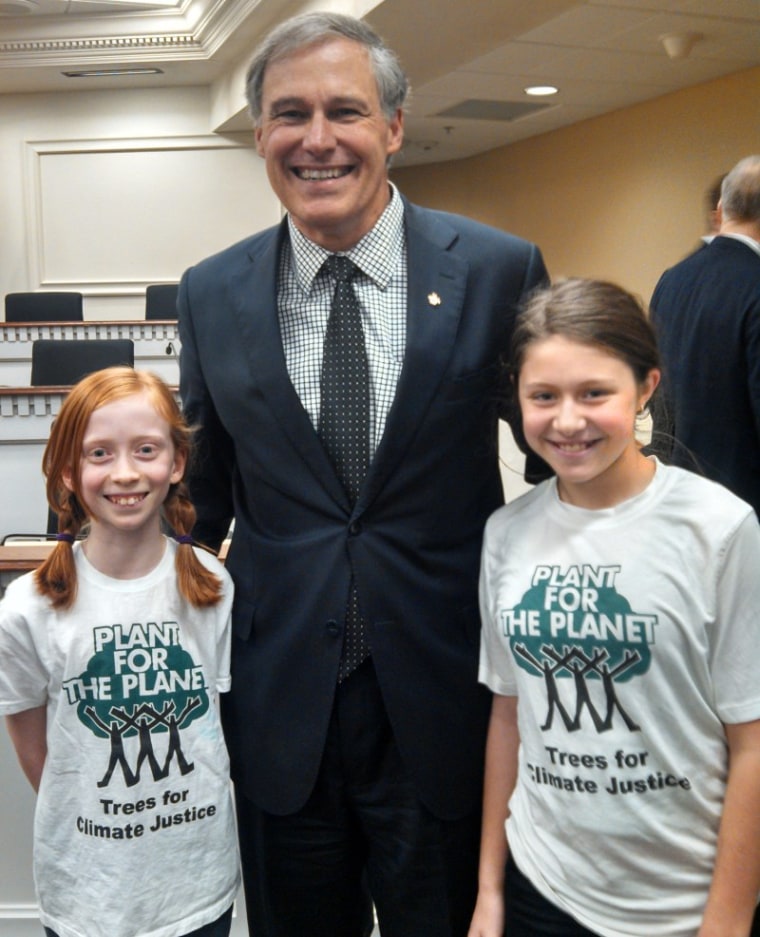 If they approve the petition, well, Washington State could be on its way into history as the first with a cap on carbon emissions. "It's a huge deal," said Julia Olson, executive director of Our Children's Trust, which organized the lawsuit.
The Oregon-based nonprofit has spearheaded similar lawsuits in all 50 states and against the federal government. Each of those legal efforts has fallen short in one way or another. Until now. 
"For the first time in the United States, a court of law has ordered a state agency to consider the most current and best available climate science when deciding to regulate carbon dioxide emissions," Andrea Rodgers, the attorney for Zoe and company, said in a statement. "The ball is now in Ecology's court to do the right thing and protect our children and future generations."
Ecology is the state department in charge of environmental regulations. In the lawsuit, Rodgers argued that the department has the authority under the Clear Air Act to require a swift reduction in carbon. She also argued that the kids have a constitutional right to a clean atmosphere.
That idea is an emerging legal framework in the fight against climate change. It treats nature as a public trust, protected by government, paid to future generations. The same principle allows states to regulate fishing and hunting.
So far it's never been successfully extended to carbon emissions. But that could change after this case in Washington State. While the judge's ruling is not binding on other states, it's forceful and it might be persuasive from one judge to another. 
Judge Hollis quotes from state documents, detailing what seems like face-raking hypocrisy. Six months ago, for example, the state summarized the science on global warming in dire terms.  
"Climate change is not a far off concern," it reported to the legislature. "The impacts are worse than previously predicted, and are forecast to worsen." The state also made a call for new rules, noting that climate change will be "costly unless additional actions are taken to reduce greenhouse gases." 
And yet after all that the regulators still concluded that "no changes" were needed to emissions standards. 
Stu Clark is one of those regulators, the state's program manager for air quality. In a statement to msnbc, he said: "Reducing greenhouse gas pollution is vital to our future and we want people engaged on the issue. As directed by the court, we are reviewing the petition denial and expect to make a decision by July 8." 
Related: The four deniers of climate change
In years past, skeptics have called the strategy of Our Children's Trust big hearted but legally feeble. The decision in Washington could repair that image. An even larger victory overseas, however, could be the start of a judicial sea change akin to the one that lifted gay marriage. 
In the Netherlands last week, an organization partnered with Our Children's Trust took the Dutch government to court, hoping to force deeper cuts to carbon emissions country-wide. The group won, and it used a version of the same argument that's been successful for the first time in America. 
Still, Zoe Foster isn't resting. 
"I'm not going to sit by and watch my government do nothing," she said in a statement issued by her attorney. "We don't have time to waste. I'm pushing my government to take real action on climate, and I won't stop until change is made."