ASHLAND, Kentucky -- Same-sex couples should be able to receive marriage licenses in Rowan County, Kentucky, as early as Friday morning following a federal judge's decision to hold Clerk Kim Davis in contempt for refusing to issue the licenses on religious grounds. Davis was taken into custody by federal marshals during a marathon hearing in U.S. District Court on Thursday. 
Davis has been defying an August court order compelling her to issue marriage licenses to all eligible applicants -- including same-sex couples -- and on Thursday she stood before the same judge whose order she had refused. In an emotional, five-hour hearing, Davis said through tears that she could not comply with the order to issue marriage licenses to same-sex couples.
"You can't be separated from something that's in your heart and soul," Davis said when called as a witness by her attorneys.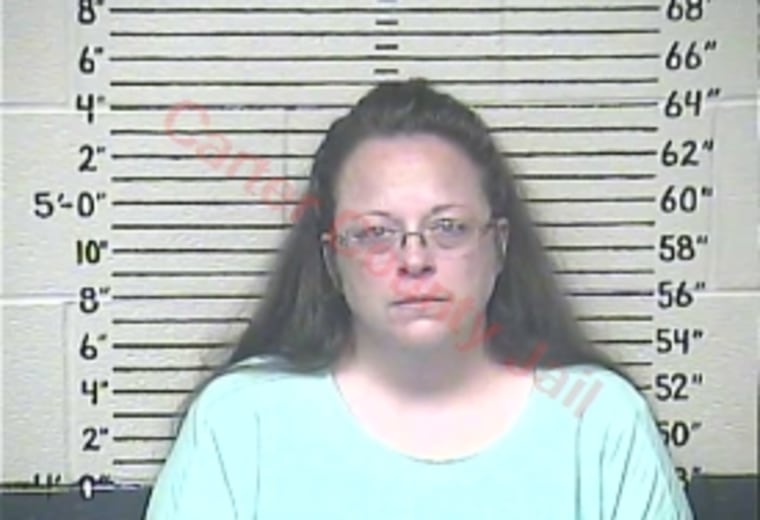 Davis's lawyer said "it was factually impossible for her to authorize the union of a same-sex couple," adding that "she cannot do it in her conscience." But U.S. District Judge David L. Bunning rejected that argument, saying "this court does not engage in social policy." Later, when Bunning found Davis in contempt, the judge ruled that the clerk's "reasons for noncompliance are insufficient."
"In this country, we live in a society of laws," Bunning said. "The court cannot condone the disobedience of a lawfully issued order."
Davis said "thank you, judge," as she was led away by marshals.
Although Davis was expected to be brought back into the court, where the contempt charge could have been dropped if Davis agreed not to use her authority to prevent the deputies under her control from issuing marriage licenses, she did not return to the courtroom. Five of the six deputies under Davis told Bunning they would comply with the judge's order -- the lone holdout being Davis's son, Nathaniel -- likely allowing same-sex couples to receive marriage licenses as early as Friday. It was not clear, however, whether marriage licenses issued without Davis's authorization would be valid. 
RELATED: Where the GOP candidates stand on Kentucky clerk denying marriage licenses
Nevertheless, that caveat, Bunning said, would have to be adjudicated at another time. "Whether or not a license issued by the Rowan County clerk's office is valid or not -- and I'm not saying that it is or isn't -- I'm trying to get compliance with my order," Bunning said.
After the second part of the three-part hearing, it appeared possible for Davis to get out of her contempt charge if she granted authorization to have her deputies issue marriage licenses to same-sex couples. But Davis's attorney said she would not grant her authority for any licenses to be issued. "We cannot represent to the court that Ms. Davis would allow licenses to be issued tomorrow," her attorney said. 
One of the deputies, Melissa Thompson, teared up when asked if she'd be willing to comply with the order. "Yes, your honor," Thompson replied. "I don't really want to. This is the hardest thing I've ever done in my life. I'm a preacher's daughter. I don't hate anyone."
Another deputy, Brian Mason, said Davis knew he was willing to issue licenses to same-sex couples, but followed her orders because he "didn't want to go against her."
Bunning, who has made clear himself that he's opposed to same-sex marriage, responded sensitively to the deputies' feelings, but said people who take an oath to uphold the law must sometimes do things they disagree with. "I don't think that telling someone not to comply with a lawful order is something that a clerk or anyone else who takes an oath to uphold the law is able to do," he said.
Last month, Bunning, a President George W. Bush appointee, found Davis' religious beliefs did not "excuse her from performing the duties that she took an oath to perform as Rowan County clerk." Those duties include issuing marriage licenses -- something Davis has not done for any couple, gay or straight, since the U.S. Supreme Court in June made marriage equality the law of the land.
WATCH: Joe: Kim Davis is overstepping her bounds
The 6th Circuit Court of Appeals later refused to delay the effects of Bunning's order pending an appeal. And on Monday, the U.S. Supreme Court similarly declined to intervene -- thus eliminating Davis' last legal hope of not having to issue marriage licenses to same-sex couples.
But still, Davis continued to turn away couples who were trying to wed. On Tuesday, the American Civil Liberties Union of Kentucky filed a motion in federal court asking Bunning to hold Davis in contempt and fine her. And on Wednesday, Davis' attorneys again asked Judge Bunning to allow her to refuse to issue marriage licenses.
A born-again Apostolic Christian, Davis believes issuing the licenses to gay couples would violate "God's definition of marriage" and would infringe on her religious freedom. She was divorced three times, NBC News reported, and had children out of wedlock before experiencing a religious awakening.
During Thursday's hearing, Davis spoke at length about her religious convictions. She said "God's mercy touched her" the night her mother-in-law passed away in 2011. "I knew it would never be the same," Davis said.
Davis' attorneys attempted to argue that she was "factually unable" to comply with Bunning's August order because it would irreparably and irreversibly violate her conscience.
"It's as if ordering somebody to write a $1,000 check from a bank account that has no money," her attorney, Jonathan Christman, said. 
Removing the names of county clerks from marriage licenses in Kentucky, they said, would be a reasonable accommodation for Davis' religious beliefs. But an attorney for Gov. Steve Beshear, a Democrat, said Thursday he did not have have the authority to make that change through executive order. Beshear has also refused so far to call a special session of the legislature to amend the form.
Davis has pledged to stand her ground, and it is unclear how long she will remain in jail. "She's not bending for nobody," her husband, Joe Davis, told NBC News after the hearing.
Additionally, because Davis is an elected official, options for her removal are limited.
The Kentucky Legislature could impeach her, The New York Times reported, but that seems unlikely given the fact that each party controls one chamber. In fact, to illustrate the implausibility of such an outcome, the president of Kentucky's Republican-controlled state Senate added his voice to the chorus of Davis' supporters on Wednesday evening, saying that the concept of marriage as between a man and a woman "is so interwoven" into Kentucky law that Davis "cannot reasonably determine her duties" until the law is clarified. 
RELATED: Kentucky clerk asks judge, again, for a way out of gay-marriage order
Another option would be to charge Davis with official misconduct, a misdemeanor that could result in a court order removing her. The office of the state's Democratic Attorney General Jack Conway, who is running for governor, said it was looking into the matter, according to the Times.
Outside the courthouse on Thursday morning, where about 125 protesters had gathered, Davis' supporters told msnbc that she has a right as a Christian to not be persecuted for her beliefs.
"I think she'll stand for her faith, she'll go to jail if she has to," said Thomas Arthur, a 57-year-old Ted Cruz supporter from Proctorville, Ohio. "But I hope that the people stand up and not let it happen, and I hope that the judge sees her rights and not just someone else's right because we all have them."
Al Black, also from Proctorville, agreed.
"I hope the judge will realize that this lady was elected into office by the people. And the people have spoken, this is the type of person they want in office," Black said. "It's obvious that she's a Christian. That's why they're doing it."
"Why should the supreme court make these rulings?" Black continued, saying there should be term limits for Supreme Court justices. "Why should a judge force somebody to do something and it's not brought to a vote? Where's the vote in this country?"
As possibly the most visible display of official resistance to nationwide marriage equality, Davis' case has created waves in both Kentucky's gubernatorial race -- the marquee political contest of 2015 -- and the presidential election. While Conway stands against Davis' actions, his opponent, Republican nominee Matt Bevin, supports her.
Among Republican White House hopefuls, meanwhile, Davis' detractors include former Hewlett-Packard CEO Carly Fiorina, South Carolina Sen. Lindsey Graham, and Ohio Gov. John Kasich. Her supporters include Kentucky Sen. Rand Paul, and former Arkansas Gov. Mike Huckabee, who said in a statement Wednesday that he had spoken with Davis to offer his "prayers and support."
Following the hearing, the crowd of protesters had mostly dissipated. The plaintiffs appeared more stunned than elated at the outcome, but were nevertheless looking forward to receiving marriage licenses on Friday.
"My fiance, Kevin Holloway, and I have been trying to get married for about two months so we'll be very happy to go down to the courthouse and get our license finally," Jody Fernandez told reporters. "It's sad in a way that Ms. Davis has decided she wants to stay in jail. I never wanted her to be going to jail. But that was her choice today."
Additional reporting by NBC News' Gabe Gutierrez.