The gun-wielding, pig-castrating Joni Ernst won Iowa's five-way Republican U.S. Senate primary on Tuesday night.
Ernst, who is also a state senator, won 56.2% of the vote, clearing the 35% threshold necessary to avoid a nomination at a state convention, according to The Associated Press.
Ernst, 43, was one of five Republicans vying this week for the seat held for 30 years by retiring Democratic Sen. Tom Harkin. The runner-up followed Ernst with 18% of the vote. She entered the race for U.S. Senate last July.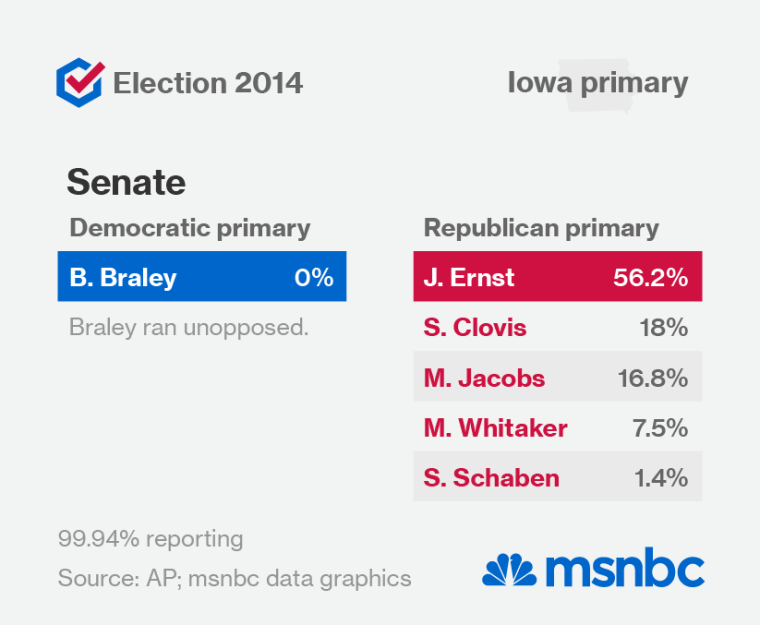 Deemed "Mama Grizzly" by supporter former vice presidential candidate Sarah Palin, Ernst will face off against Democratic nominee U.S. Rep. Bruce Braley in November's general election. She referred to her opponent, who ran unopposed in the Democratic primary, as a "rubber stamp" who, she said, has put the interests of his fellow Democrats ahead of Iowans and America.
"In sharp contrast, I have a long record of service to my community, state and nation and will promise you that I will go to Washington and stand with our own Sen. [Chuck] Grassley in fighting against the Obama agenda," she wrote in a statement posted to her campaign website after her victory.
During a primary debate last week, Ernst called the recent California shooting both an "absolute tragedy" and an "accident." She said the rampage should not be "infringing" upon people's Second Amendment rights.
The congressional hopeful cast herself into the public eye earlier this year with campaign advertisements that depict her taking literal aim at "wasteful spending" and castrating hogs. She served as a soldier in Iraq and Kuwait, and also as a lieutenant colonel in the Iowa National Guard.
RELATED: Ready, aim, fire: Candidates shoot at the government in ads
The National Rifle Association last month endorsed Ernst, who has been a lifetime member of the organization and received an "A" rating for her efforts to protect the rights of gun owners. She was also endorsed by the U.S. Chamber of Commerce, former presidential candidate Mitt Romney, Sarah Palin, and Florida Sen. Marco Rubio. 
The general election between Ernst and Braley will take place on Nov. 4.
Voters also cast ballots on Tuesday for primary elections in Alabama, California, Mississippi, Montana, New Jersey, New Mexico, and South Dakota.