At a Baptist church today, Louisiana governor Bobby Jindal signed into law legislation requiring that abortion providers have admitting privileges at local hospitals. The legislation is also expected close several legal abortion clinics. 
Amy Irvin, board member of the New Orleans Abortion Fund, which helps low income women access abortion, told msnbc the law would restore a "pre-Roe v. Wade condition."
According to the New Orleans Times-Picayune, there is only one abortion clinic in Louisiana currently able to comply with the law, in Shreveport, a five-hour drive from the New Orleans area. If local hospitals don't grant admitting privileges to doctors at the state's four other clinics – as has been the case in nearby Mississippi and Texas – the four other clinics in the state will be forced to close.
Lawmakers supporting the bill – including many Democrats – have claimed it will protect women's health, which is disputed by the American College of Obstetricians and Gynecologists (ACOG) and the American Medical Association (AMA). Those groups have said the laws have "no medical basis."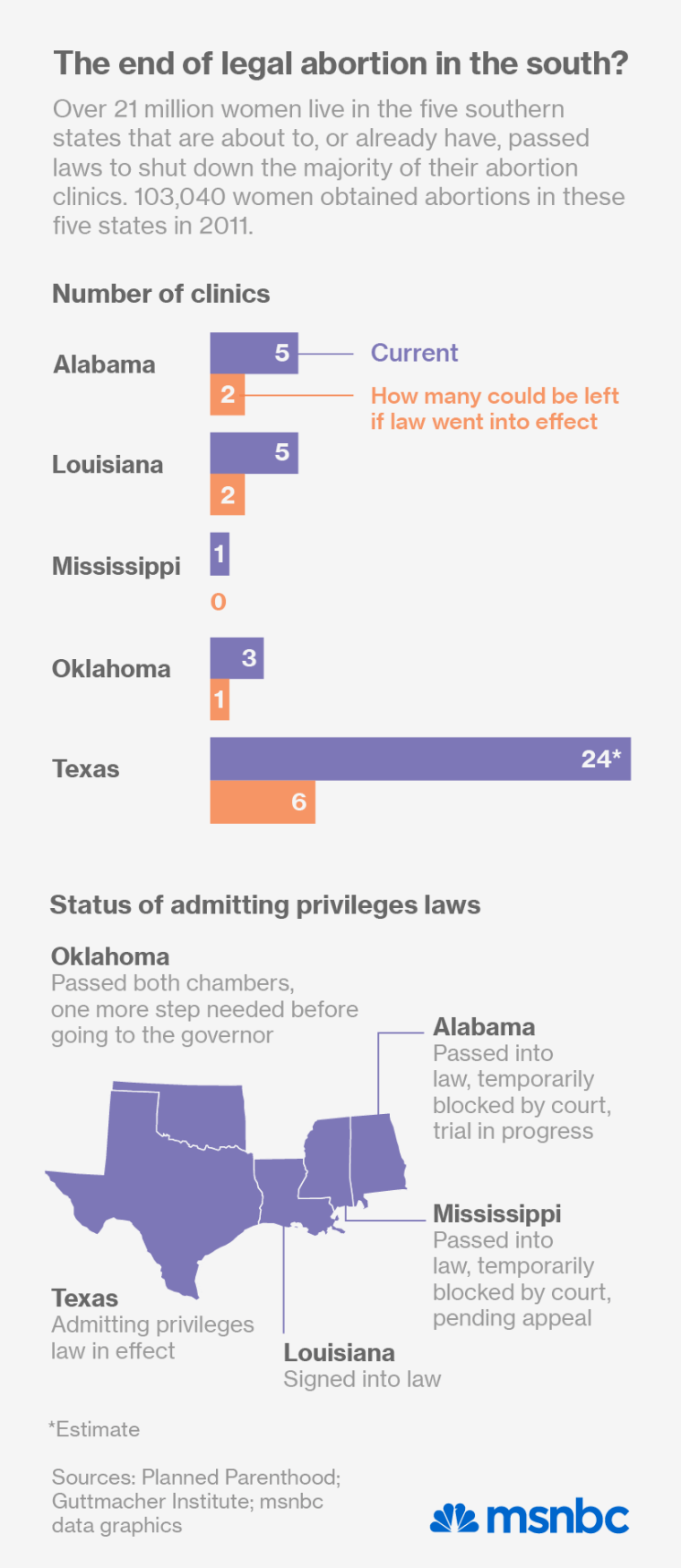 Jindal also signed a law preventing abortion providers from teaching sex education in schools. 
Irvin added, "The law really puts women in an unsafe situation. Without a clinic in their community, they're going to travel additional distance, pay additional cost, and push back the timeframe of their procedure."
Both the Mississippi and Texas versions of the laws are being challenged as unconstitutional. The Texas law was allowed to go into effect and closed over one third of the state's clinics, and the Mississippi law has been enjoined, keeping the state's lone clinic open for now. All three states fall under the conservative Fifth Circuit Court of Appeals, which is expected to rule soon on the Mississippi law and to decide whether to rehear the Texas case with the full panel of judges.
Trials in the challenges to admitting privileges laws in Alabama and Wisconsin, which have not yet gone into effect, recently concluded. Oklahoma Governor Mary Fallin signed the same law into effect on May 30. Tamya Cox, staff attorney and lobbyist at Planned Parenthood of the Heartland in Oklahoma, said she knew of only clinic of the state's three currently able to comply with that law, Reproductive Services in Tulsa.
Cecile Richards, president of Planned Parenthood Federation of America, said in a statement, "With these same dangerous restrictions enacted in neighboring states, the United States is becoming a country where a woman's ability to make personal medical decisions without interference from politicians will be dependent upon where she happens to live. That cannot be what the Supreme Court intended when it established a woman's right to safe and legal abortion more than 40 years ago."
 "We all want women to be safe, but this law doesn't protect women's health," said Jennifer Dalven, director of the American Civil Liberties Union Reproductive Freedom Project.