Jeb Bush is back on the national stage. And his reception is much closer to a chorus of boos than a standing ovation.
Just 21% view the two-term Florida governor – and potential 2016 Republican presidential candidate -- as favorable compared to 32% who view him as unfavorable, according to a new NBC News/Wall Street Journal poll. That means his approval ratings are worse now than they were a year ago. Not surprisingly, the moderate GOPer fared better among non-tea party Republicans by a 47%-11% favorability margin compared to tea party Republicans who viewed him favorably 35%-15%. 
Bush was criticized as being soft on illegal immigration by some of his fellow conservatives after arguing earlier this month that those who come to the U.S. illegally are often just trying to support their families, saying "Yes, they broke the law but it's not a felony. It's an act of love."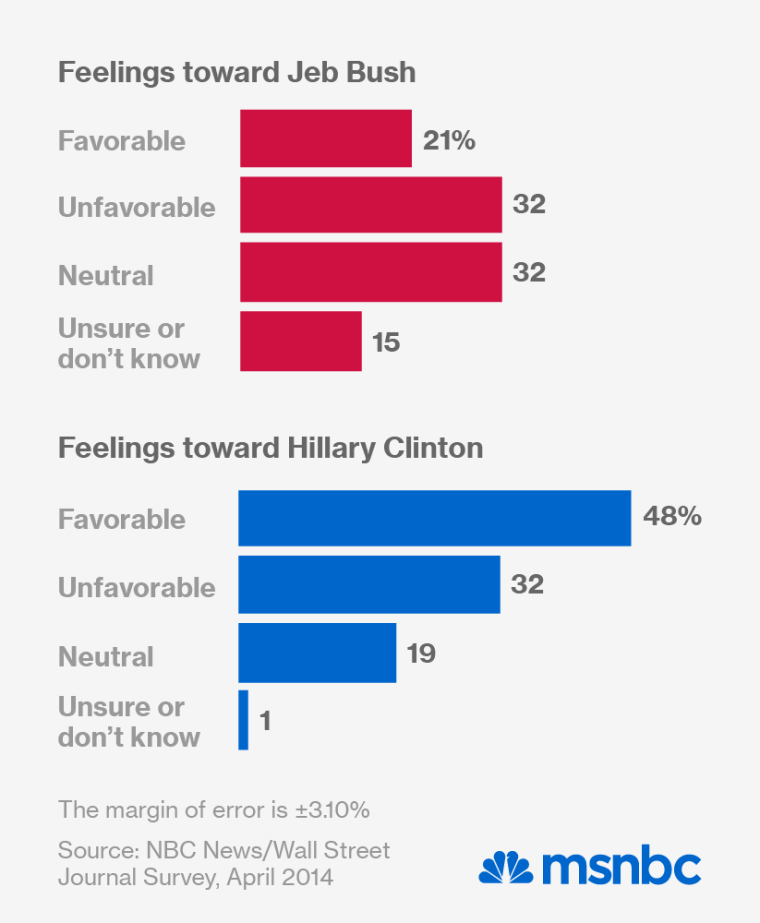 The 60-year-old son and brother of former presidents has been revving up his public appearances. Last week, at a Catholic Charities fundraiser in New York, the Republican reportedly told a group that he's "thinking about" running for president. Bush said he would make a final decision after the midterm elections this year.
Meanwhile, Democrat Hillary Clinton's approval rating remains solid with a 48% favorable to 32% unfavorable margin, with women giving the former secretary of state a boost. Among women, she has a 55%-26% approval rating compared to a 40%-39% among men.
The former secretary of state has said she too is "thinking" about running for president.
The NBC News/WSJ survey also found that the majority of Americans –70% -- agree with a previous statement Bush's mother, Barbara, made – insisting that that more than two or three families should run for president. The former first lady has also previously declared that she's fine with having only one son as commander in chief.
After Bush said he was considering running for president at last week's fundraiser, he joked: "Would you call and tell my mom?"
The poll suggested that Republican Sen. Rand Paul of Kentucky may be a force to be reckoned with in 2016, in large part due to tea party support. Overall, Paul had a 23% favorable and 25% unfavorable rating. But among tea party Republicans, it's a 59% to 7% margin. Among non-tea party Republicans, his favorability rating is 30%-14%.
The presidential election is 919 days away.