CHICAGO, Illinois – Jarrett Adams recently graduated from law school, but his first experience with the criminal justice system wasn't in the classroom. At the age of 17, he was arrested for a crime he insists he didn't commit.   
Over the course of a two-day trial, Adams went from typical teenager to convicted felon – with a 28-year prison sentence.  He remembers it as an "out of body" experience.  
"It's as if I'm looking at myself in a court room," he says, "while the train's coming down the tracks getting ready to hit me head on."
Adams was accused, along with two other teenagers, of a group sexual assault on a trip to the University of Wisconsin in 1998. One of the teenagers hired a private attorney, who offered an alibi witness and conflicting evidence about the incident at trial, leading to an acquittal.  
RELATED: Man who spent 17 years behind bars for wrongful conviction fatally shot in Chicago
Adams and the other defendant, however, could not afford a lawyer. Their court-appointed lawyer did not call the key alibi witness, or even offer any defense argument in court. The first trial ended in a mistrial, the second led to two convictions and Adams' lengthy sentence.
That is where such stories often end. There is certainly nothing new about poor defendants facing inequities in American courts. And even when an outcome may be legally questionable – an unfair trial or improper lawyering – the defendants most likely to be harmed are the least likely to have the money or connections to bring a challenge.
After his conviction, however, Adams began a path that is almost unheard of.
The Education of Jarrett Adams
In prison, Adams was assigned to a cell with an older man serving a life sentence. When the man, who went by "Pops," heard Adams talking on the phone about his innocence, he took an interest and asked for his case file. One day, when Adams returned to the cell, Pops had all his records laid out in the room.
"I'm never in my life going home," Adams recalls Pops saying, "and you're in here for some racist bull crap, where your attorney did not do his job -- did not call any of your alibi witnesses." He told Adams he had a real shot at freedom, if Adams could learn how to advocate for himself.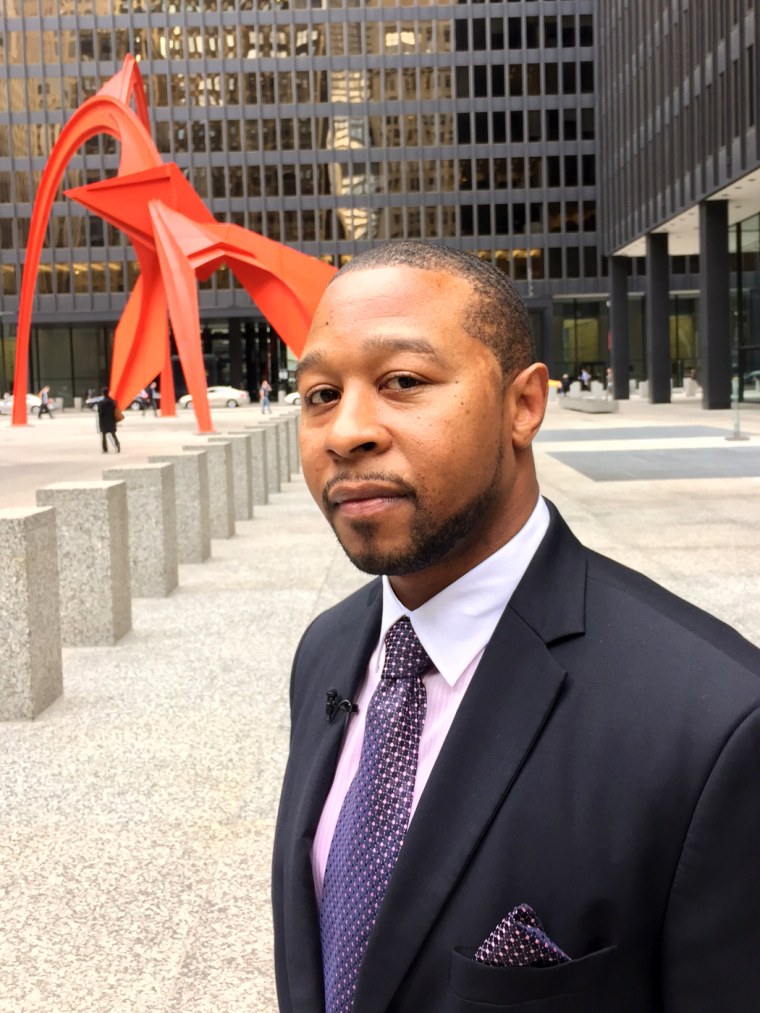 While Adams had never been to college, he began studying the appeals process in the prison library. 
He began to fully appreciate the flaws in his trial, and to notice patterns in other people's cases.
"There were a lot of young black people in there as a result of bad representation, not knowing anything about the law, pleading guilty to cases where they shouldn't have plead guilty," he recalls. "I'm driven now, because not only do I want to prove my innocence, but I also want to advocate on behalf of those who I know were just like me." 
While most of the local appeals in his case had failed, Adams determined a federal appeal was still possible, if he could get outside help. He petitioned the Wisconsin Innocence Project. 
Kevin Findley, who co-directs the project, recalls that while Adams did have legal grounds to appeal, the rules for winning are so tough, he was skeptical of taking the case. 
"When my students came to me and said, 'Let's file this habeas petition,' I said, 'I know what the standards are in federal habeas,'" he recalls.  Initially, he says he felt it "probably wasn't worth the effort."
The vast majority of such appeals are rejected – a count in one federal circuit found 96% of the appeals to reverse a criminal trial fail. 
His students prevailed, however, and Findley concluded the basic details of the case were clear.
"We believed he was innocent," he says, and "we thought the evidence used against him to convict him was horrifyingly weak."  
RELATED: Bill Clinton admits his crime law made mass incarceration 'worse'
Even as the Innocence Project led the appeal, Adams continued to correspond with the team on trial strategy and expand his advocacy. 
He began applying his developing legal skills for other inmates – Adams says he won 17 internal disciplinary appeals, helping people challenge punishment or collect lost wages. Adams says he believed in the work, but more crucially, he saw it as a chance to practice lawyering for his own case. 
"More than most clients I've had through my work with the Wisconsin Innocence Project, Jarrett was an actively engaged participant in constructing his challenge to his conviction," Findley says. "He had really strong ideas," Findley adds, "he pushed hardest for us to pursue the claim of ineffective assistance of counsel" – the idea that the defense lawyer's failure to defend Adams undermined a fair trial. 
Adams pushed the team, in fact, to make that the first point in oral arguments. The case had reached the top federal court in the Midwest, the Seventh Circuit Court of Appeals, which was probably his last practical shot at freedom. 
"It was clear from the oral argument that the judges were really troubled by the dearth of evidence in this case," Findley recalls, "and by the just inexplicable failure of his own lawyer to present the evidence that seems so incompatible with the conclusion that he was guilty."
What happened next, Findley says, "just sends a chill down your spine."
The three judges unanimously overturned Adams' conviction.
Adams remembers being taken from his cell for a phone call, and hearing a hushed group of people on the other end of the line. 
"I said hello and they're like, "Oh my god he's on the phone, so they said, 'Jarrett, you won! And hearing that brought tears to my eyes," he says.
The court found Adams' lawyer's "failure to investigate" and refusal to present an available defense had prejudiced the trial – the argument Adams advocated. The court also ruled that given the "the relatively thin evidence" against Adams, in a fair trial, it was reasonably probable that "the outcome of Adams' trial would be different." 
Findley says the victory made him think back to when he doubted whether a long-shot appeal was worth the effort. "I learned that's not an excuse we should rely on very often," he says. "You never know," he adds, "when you're going be successful in achieving justice."
Trial or Re-Trial
The ruling erased Adams criminal record, but he wasn't in the clear. Legally, the state could still try him again on the original charges. 
Prosecutors offered Adams a fairly pragmatic deal to avoid any more prison: Just plead guilty for "time served," and get out, or risk another trial and maybe 20 more years in prison.
Adams refused the offer. 
"There was no way I was taking a guilty plea," he says, "I would have rather go back to trial and prove my innocence." It was a high risk decision.
RELATED: Democrats and GOP agree on criminal justice reform. Can it last?
At that point, the prosecutors dropped the charges. And after roughly nine years in prison, Adams was free.
David Wambach prosecuted Adams' original case and handled it after the conviction was overturned.  He tells msnbc "the only reason" the state "declined to go through a re-trial was in deference to the wishes of the victim," who did not want to testify again. While Wambach noted the state can still prosecute regardless of the victim's wishes, he says, "I exercised my discretion to not force her to trial by subpoena." Michael Monico, a former federal prosecutor in the 7th Circuit, has mentored Adams since he got out of prison. He believes that Adams' unusual decision to refuse the plea further demonstrates "that he did not commit the crime."
Life After Justice
When Adams was set free, he was essentially a 26-year-old man with a life paused at 17.  
"I had to educate myself because look, when I went to prison, there was no Google. There was no email," he recalls. "So I had to figure out a way in which I had to catch up with the world," he says, "just have a shot at life."
Adams continued his emphasis on education, deciding he wanted to be a lawyer and work for marginalized defendants.  He went to community college and onto Loyola Law School in Chicago. While he had lost precious time and life experience in prison, he certainly had deep exposure to the legal system. 
"I knew he would make a fine lawyer," Findley recalls, "because he had already gone a long way down that path on his own while in prison."
Adams began seeking out public service opportunities during law school. He worked for the public defenders office, and then on a court-ordered review of confessions obtained through police torture. A judge had appointed Loyola Dean David Yellen to oversee that project, which reviewed abuse and potential wrongful convictions linked to notorious Chicago Police Officer Jon Burge.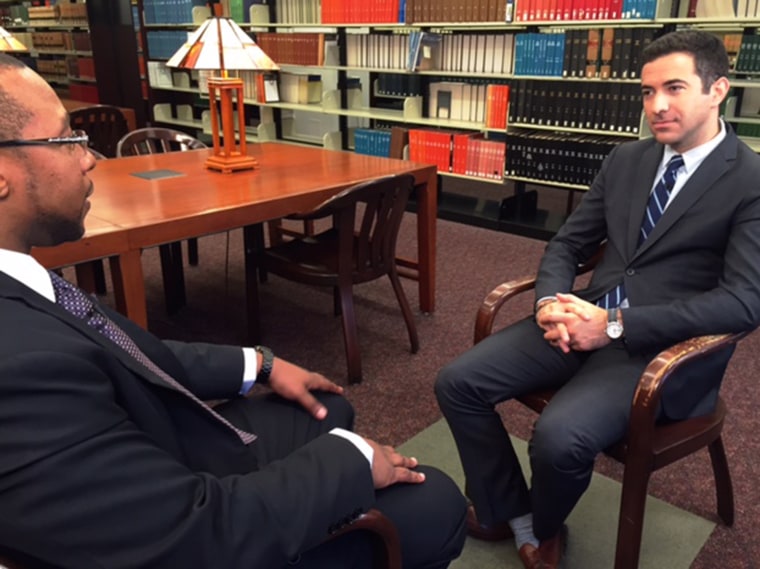 "I would identify someone in prison who might meet the criteria of having been tortured and potentially being entitled to a new trial," Yellen says, "Jarrett would pull the court document, review in detail all of the background information," and offer recommendations.  
The project is starting to get results. In August, an Illinois state court threw out a 1990 murder conviction based on a confession obtained through torture. Yellen estimates about 30 other people in the review have torture claims that could reopen their cases. 
Yellin says Adams was good at the job and has been a positive force on campus. 
"When he got out, he had this amazing determination and grace. I don't know how someone who spent 8 years, or longer, for something they didn't do can come out and not be angry at the world,' he says, "but Jarrett was one of those guys who came out and he wanted to do good things with his life."
Adams was also active in legal groups -- he met former judge Patricia Holmes at an event for the Just The Beginning, which advances diversity in the courts. She was also struck by his determination.
"Had he had a chance to go straight through college, his career would already be off the chart," she says. "The fact that he was side-railed by a wrongful conviction -- while it's a tragedy, it made him stronger." 
"I'm very proud of the fact that he didn't take that experience and become bitter about it. He took that experience and he made good," Holmes adds. "And he's a role model for a lot of young African American men, and definitely a role model for a lot of folks who have aspirations but don't necessarily believe they can achieve them."
Back to Court
Adams graduated law school in May and took the bar this summer. His path already reflects tremendous growth, but it's what he's doing this Fall that may be the most remarkable.
Adams just won a fellowship to clerk on the Seventh Circuit Court of Appeals – the very court that overturned his conviction. 
Every morning, he walks through downtown Chicago and into the federal court that set him free. He says it's "surreal."
"I sit in the same court room, take notes, listen to the judge, observe the arguments," Adams says, while "not too long ago, I listened as lawyers argued my case in front of these same three judges." 
RELATED: Convicted of a murder based on a dream?
Clerking for one of the 13 federal appeals courts is a coveted opportunity for any young lawyer. Loyola "occasionally send students to these clerkships," notes Dean Yellen, "but it's more often from the Harvards, and the University of Chicago, and places like that."
Adams' situation is especially rare. Michael Monico, who has practiced in the Seventh Circuit for 42 years, says he never heard of a former inmate clerking for the court that freed him.
Reform
Adams took the bar this summer and will get his results in November. He is leading a Loyola clinic on wrongful convictions and, after his clerkship, he wants to work on defense for the poor and as an advocate on justice policy.  
"You have a problem in the criminal justice system where unfortunately it's better to be rich and guilty than it is to be innocent and poor," he says. Adams hopes to represent "those who need it the most, but can afford it the least."
It's no surprise he's especially interested in issues that impacted his case, from the role of money to the lack of structure for people released after their convictions are overturned.
Adams lawyer, Kevin Findley, notes that there is scant support for those ex-inmates.  
"In most states, you're probably better off being guilty and released on parole," he says, "than if you're actually innocent and set free." He notes that parole programs offer counseling, housing assistance and job training, but are available to exonerees, who have no conviction and thus no parole.
Adams also hopes to work with Congress one day on designing re-entry programs. He argues everyone has a stake in how America's prisons operate.
"We are locking up and throwing away some of the brightest minds that we have in this country, and it's a stigma that is being placed on people who go to prison," he says, citing prohibitions on scholarships and assistance for people even after they are released.
"Just to think, I was in a prison, and now, I'm a lawyer working for a Seventh Circuit Judge," he says. "I didn't just take a 'smart pill' upon my release, so imagine if I had to serve this 19 years in prison and not be able to contribute to society right now," he says. "We may be locking up the cure to cancer, the cure to HIV, we may be locking up our next generation of believers and doers in the United States."
Adams says his determination today rests on something he decided when he was in a car driving away from prison after his release – his time behind bars could motivate him, but it would not define him.
"Driving home, I said to myself -- The story of Jarrett Adams won't be remembered as, 'Person wrongfully convicted, got out,'" he recalls. "No, the story of Jarrett Adams is going to be, Person wrongfully convicted, got out, and worked each and every day, until he gasped his last breath, to change the criminal justice system for the better."
Additional reporting by Todd Cross.