"This isn't about a t-shirt, it's about senior Clinton campaign officials willing to contravene the law," conservative journalist James O'Keefe told reporters in Washington, D.C., on Tuesday as he unveiled his latest undercover sting video, this one apparently exposing illegal activity by top Hillary Clinton campaign staffers.
O'Keefe, whose past videos have sparked both congressional action and his own arrest, invited journalists to the National Press Club with little but the promise of something explosive.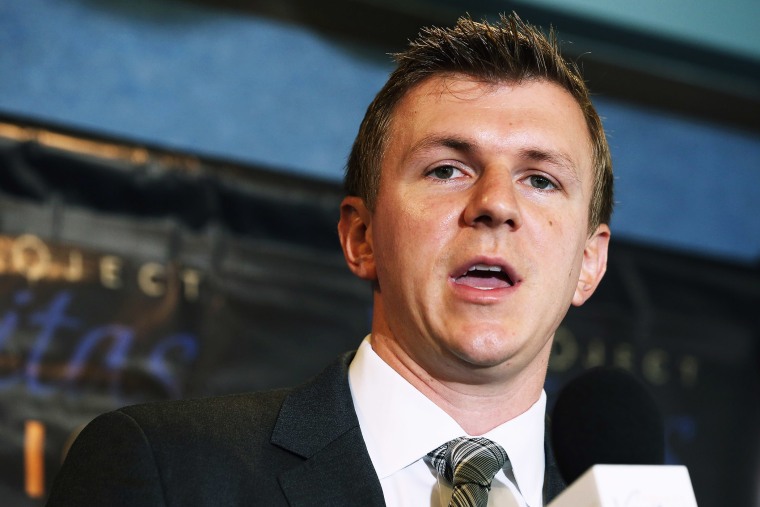 He claimed his hidden video cameras had caught two senior Clinton campaign officials accepting illegal contributions from a foreign citizen at the candidate's June kickoff rally in New York City.
The size of the donation – $40 for a t-shirt – did not impress the assembled press corps. "Is this a joke?" a reporter with the Daily Beast asked.The video shows an undercover operative working for O'Keefe's Project Veritas helping a Canadian woman buy Clinton apparel. Two relatively senior campaign staffers, who happened to be manning a merchandise booth at the event, told the Canadian woman she could not purchase the items, since foreigners cannot give to American campaigns.
But the Project Veritas reporter offered to help. The reporter purchased the t-shirt for the woman, who would apparently reimburse her, though that transaction was not captured on tape. And the reporter purchased $35 in apparel for herself.
Now, O'Keefe wants that $35 back.
To Project Veritas, this is a clear-cut campaign finance violation involving foreign money flowing to Clinton via a straw donor. While O'Keefe's team said they have no plans to take the issue to the Federal Election Commission, they did write a strongly worded letter to Clinton's campaign asking them to reimburse the $35 donation from O'Keefe's group and the $40 from the Canadian.
Clinton's campaign dismissed the video, insisting everything captured on the camera is perfectly legal, and that O'Keefe is misunderstanding the law. "This video shows a Project Veritas operative yet again unsuccessfully trying to entrap campaign staffers who very clearly rejected any foreign donation," said Clinton spokesperson Jesse Ferguson. "Our staffers understand and follow the law, as demonstrated even in their selectively edited video. Project Veritas, on the other hand, has been caught trying to commit fraud, falsify identities and break campaign finance law—not surprising, given that their founder has already been convicted for efforts like this."
RELATED: James O'Keefe's latest bogus claim busted
O'Keefe has struck fear into liberal groups who worry they'll be a target of his undercover operatives, even though most of of his stings have fizzled. Some, however, have led to resignations of campaign officials, sparked congressional action to investigate or defund liberal organizations, and impacted the political discourse. While his record has many more misses than hits, there's no denying O'Keefe's impact.
Clinton's camp believes O'Keefe got spooked after campaign officials told staffers to be on the lookout for his operatives, and released whatever he had. O'Keefe's lawyer, Ben Barr, disagreed. He acknowledged the amount of money at stake is minimal, but suggested that if the transaction happened once, it probably happened more times.
But Barr also acknowledged that the Project Veritas reporter likely broke the law themselves. Both making a contribution under a false name and being the straw purchaser for a foreign donor are potential violations, Barr acknowledged, but he dismissed the violation as "campaign finance j-walking."Didn't the campaign also then merely commit "campaign finance j-walking" by accepting the contribution? reporters asked. "Jams O'Keefe is not running for president," Barr said, saying Clinton had to be held to a higher standard.
Asked to name his reporter, O'Keefe refused. Asked to release the unedited video, O'Keefe refused. Asked to name the Canadian woman in the video, O'Keefe said he didn't know her.
RELATED: O'Keefe to pay $100,000 settlement to ACORN employee
O'Keefe added that he holds himself to the same standards as the mainstream media. So why wouldn't he release the name of his journalist? Project Veritas journalists are like a "hybrid" between a source and a journalist, he said.
HIs reporters are "sort of like SEAL Team 6," he added.
Asked if he planned to target other presidential campaigns, O'Keefe refused. "I am not a partisan person. And if the Republicans do this I might go after them too," he said.
But one thing he would promise was to keep going after Clinton. "Right now, as I speak, we have people inside the Clinton campaign," he said, promising more videos soon.