A sunny day at the state fair didn't stop reporters from grilling Hillary Clinton -- about Benghazi, about Iraq, and of course, about her email server controversy.
"I never sent classified material on my email, and I never received any that was marked classified," Clinton said on Saturday, defending her use of a private email server during her time as secretary of state -- a scandal that has plagued her campaign from its onset. Recently, Clinton turned the server over to the FBI to investigate its security.
The comments marked a small but noteworthy departure from prior statements Clinton has made about her use of the server. Previously, she said she never sent or received classified emails on that server, period. Saturday, she said she never sent or received emails that were marked as classified. The distinction appears to be an implicit acknowledgment of the inspector general's recent findings that the content of at least four emails out of a randomly selected batch of 40 were classified.
RELATED: GOPers pounce on Clinton amid latest email revelation
During a 90-minute stop at the Iowa State Fair in Des Moines, the Democratic front-runner fielded several tough questions from the press before grabbing a bite to eat. She was introduced by one of her biggest fans -- retired Sen. Tom Harkin of Iowa -- who on Friday became the latest high-profile figure to endorse Clinton for president.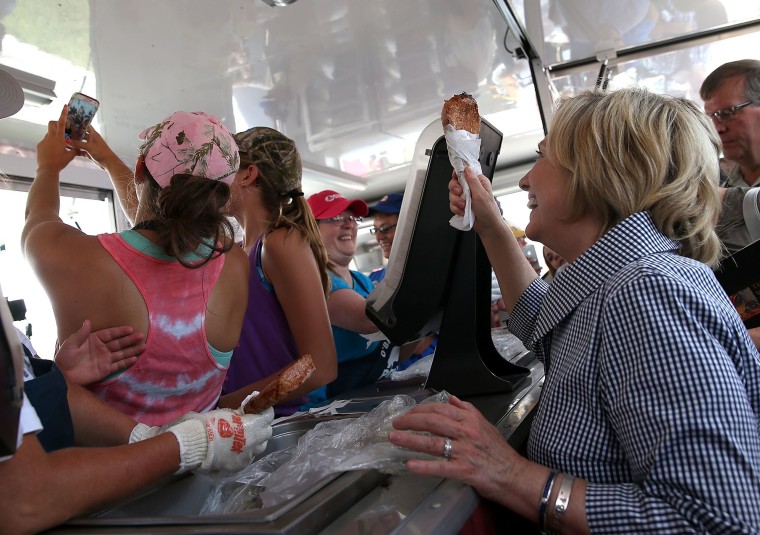 Harkin proudly introduced Clinton to the crowd, calling her "a great friend of almost 25 years." The affection between the two politicians was apparent, as they exchanged smiles throughout Clinton's appearance.
RELATED: Dueling chants prepare Iowa for the annual Wing Ding
The warmth between Clinton and Harkin was overshadowed, however, by heat from the press. On Benghazi, Clinton blamed partisanship: "Republicans in Congress, the ones running for president," are resorting to their "unfortunate tendency to make partisan the tragedy in Benghazi." Nobody on the campaign trail has asked her about it, she said.
Clinton also dismissed GOP rival Jeb Bush's recent criticism of her with regard to the rise of ISIS in Iraq. "[I find it] somewhat curious that Jeb Bush is doubling down on defending his brother's actions in Iraq. If he's going to do that he should present the entire picture," Clinton said.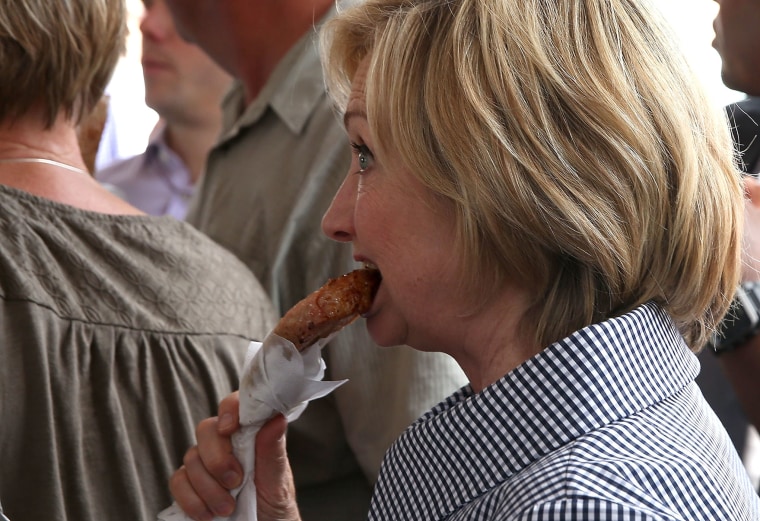 Asked about the timing of Harkin's endorsement, Clinton turned over the mic to Harkin, who balked over speculation that it had anything to do with rumors of Vice President Joe Biden gearing up to run, and reiterated that he'd been away on vacation for much of the summer with his grandkids.
Also at the fair, 17 other presidential candidates vied for voter attention: Donald Trump, Lincoln Chafee and Rick Santorum, to name a few.
Asked what she considers her biggest campaign mistake thus far, Clinton replied, "I'm just having a good time." It appeared to be true: Not long after addressing the press, Clinton was seen waiting in line for a pork chop on a stick -- one of the fair's signature delights. 
"Highly recommend it!" Clinton said with a smile. 
Additional reporting by MONICA ALBA