Several hundred activists were arrested Monday afternoon during a sit-in on the steps of the U.S. Capitol to call for action on voting rights and campaign finance reform. 
The mass civil disobedience, part of a week-long Washington protest known as Democracy Spring, aimed to demonstrate the depth of grassroots frustration at a political system that, participants said, is tilted toward the wealthy at the cost of ordinary Americans. It came as a growing number of observers are expressing concern about the direction and robustness of our democratic system. The first presidential election in over half a century without the full protections of the Voting Rights Act is approaching. Voting restrictions already have played havoc in the primaries. And voters in both major parties are expressing intense anger over a campaign finance system awash in big money donations. 
RELATED: Is the GOP purging voters in a pivotal state?
As the chilly April morning gave way to spring sunshine, around a thousand activists marched from Washington's Union Station to the Capitol. "Money out, voters in," they chanted. At the Capitol, a smaller group of several hundred sat down on the building's eastern steps. Capitol police gave three warnings before beginning arrests, herding protesters in several waiting buses. Some conservative news outlets had in recent weeks appeared to stoke fears of violent or chaotic scenes, but the process was orderly and peaceful throughout.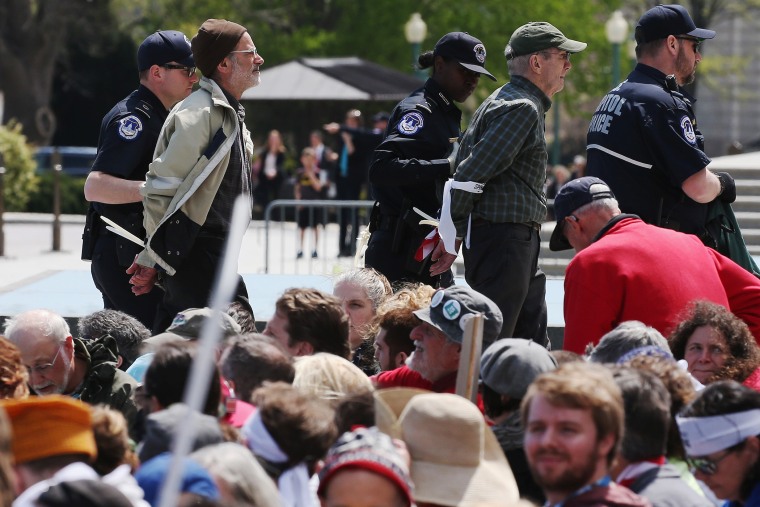 Among those arrested were Cenk Uygur, the popular progressive media personality, and Adam Green, who runs the Progressive Change Campaign Committee, which says it represents the "Elizabeth Warren wing" of the Democratic Party.
"We're here because the government doesn't represent all the people, and it should," said Rachel Perkins as she sat at the foot of the Capitol steps and prepared to be arrested. 
Perkins traveled from Oakland to participate. Was she nervous about being arrested? "Oh yes!" she said. "But it's worth it."
Like Bernie Sanders, the Democratic presidential candidate for whom many attendees expressed support, the organizers of Democracy Spring believe it will be next to impossible to solve the substantive issues that progressives care about -- inequality and climate change chief among them -- without first reforming our politics. 
"We know that if we don't have a democracy that works for all of us, if we don't have a government that represents us all, then the crises that we face today threaten our very future," Kai Newkirk, a progressive activist who played a key role in putting the event together, said from the stage before the march began. 
RELATED: Ex-staffer: Wisconsin GOP intended Voter ID law to disenfranchise Dems
They see threats to voting rights and the flood of corporate money in politics as working together to drown out the voices of regular people. 
"Voter suppression is alive and well," said Samantha Hendricks, who traveled from Portland, Oregon. "Hundreds of thousands if not millions of Americans can't vote right now because of restrictive voter ID laws."
But, Hendricks continued, "even if we're privileged enough to have the right to vote, we recognize that the Congress isn't passing laws that are aligned with public opinion. We see that."
The activists, some of who had spent the week marching en masse from Philadelphia's Liberty Bell, want a constitutional amendment overturning Citizens United, the 2010 Supreme Court ruling that helped lead to a massive influx of political money from corporations and big donors. They want Congress to embrace innovative public financing systems of the kind recently passed in Seattle and Maine. They want lawmakers to pass legislation that protects voting rights, including restoring to full strength the Voting Rights Act, which was badly weakened by the high court in 2013. Two bills meant to strengthen the VRA have languished in the GOP-controlled Congress for more than a year.
RELATED: House Republican accidentally tells the truth about voter ID
Sanders and Hillary Clinton have released detailed policies on how to protect and expand voting rights and how to reduce the influence of big money on politics. None of the three remaining Republican candidates have done so, though Donald Trump has frequently assailed his rivals for being beholden to moneyed donors and portrayed himself as not for sale.
More civil disobedience is planned for the rest of the week. Legendary civil rights activist Delores Huerta and NAACP president Cornell Brooks are both expected to participate. Starting Saturday, the sit-ins will give way to a series of teach-ins and training sessions lasting through April 18, in what's being billed Democracy Awakening.