A new wave of feminism is here, and its most powerful weapon is the hashtag. 
As recently as a decade ago, those seeking to fight sexism had few avenues to easily do so in a public way. Discussion of feminism and feminist values was scarce, if not dispirited; activists had been branded "feminazis" by Rush Limbaugh, and numerous celebrities, like pop star Katy Perry, actress Shailene Woodley, and actress Kaley Cuocco rejected even the word "feminist." Before Twitter and Facebook exploded as platforms for news, participating in rallies was limited to those who were in those cities, or those who could afford to take time off work and travel; letter-writing was seen only by the recipient of the letter.
Social media democratized feminist activism, opening up participation to anyone with a Twitter account and a desire to fight the patriarchy. By removing the barriers of distance and geography, sites like Facebook, Twitter, Tumblr, and Instagram have made activism easier than ever, facilitating public dialogues and creating a platform for awareness and change.
When a group of women wanted to protest an abortion bill in Texas in 2013, local women rallied together at the Texas State Capitol, but those who couldn't attend protested online with #StandWithWendy, supporting State Rep. Wendy Davis through her 13-hour filibuster. When women wanted to protest sexist t-shirts by a children's clothing company, they flooded their Facebook page until the company couldn't ignore them and had to yank the product.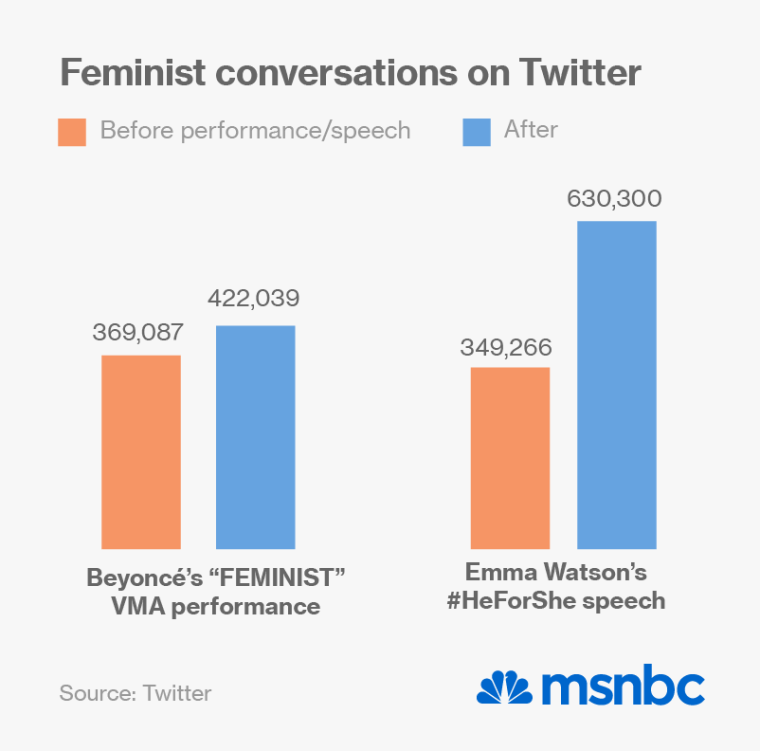 Already in 2015, women protested superficial red carpet questions female actors are asked at awards shows by using the hashtag #askhermore. The hashtag trended in the lead-up to this year's Academy Awards, and red carpet reporters, including ABC's Robin Roberts, mentioned the hashtag on air during the show and asked actresses some of the more substantial questions suggested on Twitter. And during the Super Bowl, women used #NotBuyingIt to call out sexism in Super Bowl ads in real time during the game. 
2014 was arguably the year that hashtag feminism finally reached the tipping point. #YesAllWomen trended for weeks after Elliot Rodger, who had written about his anger towards women, went on a shooting spree in Santa Barbara, California. Thousands of women used the hashtag to share their stories of how everyday sexism and violence against women had affected them. In the wake of the Ray Rice domestic violence scandal, when some pundits asked why Janay Rice had stayed with her husband, thousands of women took to Twitter sharing their own personal stories of domestic violence with the hashtag #WhyIStayed. When conservative columnist George Will claimed that rape victims have a "coveted status that conveys privileges," in society, women used the hashtag #survivorprivilege to respond to Will. The hashtag #changetheratio has been used over the years to protest tech events whose speaker lineup features far more men than women. And #BringBackOurGirls trended worldwide as people around the world raised awareness of the 200-plus Nigerian schoolgirls that had been kidnapped by Boko Haram.
But feminist social media activism doesn't just raise awareness -- it has generated tangible results, too. Organizations have changed course as a result of social media backlash created by everyday people armed with tweet ammo. Last fall, Victoria's Secret changed the "perfect body" slogan in its new advertising campaign after receiving backlash on Twitter and in a Change.org petition, where thousands of users protested that the campaign -- which featured ultra-thin and mostly white models -- was promoting negative body images.  
In 2013, the organization Women, Action, and the Media (WAM) launched a campaign targeted at Facebook, pressuring the tech company to change their policies about allowing images that depict violence against women. Supporters bombarded companies that advertise on Facebook with the hashtag #FBrape, inundating hundreds of advertisers. Facebook responded shortly thereafter and said that they would be amending their community guidelines to ban gender-based hate speech, and they partnered with WAM on this effort. 
In 2012, the #StandWithPP hashtag was created after the Susan G. Komen Foundation announced it would be withdrawing its funding of Planned Parenthood because the organization provides abortions (among the many other health care services it provides). Planned Parenthood supporters used #StandWithPP on Twitter to voice their support of the organization and pressure Komen to reverse their decision. Within days, Komen responded to the backlash and reversed their decision. The president of the organization stepped down later that year.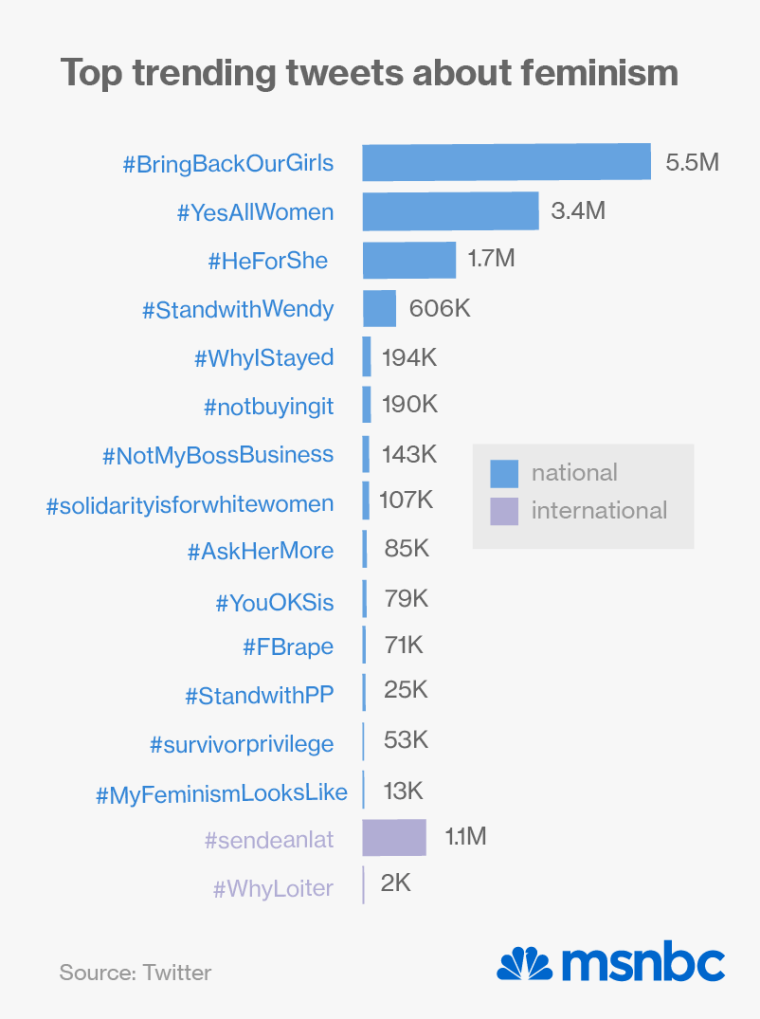 "Hashtag activism" is a term that has been much maligned, but it has been effective at pressuring politicians and companies to change. Now, many institutions diligently monitor social media conversations about themselves. And most take it very seriously when the social media chatter about their organization turns negative, treating it as a full-on PR crisis. In recent weeks, several potential 2016 presidential candidates have learned this the hard way. Jeb Bush fired a tech staffer for his Right to Rise PAC after old tweets of his calling women "sluts" surfaced, and Scott Walker fired a newly-hired campaign staffer over tweets that criticized the important primary state of Iowa. 
Skeptics have long argued that social media doesn't create any real change and has only flooded the world with ineffective hashtags. And there is some truth to that. While social media campaigns have been effective at raising awareness around the issues they're tackling, not all of them have forced real action. For all the awareness that #BringBackOurGirls created, the hashtag did not convince Boko Haram to release the 200 schoolgirls who were kidnapped -- almost a year later, the girls are still missing. Since then, Boko Haram has only abducted more young women.
There is still a long way to go, and social media activism alone won't solve the world's problems. But it has potential to be a powerful force for women trying to fight back against sexism. Social media activism will probably never fully replace traditional activism -- it won't replace the power of peaceful protests, demonstrations and rallies -- but what social media can do is give a voice to those who are otherwise voiceless. It elevates the voice of one person with a Twitter account to a national story, no matter where that person is located, what group they are affiliated with or what resources they have.