OAKLAND, California— The bleak statistics for black boys here are like lyrics to a sad song that everyone's tired of hearing but no one knows how to mute.
Too many live in poverty. Almost a third will drop out or be pushed out of school. And in recent years, black boys have been about as likely to be shot to death as they are to graduate from high school college-ready.
But there's hope for boys in this beleaguered second-city by the bay: Many are beginning to stand up and fight for their futures. And they have a whole team of black men standing up and fighting with them.
Four years ago, the Oakland Unified School District launched the office of African American Male Achievement (AAMA) -- the first and only school district in the country with an office explicitly dedicated to lifting the prospects of black boys.
The AAMA operates as a stop-gap, filling the spaces so often left vacant by absent fathers or the lack of black male teachers or other positive male role models. It works as a conduit between adolescence and manhood, challenging young men to realize their full potential while offering them critical life skills.
"The narrative of black boys in this city has always been around their deficits and what they are not doing," AAMA executive director Chris Chatmon said. "The more folks that we can get to build the collective will to take up that space and see the beauty and brilliance in African-American male children, and really validate their voice by listening to them, the faster we'll be able to change the conditions and the culture."
For at least one period during each school day, middle and high school boys who are part of the program file into classrooms where they're greeted by black male instructors. For about an hour they can drop the masks so many of them wear and be their complicated, hopeful, sometimes wounded selves. The so-called Manhood Development Program teaches self-respect, personal accountability and responsibility.
The program was designed by and for African-American males and is currently offered as an elective in 16 Oakland schools, with plans to expand.
The boys read many of the classics of black American literature aloud, including "The Autobiography of Malcolm X" and the work of Richard Wright. They learn how to tie a necktie and set goals. They can open up about their fears of gun violence as openly as they can about the day-to-day frustrations of home or school life. The instructors also work as go-betweens for the boys and their other teachers. When a student is struggling or missing classes, the mentors are often the first line of defense.
"It's like sometimes you just need that extra talking to when you can't always get a talk from your own dad," said Willie Scott, 16, a student at Oakland High School. "If we need a ride home they'll give us a ride home. If you need money for the bus they'll give you money. If you're hungry they'll have some food in the classroom, they're just here for us."
Willie, an 11th-grader, mentioned one other critical bonus: The teachers are African-American.
"They went through the same things we do now," he said. "They want to be there where they didn't have someone to help them back when they were in high school."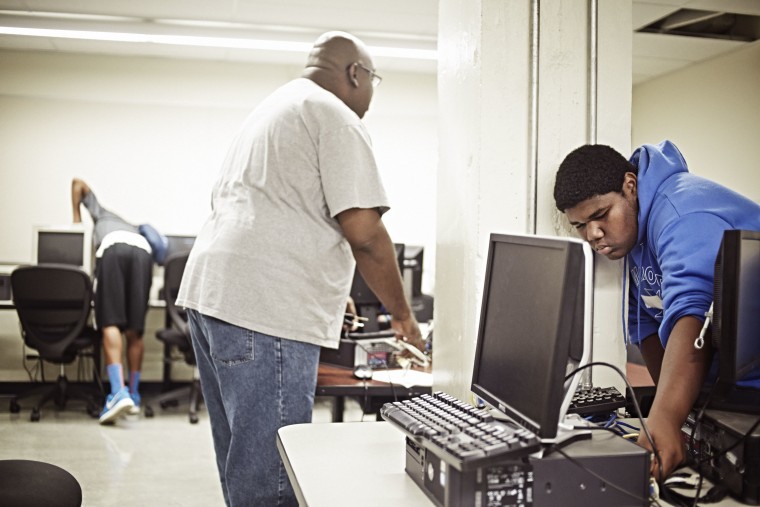 Three years into a five-year plan, AAMA is showing modest but encouraging signs of success. Since its launch in the 2010-2011 school year, Chatmon said the suspension rate for African-American male students district-wide has been cut by about a third and the graduation rate has gone up 10%.
The average grade point average for participants in the Manhood Development program, who Chatmon and other instructors refer to as "Kings," has grown well above their black male peers in the district, according to an AAMA status report on the program. Students in the program have an average GPA of 2.12 compared to just 1.7 for their counterparts.
The AAMA receives no money from the school district, relying instead on funding from private foundations. Last year's budget was about $1.2 million, which supports programming and a staff of 40, including an office staff of 8, 17 instructors and 15 parent liaisons.
Chatmon and school district leaders insist three years is hardly enough time to gauge the overall effectiveness of AAMA programing. Scaling up the program has also proven difficult given funding restraints, they said. Right now the Manhood Development program -- the hallmark of the AAMA -- only reaches about 400 students a year. That's roughly 4% of the black males in the district.
Supporters and critics alike have questioned the efficacy and sustainability of a program with limited space and funding and with a rather broad set of goals.
"The more folks that we can get to build the collective will to take up that space and see the beauty and brilliance in African-American male children… the faster we'll be able to change the conditions and the culture."'
"Obviously they need more than just good intentions, which I think Oakland has plenty of. What they don't have is a real clear sense of what they should be doing to change outcomes for boys," said Pedro Noguera, executive director of the Metropolitan Center for Urban Education at New York University. "If you end up focusing entirely on a mentorship or rites of passage program but you ignore other things like access to quality teachers and job skills, you're not going to have a significant impact."
Noguera added that the AAMA's focus on manhood and masculinity could also be problematic.
"We've known for a while what girls really need -- schools that break and defy the stereotypes that limit girls, and schools that teach girls leadership skills and have them doing science and math and coding. We don't know what boys need to do or the ways in which masculinity may be undermining their achievement," Nogurea said.
Chatmon said generations of black boys have been raised with skewed perceptions of themselves based largely on society's fear and subjugation of black men. If these boys don't see themselves as worthy, as whole and as loved, they'll continue to spiral, he said. 
Part of the AAMA's work has also focused on diversity training and cultural sensitivity training for teachers throughout the district, 70% of whom are white women.
"Ultimately, we want to work ourselves out of this position," Chatmon said. "We want to make sure that our legacy is that there is not a department of African American Male Achievement … Hopefully our legacy is that we've done this right so black males have now moved on up," he said. 
'Their arguments were deeply racist'
In 2010, former Oakland Unified School District (OUSD) Superintendent Tony Smith pushed to establish a district-wide office dedicated to bolstering the lives of black boys.
"To too many people, to teachers, these children are animals," Smith said at the time. He's since left the school district and moved out of state to care for aging relatives. But his early involvement in AAMA has had a lasting impact, Chatmon said.
"He called out white privilege. He called out structural racism in ways I haven't seen any other superintendent past or present, locally or nationally do," Chatmon said.
The program has nonetheless had its share of skeptics.
The teachers' union initially took issue with non-certified instructors teaching in classrooms. The mostly white meritocracy set has suggested black youth suffer fundamental inabilities, a problem they say their own communities needed to work out. Many Hispanics, another struggling minority group, have felt left out. And even some African Americans have questioned the efficacy of school programs when deep poverty and unemployment remained pressing issues off school grounds.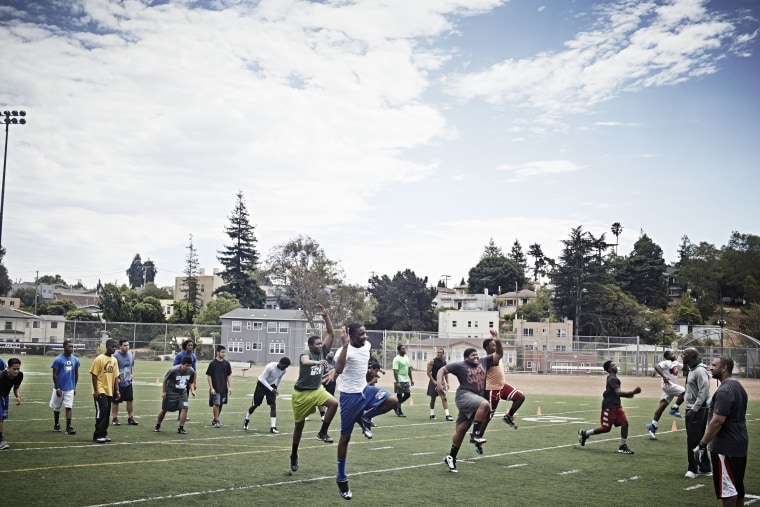 There were heated debates between Smith and the school board, which was wary of the political and legal fallout of dedicating public resources to a specific race and gender program.
"Without any reflection many of their arguments were deeply racist and biased," Smith said in an interview with msnbc. "If you are born in a certain part of Oakland and you are African American the chances of you being successful and healthy are significantly restrained. I find that to be both morally and economically reprehensible."
Smith, who is white, said he had to work hard to reframe the social and racial narratives that had long been fed to many of those who opposed the AAMA.
"It was an opportunity to use my white privilege and experience and history and say, why wouldn't we take steps to change this. We cannot accept this as a given. We can do things differently and if we don't I want to understand why not," Smith said.
The school board ultimately approved the plan for the AAMA. Smith hired Chatmon as executive director and put his office directly across the hall from the superintendent's office, a move he said was meant to send the message that the program was critical to the district's operations.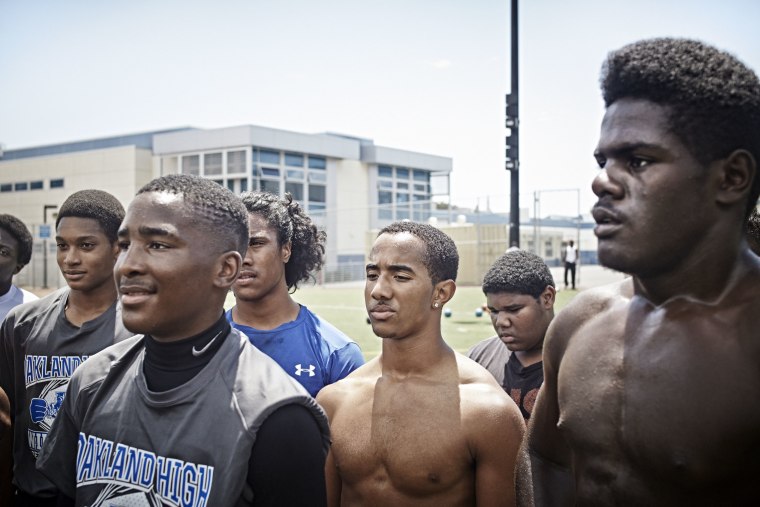 One of the most ambitious efforts run out of the AAMA office is the Voluntary School Study Team, tasked with identifying and breaking down the institutional, cultural and structural barriers within the district that contribute to negative outcomes for black male students.
A recent report by the Urban Strategies Council, an Oakland-based research and policy group, found that black boys made up just 17% of the school district's student population but 42% of all suspensions. That's a rate six times that of their white peers. The vast majority of those suspensions are for what district spokesman Troy Flint described as "defiance" offenses -- a vague, undefined category most often applied when a teacher feels his or her authority is being disrespected.
"We're really trying to clamp down and dramatically reduce defiance as an excuse for suspension. It's been a bit of a crutch," Flint said, adding that the AAMA has worked with teachers and offered trainings aimed at eliminating many of the biases that teachers have against black boys and which often lead to classroom conflict.
My Brother's Keeper
Oakland's efforts were given a morale boost earlier this year when President Barack Obama unveiled My Brother's Keeper, a new White House initiative to address the challenges facing boys of color. Some of the nation's wealthiest foundations have pledged about $200 million over 5 years to the program, which targets young minority men and boys during critical points in their lives.
The president's public push around My Brother's Keeper has raised the level of awareness of the struggles of black and brown boys, many of whom have been failed by public institutions, criminalized by society and sent on a fast track through poverty, early death or incarceration.
"The president's initiative serves a huge galvanizing purpose. It lends this terrific legitimacy to the work on men and boys of color broadly and it certainly lifts up its visibility as a sector of work across the nation," said Cedric Brown, managing partner at the Kapor Center for Social Impact, an Oakland-based foundation that has supported OUSD's work and is a funder of My Brother's Keeper.
I want to experience life
At the start of each school year, AAMA manhood development instructors ask their students to list three words that describe what it's like being a young black male in America.
Lists have included "scared, hiding, survival," "underestimated, underappreciated, alone" and "feared, not respected."
William Blackwell, an instructor and Oakland native who played in the National Football League before returning home to coach and do community work, said what's effective about the program is love and consistency, things many of the young men have never really gotten from a black man.
"Many of these boys don't have fathers at home and their mothers are trying to survive. They can't teach them how to be a man even though they do their best," Blackwell said.
Blackwell said there are a few rules in his classrooms: 
You don't use the N-word. You don't curse. You don't disrespect yourself or your brothers in class.
Any infraction earns his students a choice: a call home to a parent or anywhere between 25-100 push-ups. Most choose the push-ups.
"We know their lingo, we know our culture, we know both sides of the fence," Blackwell said. "We can get them over the fence. I tell them, you belong to me. I take ownership. You're not going to act up in my class or any other class. Don't embarrass me. Some of them have never had a man talk to them straight up like that."
Nicole Wiggins remembers the first day her 16-year-old son, Asim Smith, came home after taking his first Manhood Development classes. He ran into the house yelling about this great black teacher that he had and his classmates and all of the conversations they were having.
"He said he finally found a class where I can be myself and I can be who I am," Wiggins said. "To hear him say that was so powerful." It was a monumental moment for her son, whose lifelong academic struggles were compounded with ailing health due to kidney disease.
Positive male role models in Asim's life have been few. When his mother was three and a half months pregnant with him, his father was killed in a hail of bullets when the car they were driving in was ambushed by gunmen. Wiggins was badly injured. But Asim, her miracle baby, survived without a single physical scar.
Still, Wiggins believes the trauma left other marks on her boy. Asim was often sick as a child, and as he grew bigger he seemed to grow bitter and angry, frustrated by his illness and desperate for a responsible adult man in his life.
A host of uncles and other male relatives seemed to be on an endless loop between the streets and jail. Smith's manhood development instructor, Sean Foster, was the first steady male mentor he'd ever had and certainly his first black male teacher.
"To have a man showing him love and care and telling him you can be better, you can do this and teaching him. Telling him that he can do better, it really had an impact on him," said Wiggins, who recently joined AAMA as a parent liaison.
Before taking the Manhood Development class in 9th grade, Asim said he had little interest in school. His friends were fighting and cutting class and his grade point average dropped to just about a 1.5.
"Most of my friends didn't care. I didn't want to be like them but I had known them for so long," Smith said. "But Mr. Foster and the other teachers, they've held me accountable for the things I need to do."
He said he started to see himself as part of a bigger family and that came with responsibilities, first and foremost doing the best he can in school, so one day he can go off to college and make something of himself.
Now, as a rising junior, Smith said his GPA is a 3.5 and his outlook on life is much clearer. He dreams of being a dancer or a fashion designer, and has a relatively loyal following on YouTube, where he posts slick videos of himself dancing through the streets of Oakland.
"I think I'm going to make it," Smith said on a recent afternoon.
But reminders of just how thin the line between life and death can be seem to be etched around every corner in the hard-scrabble streets of East Oakland where Smith lives. Memorials and murals dedicated to the dead are everywhere, as are the t-shirts emblazoned with the names and images of young black men taken mostly by gun violence.
On that recent afternoon, over lunch at a Cuban restaurant, Smith talked of close friends, classmates and family friends who'd all been killed. A lanyard with a laminated photo of two young men in their late teens hung around his neck. They were brothers who'd been murdered just six months apart.
"I'm not nervous about life here," he said. "But I don't want to get shot. I want to experience life."