Residents in Newtown, Conn., drive cars adorned with green ribbon bumper stickers: "In Our Hearts. Sandy Hook Elementary School. 12.14.12." Posters in shop windows encourage people to donate to the We Are Newtown Memorial Scholarship, and to "Spread love to all." Stores sell Christmas tree ornaments, lanyards, and pins that support community funds and individual families affected by the tragedy. There's a constant effort, it seems, to assert some control over an inconceivable event.
Last year's shooting claimed the lives of 20 students, six educators, the gunman, and his mother, forcing the New England town into the national and global spotlight. Some residents say they hate to tell strangers where they're from because people react with horror and pity—or ghoulish curiosity. Many find it frustrating to have their town, and themselves, defined by that day.
"I used to have to say: 'Oh, I live in a little town between Danbury and New Haven,'" said Erin Nemeth, who lived four miles from Sandy Hook Elementary School, in the same neighborhood as the gunman. "If I say, 'I'm from Newtown,' the reaction is: 'Oh, I'm sorry.'"
Sandy Hook is a "neighborhood" of Newtown, a community in western Connecticut established in 1711 and long a farming community. It now boasts nearly 28,000 residents.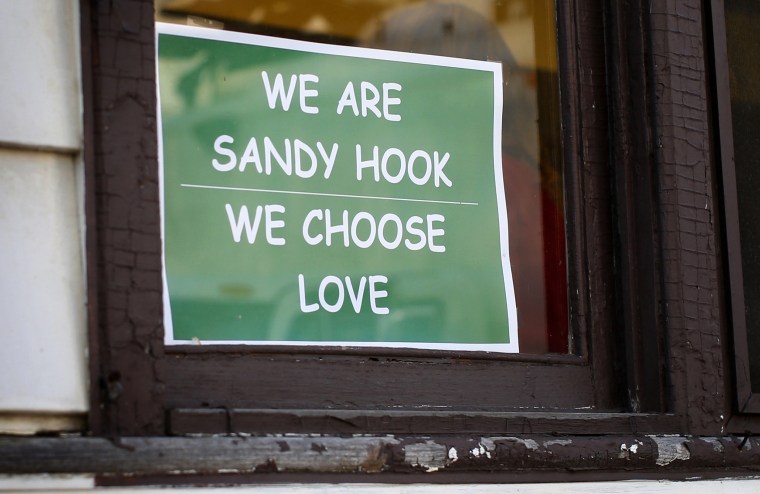 "I really feel that they are so sad that Newtown has been known for this, because that is not Newtown. What happened in Newtown could have been any town," said Jeff Schutz, a licensed marriage and family therapist who drives through each day en route to his son's school in nearby Trumbull.
Resident Brian Mauriello's son was a first-grader last year —like the 20 children killed—but not at Sandy Hook. (The town has four elementary schools.) Neighbors and strangers have showered the town with sympathy, prayers, and more tangible blessings like money and gifts. Mauriello, like many local parents, doesn't want his child to go through life expecting to be handed teddy bears and complimentary tickets to sports games. He wants to move on.
Mauriello, who grew up in Newtown and returned in 2005, is one of the many residents-turned-activists working to ensure the community isn't remembered as "a place where a bad thing happened."
"I want people to meet my son and say, 'This guy is going to be a force to contend with,'" he said.
Taking action
Officials found "no conclusive motive" nor indication of why the gunman chose the nearly 400-student school as his target, according to a recently published report. But victims' family members and other citizens weren't waiting for some document to make a senseless tragedy meaningful. 
"This town has embraced the message of forgiveness. They want to forgive and they want to move on, which is an amazing resiliency factor," said Schutz.
"I think we almost have overcome the stigma by reacting how we have," said Nemeth, who along with two friends raised $3,500 in January by hosting a 5K race. "We're not letting it tear us apart. If anything, it has made us stronger."
On the very afternoon of the shooting, Mauriello established the volunteer-based Newtown Memorial Fund to assist not only victims' relatives but also what he calls the "walking wounded." Mauriello and his team have helped to pay for mortgages, heating oil, and mental health counseling. They plan to contribute to the eventual construction of a memorial, long-term therapeutic needs, and a scholarship for victims' families.
Ian and Nicole Hockley thought of the mission for Dylan's Wings of Change days after the tragedy took their son's life. The couple wanted to make the kind of support their autistic son received available for other kids with special educational needs. The Hockleys work to help schools and households obtain the best technology and promote the inclusion of special-needs children into sports activities.
"We have the memory of Dylan, and that is what we will build on," Ian Hockley said.
Dr. Michael Baroody, a plastic surgeon and 8-year resident of Newtown, turned his anger into action by establishing the 12.14 Foundation in February. Using the performing arts, he aims to build "a dynamic, living, breathing type of remembrance" for the children in the town. He hopes the program will strengthen children's confidence so that when the time comes, they leave Newtown feeling like leaders, not victims.
"This is an example of what you do when you get stomped on like this," he said at his office in Danbury, Conn. "The worst thing happened, and this is what we did to overcome it."
With support from Broadway professionals, the foundation worked with 84 children and 20 apprentices to produce four sold-out performances during the summer of "Seussical: The Musical in Newtown." "It's all about what they accomplished, not what they saw [on Dec. 14]," Dr. Baroody said.
The best-known organization to emerge from the massacre is Sandy Hook Promise, a gun-safety advocacy group. Store windows throughout the community suggest passersby "make the promise"; more than 270,000 people have pledged to "choose love, belief, and hope instead of anger" and to "turn the conversation into actions."
"We are very resilient people," First Selectman Pat Llodra said Tuesday at a press conference. "We are emerging from that darkness with some skills and some confidence that is born out of fire from that awful event."
Stepping forward
But tensions exist—among individuals, among families, and within the community. Families of the 20 children and six educators killed received $281,000 each from the $11.4 million collected in donations by the Sandy Hook School Support Fund. There were also two people wounded in the shooting, and a dozen children who witnessed the horror; they also received grants. But there are many more teachers, neighbors, cousins, friends, churchgoers, store clerks, and first responders whose lives drastically changed.
Some relatives of victims have chosen to visit Capitol Hill and to voice their support for stricter gun-control legislation, like Neil Heslin and Mark Barden, who each lost a son in the massacre. Other families request privacy from both the public and press. 
Mauriello said he continues to receive daily requests he never imagined—including funding therapy for children who can no longer sleep alone at night or parents who can't turn off lights without being afraid.
"We're on a good trajectory, and so I think that's how you don't get remembered for it, because every interaction somebody is going to have with a Newtown resident over time is not going to be about that incident," Mauriello said.
Schutz, who works with individuals from all age groups affected by the tragedy, said he first tests each Newtown patient for trauma. His practice has grown at a pace that would've normally taken nine or 10 months.
"I think the town is still hurting quite a bit," he said.
Newtown residents earlier this year voted to demolish the Sandy Hook building and begin anew on the same site on Dickinson Road, where public entry is currently forbidden. Students have attended classes at Chalk Hill Middle School in neighboring Monroe since two weeks after the tragedy. The total number of students attending classes in the Newtown Public School District was 4,912 in October 2013, and 5,156 in the same month last year, according to district data.  
"I'm not certain what our normal is. We're trying to incorporate or integrate what happened last year [into] who we are," said Llodra.
"No press" signs on church lawns warn the media not to trespass. Officials fear that an onslaught of journalists or even well-meaning onlookers could hinder the grieving process for many residents. Instead, they're urging Americans to perform acts of kindness in their own communities.
"I do feel as though we are under a microscope," Nemeth said. "Everything violence and gun related…it references Newtown."
Nemeth returned home on the night of Dec. 13, 2012—after completing her last final exam at Quinnipiac University—with a job offer in New York City. She eventually moved south two months later, but not without a tinge of regret.
"I couldn't help thinking I was leaving Newtown behind," she said. "Because something like this, you know what everybody is going through, and it's almost easier knowing that you're in a community, that you're all in it together."