The headline is familiar: Hillary Clinton leads Bernie Sanders by double digits in the race for the Democratic presidential nomination. But look closer at the newest NBC News online poll and one group emerges as the main source of her strength: African-Americans.
According to the poll, which was released Friday morning, the Democratic campaign is essentially tied among white voters, with Clinton edging out Sanders by just three points. It's also close among Hispanics, with whom Clinton leads 42-35%. But among African-Americans, Clinton is crushing Sanders by 54 points. That overwhelming black support is the reason Clinton retains a comfortable overall lead of 45% to 31%.
RELATED: Hillary Clinton wins debate, reenergizes core supporters
It's also the reason Clinton's campaign isn't panicked by her struggles in Iowa and New Hampshire. The latest NBC News/Wall Street Journal poll has Clinton ahead by just five in Iowa and Sanders leading by 14 in New Hampshire. Those numbers have raised the possibility that Clinton, who entered this campaign as the most imposing non-incumbent front-runner in modern history, might lose one — or maybe even both — of the lead-off states in next year's primary and caucus season.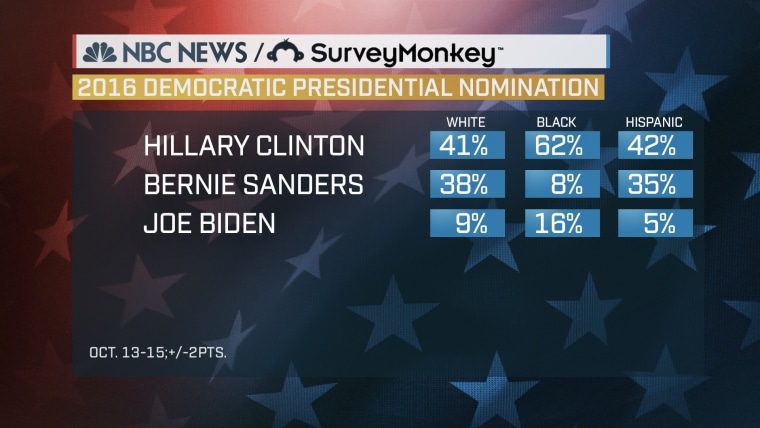 But Iowa and New Hampshire are also overwhelmingly white and not representative of the increasingly diverse coalition that comprises today's Democratic Party. Once those states take their turns, the action will shift to states with more substantial nonwhite populations — most notably South Carolina, which will hold its primary on Feb. 27. In the last competitive Democratic race, the 2008 contest between Clinton and Barack Obama, African-Americans comprised 55% of the primary electorate in South Carolina and cast 80% of their ballots for Obama, powering him to a landslide victory statewide.
Clinton is counting on similarly overwhelming black support this time around — and right now she has it. A CNN poll earlier this week gave her a 50-point lead over Sanders in South Carolina, 70% to 20%. But that massive lead comes entirely from African-Americans, who favor Clinton by a 77-point margin in the state. Among white South Carolinians, she leads by a single point, 48% to 47%.   
A number of states with large African-American populations will hold primaries and caucuses shortly after South Carolina — Georgia, Alabama, Arkansas, Texas, Virginia and Tennessee on March 1; Louisiana on March 5; Mississippi on March 8; Florida, Illinois and Ohio on March 15. If Clinton continues to dominate with black voters, it will be difficult, if not impossible, for Sanders to defeat her in states like these.
Explanations for Clinton's strength — and Sanders' weakness — with black voters vary. Some point to Sanders' initially strained relationship with the Black Lives Matter movement, though he has since made explicit calls for racial justice a staple of his campaign message. Others note that, as a politician from Vermont, he's simply not accustomed to campaigning for black votes. (Then again, Vermont's Latino population is also very small, but Sanders is still winning significant Latino support nationally.) Clinton, for her part, may be benefiting from lingering goodwill among African-Americans toward her family: Black voters remained particularly loyal to Bill Clinton during his presidency — so much so that he was once jokingly dubbed the country's first black president. Black voters also have a historical tendency to back the establishment candidate in Democratic primaries, delivering crucial support to Walter Mondale in 1984, Bill Clinton in 1992 and Al Gore in 2000.
If there's a glimmer of hope for Sanders, it can be found in the example of Obama, who trailed Clinton among black voters in the early stages of the 2008 race. One South Carolina poll from the summer of 2007 put him nearly 20 points behind her. But when Obama won Iowa and established his legitimacy as a contender for the nomination, previously reluctant black voters flocked to his side, and he ended up winning more than eight of every 10 black votes cast during the primary season.
But Sanders is starting in a much, much deeper hole with black voters than Obama did in '07. In fact, he actually trails Vice President Joe Biden, who has yet to rule out a candidacy, among African-Americans. (This is why many argue Biden would have a better shot at winning the nomination than Sanders: As Obama's loyal vice president, he might be better positioned to win over black voters.) If Sanders can't significantly improve on that, then winning Iowa or New Hampshire will not be enough to propel him to the nomination.