HOUSTON, Texas — Several thousand people marched Sunday in the northwest Houston neighborhood where a sheriff's deputy was fatally shot just days ago, in a show of support for the deputy's family and for the local law enforcement community.
Setting off from a local church and led by a handful of pastors sharing a megaphone, the group walked toward the Chevron station about one mile away. Some in the crowd waved American flags and at least one person carried a sign reading "all lives matter," a reference to the "Black Lives Matter" movement focusing on police aggression and violence against African-Americans. Some in the community here are now blaming the movement, at least in part, for what some believe created an atmosphere of tension that led to Friday's violence.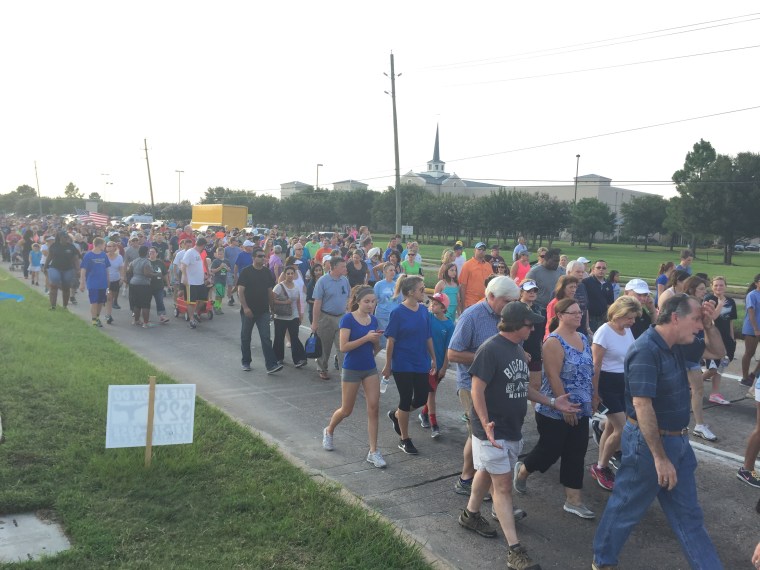 "I think all the stigmas that are going around in our nation right now definitely contributed to what happened," said Lauren Duvall, a 29-year-old marcher working in real estate, about criticism of law enforcement in the wake of police shootings of black men across the country.
On Monday, a Houston man will be arraigned in court for the execution-style shooting that took place along a heavily trafficked road northwest of Houston's city center Friday at the Chevron station's pump number 8.
"I understand they have a tough job and you can have bad police like you have bad citizens," said another marcher, the Reverend Donald Ogletree, who is African-American.
"We're all in this together, and if we work together many of these problems can be solved," Ogletree said.
Earlier Sunday, hundreds of people gathered for a memorial at the gas station pump where Deputy Sheriff Darren Goforth was fatally shot just days ago, as the community braces for grief and questions about the state of relations between police and the black community.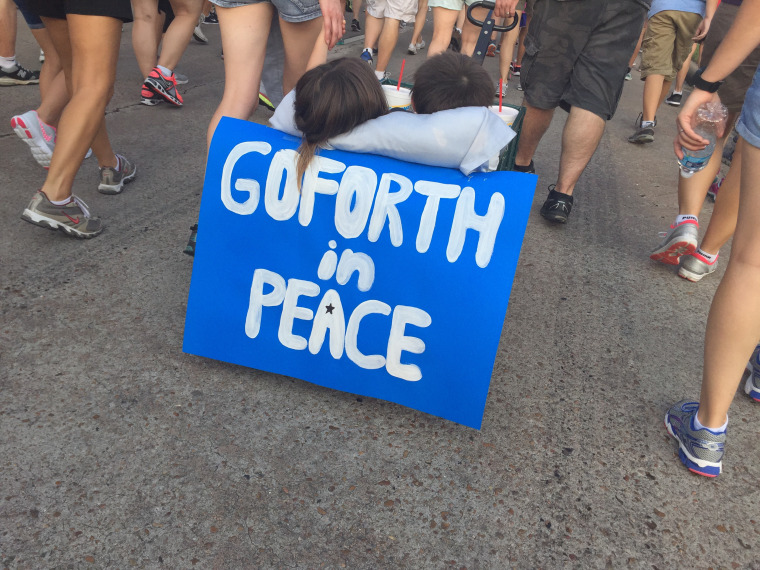 The suspect was identified by authorities as Shannon Miles during a press conference Saturday afternoon. Officials said that Miles, 30, had been arrested on capital murder charges; he is the only suspect. Police documents show Miles has a criminal record, including trespassing and disorderly conduct with a gun.
"We have not been able to extract any details regarding a motive," Harris County Sheriff Ron Hickman said. "Our assumption is that he was the target because he was wearing his uniform," Hickman added.
"It just kind of makes you realize that nowhere is really as safe as you want it to be," Marilyn Thompson, 45 years old and a claims adjustor, said Sunday as she visited the memorial with her husband. Some visitors at the station clasped their hands in prayer.
On Friday evening, Deputy Goforth had pulled into the station to fill up his tank after responding to a routine call in the area, authorities said. According to eyewitnesses, Goforth was walking from the station's convenience store toward his parked patrol car when Miles approached from behind and began firing.
"He just kept shooting," the gas station manager said during an interview with msnbc.
"We're all in this together, and if we work together many of these problems can be solved."'
The manager, Amjad Latif, said he was at the store's cash register when he looked up to see the shooter standing in the lot, firing downwards at least five or six times. Latif said the store owner called out to him to lock the door, which Latif was able to do by hitting a switch by the register. Latif then called 9-11.
The owner, Thomas Gilani, told MSNBC that from his own vantage closer to the store's window, he could see the deputy lying in the pavement as the shooter unloaded.
Gilani watched as the shooter then walked to a red pickup truck parked by the convenience store's front door. The truck peeled away as Latif dialed police. Authorities later tracked the car to the suspect.
Hickman, the Harris County Sheriff, said on Saturday that a weapon from the shooting had been recovered and that tests revealed it matched a weapon belonging to the suspect.
Miles had been a student at the University of Houston and last took classes there while living on campus in either 2011 or 2012, a spokesperson for the university said.
Although officials said they've not been able to determine a motive, they pointed nonetheless to protests that have swept the country in response to shooting deaths of black men by police, including in Ferguson, Missouri, and Baltimore.
During an emotional press conference Saturday, Hickman said a "dangerous national rhetoric" is putting police at risk. "This rhetoric has gotten out of control," Hickman said. "We've heard black lives matter — all lives matter," he continued. "Well, cops lives matter too."
Related: What we know about murder of Texas deputy
Addressing reporters beforehand, District Attorney Devon Anderson said it is time for a "silent majority" to support police. "There are few bad apples in every profession," the district attorney said.
A relief fund for Goforth's family has also sprung up, with organizers collecting cash donations in a jar at the station lot and distributing homemade ribbons for visitors to safety pin to their shirts. Organizers said that by late Sunday they had collected at least $60,000 dollars, and handed out around two-thousand ribbons.
Sheriff's deputies were posted through the day to the gas station, where they bowed their heads and shook hands with members of the public. One deputy said others were posted to Goforth's family and others still are holding solemn vigil by the fallen deputy's body until funeral services are held.
The story also made its way to Washington. "Horrific news from my hometown," Texas Sen. and GOP presidential candidate Ted Cruz tweeted on Friday. "My prayers are with the family and community."