Three artists hired to paint graffiti on the set for last week's episode of Showtime's "Homeland" used the opportunity to voice their opinions about the hit cable series.
The second episode takes the show's heroine, Carrie Mathison, to a Syrian refugee camp on the Lebanon/Syria border. In one scene, she passes by a wall with an Arabic message that translates to "Homeland is racist."
"The series has garnered the reputation of being the most bigoted show on television for its inaccurate, undifferentiated and highly biased depiction of Arabs, Pakistanis and Afghans, as well as its gross misrepresentations of the cities of Beirut, Islamabad and the so-called Muslim world in general," the artists wrote in a statement.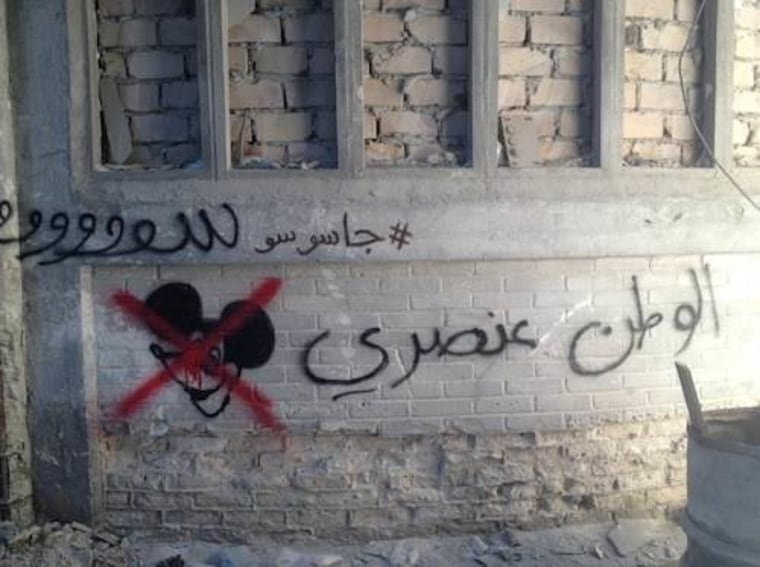 The three artists — Heba Amin, Caram Kapp and Stone — say they were hired by the show's production company to "lend graffiti authenticity" to the fake refugee camp, and were instructed to be apolitical.
The trio decided to use this moment to convey their discontent with the series. "It was our moment to make our point by subverting the message using the show itself," they wrote in a statement posted on Amin's website.
The trio, who go by the moniker "Arabian Street Artists," worked on the set for two days. "Set designers were too frantic to pay any attention to us; they were busy constructing a hyper-realistic set that addressed everything from the plastic laundry pins to the frayed edges of outdoor plastic curtains" they wrote.
The trio also painted phrases that read "Homeland is NOT a series," and "this show does not represent the views of the artists."
"We wish we'd caught these images before they made it to air. However, as Homeland always strives to be subversive in its own right and a stimulus for conversation, we can't help but admire this act of artistic sabotage," Homeland's showrunner Alex Gansa told Deadline.
Reached for comment, Caram Kapp told NBC News "I think we have given the showrunners something to think and reflect upon."
This article originally appeared on NBCNews.com.