It's that time of year again. Movie fans can feast on a wide array of offerings driven by socially relevant themes rather than the usual special effects.
This year, the awards season contenders are seriously politically-charged. Here are 11 movies you may want to make time for between epic meals and holiday shopping: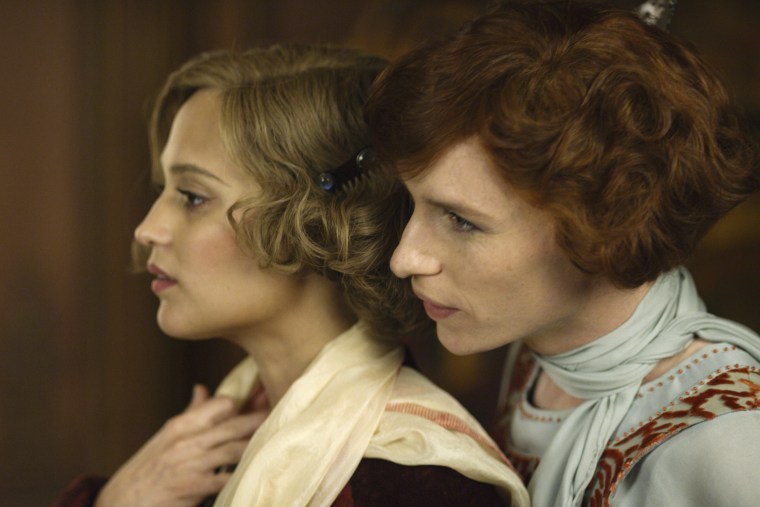 "The Danish Girl": Fresh off an Oscar win for his transformational performance as Stephen Hawking, British actor Eddie Redmayne is playing another real life, inspirational figure -- Lili Elbe -- one of the first people to ever undergo successful gender reassignment surgery. This movie arrives amid renewed debate over how the trans community is represented on film, with some critics complaining that a cisgender actor was awarded the role of Elbe, instead of an actual trans performer. Director Tom Hooper has admitted to The Guardian that "in the industry at the moment there is a problem: there is a huge pool of talent of trans actors, and access to parts is limited." Still, the award and commercial prospects for this drama appear promising. Opening November 27.
"Where to Invade Next": He's baaaaaack. Polarizing documentary filmmaker Michael Moore, known for his controversial works "Bowling for Columbine" and "Fahrenheit 9/11," has returned for his first new film in six years. If you haven't heard much buzz about this film, it may have been intentional. Moore has said he shot the film with a smaller crew than normal, in relative secrecy. "We've been very diligent about keeping this under cover," Moore said in a self-released Periscope video in July. The film, which is reportedly something of a travelogue, shows Moore taking a closer look at the idiosyncrasies of American foreign policy, "We're living in a time post 9/11 and everything that's going on in this country, and this constant need to have to have an enemy," Moore said in July. This should be a real conversation piece. Opening December 23.
"Spotlight": This likely Oscar favorite is both a tribute to old-fashioned investigative journalism and a reminder of how pervasive the Catholic Church's child molestation scandal was. An all-star cast led by Michael Keaton, Rachel McAdams and Mark Ruffalo play the dogged Boston Globe reporters (whose investigative unit gives the film its title) that exposed the systematic cover-up of abuse in the early 2000s. Phil Saviano, a real life victim of abuse and whistleblower who is portrayed in the film, told MSNBC's Lawrence O'Donnell on Nov. 11, "I love the fact that this movie was so well put together. All the details are accurate. The actors are superb. It's getting fantastic reviews. So in many ways it's a dream come true." It's a bittersweet story for fans of print journalism, but it is, at the very least, a stirring portrait of the shoe leather reporting at its best. Now playing.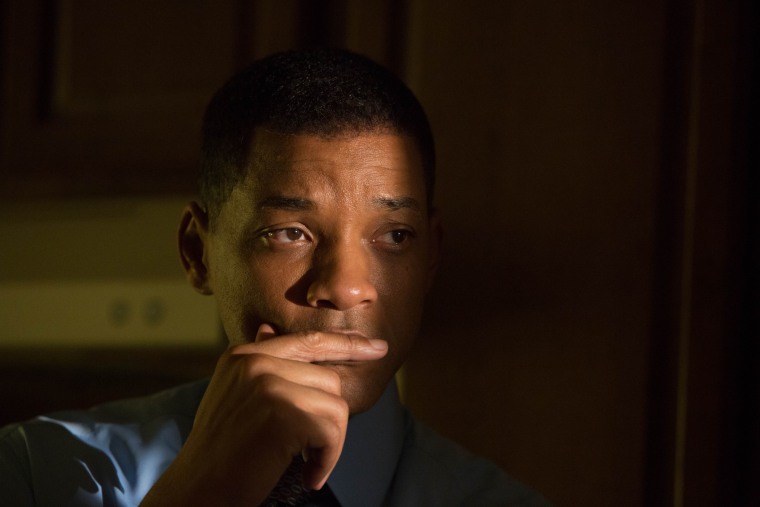 RELATED: Will Smith's 'Concussion' could give the NFL headaches
"Truth": The story that ultimately sidetracked CBS news anchor Dan Rather's career, gets revisited in this drama starring Cate Blanchett and Robert Redford. The film portrays the behind-the-scenes battle over a 2004 report, which was later called into question, that suggested then-President George W. Bush had shirked his duties as a National Guardsmen. Was Rather and his team of producers at fault for pushing a story on air before it was fully verified, or were they simply the fall guys for their corporate overlords? That's what "Truth" seeks to uncover. Redford, who is no stranger to playing iconic journalists -- he played Bob Woodward famously in "All the President's Men" -- called playing Rather "tricky." "My job was to be careful not to caricature him but to find the essence of him," Redford told Matt Lauer on NBC's "TODAY" in October. Now playing.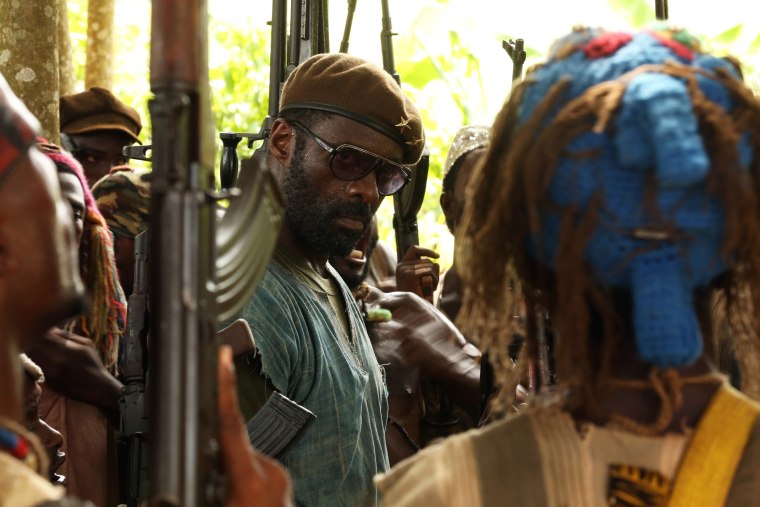 "Suffragette": In a year when two women are vying for the presidency, this historical drama -- about the women's suffrage movement in the United Kingdom during the late 19th century and early 20th century -- is especially timely. Carey Mulligan, Helena Bonham Carter and Meryl Streep headline the cast, but women also played crucial roles behind the camera as well, both as director, writer and producer. "It was a unique experience. I'm used to being the only girl in a room," Mulligan told the Associated Press last month. "And it needed to be a female team to get it made in the first place, because it wasn't going to happen if it wasn't a group of women pushing it uphill, because no one wanted to tell the story." As voting rights remains a hot button topic in this election season, this film serves an important reminder of who made it possible for everyone to make their voices heard. Now playing in select theaters.
"Chi-raq": Director Spike Lee's highly anticipated take on gun violence in the city of Chicago is finally seeing the light of day after a somewhat contentious production that drew the ire of Chicago Mayor Rahm Emanuel. If the early reviews are to be believed, it's a real return to form for the "Do the Right Thing" auteur. Although the film appears to be a satire -- the Windy City's women try to tamp down gunplay by going on a sex strike -- it could be even more relevant in the wake of the controversial police shooting of Laquan McDonald. The film, drew controversy from the get-go due to its title, which is based on hip-hop meme which conflates Chicago with the war zones of Iraq. "Everything I've done has led up to this film," Lee said in May. Opening December 4 (in select cities).
"The Big Short": Director Adam McKay, who is best known for his uproariously funny comedies starring Will Ferell, takes a left turn with this film, which takes a look back at how the housing and credit bubbles burst in the run-up to the Great Recession. McKay has assembled a top-notch cast -- Steve Carrell, Brad Pitt, Ryan Gosling and Christian Bale, to name a few -- to revisit recent history. The film is based on 2010 book of the same name, written by Michael Lewis, the author of "Moneyball." McKay told Entertainment Weekly in September that his first directorial foray into more dramatic content was a "treat" because " we got to get into the nuances of the shots and the details of the performances in a way that I've never gotten to do before." Opening December 11.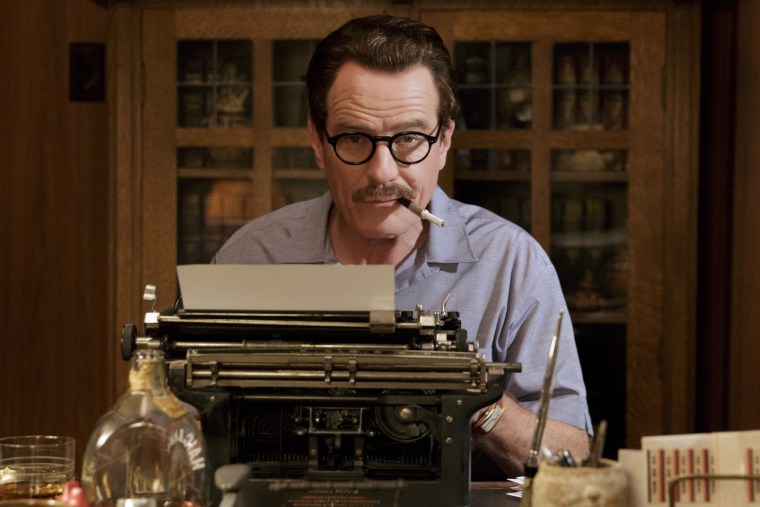 "Carol": Cate Blanchett and Rooney Mara star in this beautifully rendered period drama, based on a classic 1952 Patricia Highsmith novel, about a married woman who delves into a lesbian affair with a younger woman in the 1950s after a chance encounter in a Manhattan department store. The consequences of their tryst, at a time when lesbian relationships were taboo, reverberate throughout the film, which is being hailed by critics across the board as one of the best of the year. According to Vox's Todd VanDerWerff, Carol "is not a film about a political movement or cause, except obliquely. It is, instead, a movie about a revolution of the self." Now playing.