Not much is ordinary about California's Senate primary on Tuesday.
For the first time ever, there might not be a Republican on the November ballot, thanks to the state's open "jungle primary." After Tuesday's vote, the top two candidates from any party proceed to a runoff in the general election. There are a total of 34 candidates, but only two have polled above the single digits, and neither are Republicans.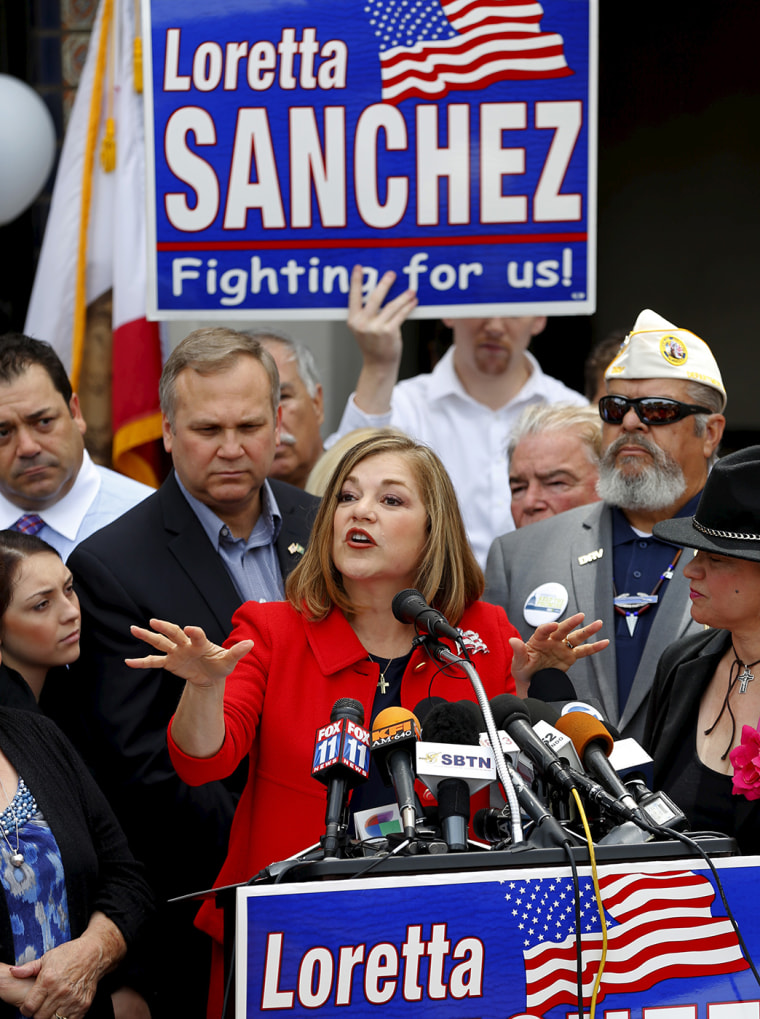 As for those two front-runners — state Attorney General Kamala Harris and long-serving Rep. Loretta Sanchez — both are women of color and daughters of immigrants, from Jamaica and India in Harris' case and Mexico in Sanchez's.
"I arrived at the United States Congress 20 years ago, and there were very preconceived notions about what I would be able to do or not," Sanchez told MSNBC in an interview Friday. But after decades on the Armed Services Committee focusing on combat and conflict and NATO alliances, she said, "They realized they were wrong."
She added, "Most of the time, I'm the only woman and the only minority in the room."
In the chamber these women seek to inhabit, their presence would be extraordinary: There is currently only one woman of color in the entire Senate, Hawaii's Mazie Hirono, who is Asian-American. There has only ever been one black woman senator. There has never been a Latina senator.
But in California, where over a quarter of the population is foreign-born and Latinos recently became the largest demographic group, it's only natural. So are women leading. For nearly a quarter-century, California has been represented by two women in the Senate, Barbara Boxer and Dianne Feinstein, both elected in the so-called Year of the Woman, 1992. (In fact, Californians make up 10 percent of all women in the Senate right now.)  
Such a matchup between Harris and Sanchez could mean that gender, normally a spoken or unspoken factor in a country where women are grossly underrepresented, is taken off the table, foregrounding ideological or other identity differences between the two Democrats.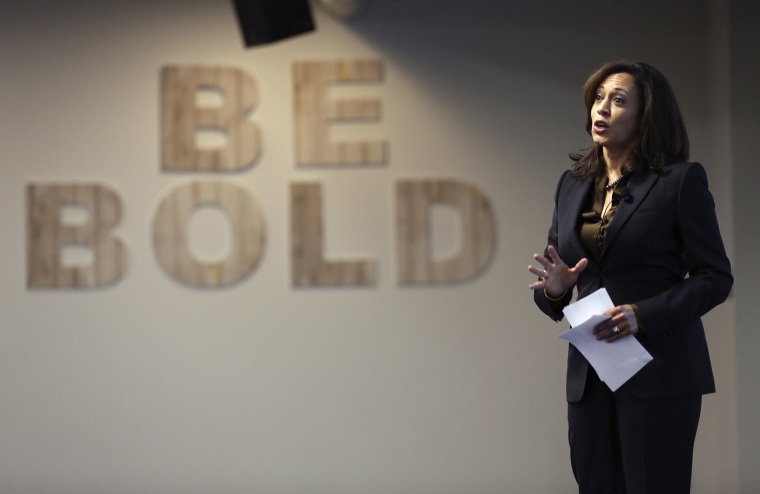 "There are all sorts of differences between Kamala Harris and Loretta Sanchez, but obviously, gender is not one of them," said Dan Schnur, director of the Jesse M. Unruh Institute of Politics at the University of Southern California.
Harris, whose campaign declined to make her available for an interview,  is the one to beat by any conceivable measure. She has more money, the endorsement of Gov. Jerry Brown and the state Democratic Party, and a warm friendship with President Barack Obama.
"If you're Loretta Sanchez, you have to be different from Harris," said Schnur. "You can't be more progressive than her or more of a woman than her, but you can be more centrist and be Latina."
Indeed, in a deep blue state and a year when the Democratic presidential primary is becoming a fight to be the most progressive, Sanchez still identifies as a "Blue Dog" Democrat. "They're all about telling the truth about what things cost and what we can support" is how Sanchez described the affiliation.
Still, Sanchez can tout key progressive stances: She voted against the Iraq War and the Patriot Act and opposes the Trans-Pacific Partnership.  She described herself as "socially progressive" with a uniformly pro-choice and pro-LGBT record, but also as a "fiscal conservative."
In California's state legislature, where Democrats dominate, the top-two primary system has resulted in more business-friendly Democrats. The so-called "mod squad" has been bolstered by large corporations and the California Chamber of Commerce, which make pragmatic picks based on the fact that the Republicans they often support can't win. If the same groups decide it's worth throwing in for Sanchez over Harris, Schnur pointed out, she could benefit from Republican support in November.
A more engaged Latino electorate, infuriated by Trump, could also work in Sanchez's favor. "She has to put together a coalition of Latinos and Republicans," Schnur said.  
Recent figures show a surge in voter registration overall, particularly among Latinos, leading up to Tuesday's vote. Harris has campaigned with organizer Dolores Huerta and declared in a speech, according to the New York Times, "Latino voters are my voters. They care about people's commitment to their issues, and I'd match my record against anyone when it comes to looking at my longstanding commitment to all communities, including the Latino community. I reject the notion that this race is going to come down to ethnicity. It's going to come down to what you've actually done and what you've demonstrated you can get done."
After the state party endorsed Harris, U.S. Rep. Filemon Vela of Texas declared that the move was "insulting to Latinos all over the country."
Asked about his comments, Sanchez said, "I believe what he meant is that for 20 years, the Democratic Party has asked me to go and campaign with the Latino base – they sent me to different states, they sent me up and down California ... And now, when they're having a Democratic congressman run, they have chosen someone else." To what did she attribute that? "They're the insiders," Sanchez said. "[Harris]'s a San Franciscan. She's an insider. The heads of the unions are there, the liberal San Francisco donors." It's an unusual appeal to hear from a Democrat, one who has been in Congress for 20 years.
RELATED: California Latino voter registration surges
Asked what the policy differences are between them, Sanchez cited water policy, a major issue in drought-stricken California. In an interview with the Sacramento Bee, Harris said she would not seek to weaken the federal Endangered Species Act in the interest of more water access; Sanchez had said any changes would be difficult politically but "everything needs to be on the table." Speaking with MSNBC, Sanchez accused Harris of being uninformed on water policy. "She's not familiar with any of the infrastructure needs," Sanchez said. "She's just not knowledgeable."
As for other policy differences, Sanchez added, "It's very difficult to know what the differences are, because she has not outlined her policy positions."
"It's disappointing to see Congresswoman Sanchez once again resorting to these false, Washington-style attacks. Californians are rallying behind Kamala Harris and her record delivering results for our families because that's what they want from Washington -- not more division and negativity," said Nathan Click, a spokesman with Harris' campaign.
Sanchez has drawn criticism for telling Larry King that "anywhere between 5 and 20 percent" of Muslims in the world "have a desire for a caliphate and to institute that in any way possible, and in particular go after what they consider Western norms — our way of life."
Raul A. Reyes wrote on NBCNews.com, "Sanchez's comments were irresponsible as well as inaccurate. If anything, they show that no party has a monopoly on foolish remarks about Muslims." But Sanchez said her comments, which some interpreted as an appeal to Republican voters in the general election, had been taken out of context.
"Let's be clear about what I said. Experts that I've spoken to believe that between 5 and 20 percent want a caliphate and that they're sympathetic with terrorism," she said. "My next sentence was, I don't know what the number is. Nobody has been able to refute the estimates. In fact, some people have said it's even more." She said she was echoing what President Obama had said in remarks after the San Bernardino mass murder in December.
"Do I believe that's true in the American Muslim community?" Sanchez added.  "Absolutely not. They're the ones that have to help us to eliminate [terrorism]."  
With Sanchez's military focus and Harris' background as a prosecutor, both women have taken relatively familiar paths for women in office, hard-charging ones that implicitly defuse stereotypes about whether women can cut it.
EMILY's List, a powerful donor network that works to elect Democratic women who support abortion rights, endorsed Sanchez in her House races but threw in with Harris before Sanchez declared. A spokeswoman for EMILY's List, Marcy Stech, said, "California has an incredibly deep bench of Democratic women in the pipeline. The Senate needs more progressive fighters, and we're proud to stand with voters in California as they stand with Kamala this Tuesday."