Hillary Clinton joined the professional networking site LinkedIn Thursday and her campaign hosted a "takeover" of the Democratic presidential candidate's official Twitter account in an effort to engage with voters on the topic of small businesses.
A tweet was posted Thursday from Clinton's official account saying that the account had been taken over by a woman named Mary Jo Brown, a small business owner in New Hampshire.
The bio of the Twitter account was also updated to say "Mary Jo for Hillary" instead of Hillary Clinton, and the account featured a photo featuring Mary Jo and Clinton's "H" campaign logo. The bio also contained a message describing Mary Jo: "Hi, I'm Mary Jo Brown-- mom, designer, and small business owner in Portsmouth, NH. Just for today, I'm taking over this account!"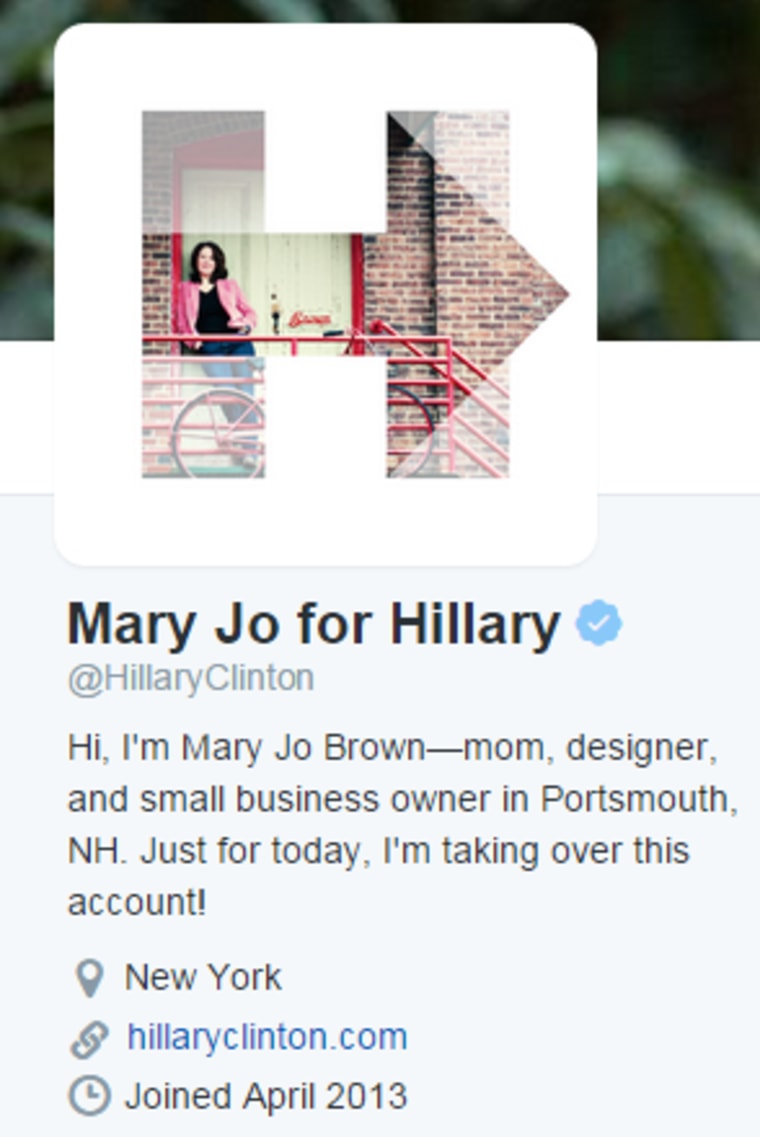 The Twitter takeover is a first among the 2016 presidential candidates -- typically, campaigns like to tightly control every message from their official Twitter accounts; in 2012 the Romney campaign famously required 22 people to approve each tweet before it could be sent from @MittRomney.
RELATED: What's inside the first batch of Clinton emails made public?
Also on Thursday, Clinton launched her profile on another social network, LinkedIn, where the focus is more on professional networking, business connections and job searching. Clinton's profile listed her professional resume over the years, starting with her first job as a lawyer in 1973, and ending with her present-day occupation --  listed as "2016 presidential candidate." She then posted a status update saying she's looking for a new job. 

Clinton also published an article on LinkedIn's "Pulse" publishing platform, where users can share their ideas related to business, careers and work. Clinton's post was titled "Four Ways to Jump Start Small Business," and it featured Clinton's suggestions for how she would help small businesses as president.
Both social media moves  were designed to appeal to small business owners and show off Clinton's small business polices, according to a Clinton aide, who told msnbc that Clinton that the social media push was part of Clinton's effort to position herself as "the small business president."
"As a part of this, the campaign looked for new, exciting ways to engage voters on this issue and to share her message more broadly. LinkedIn immediately came to mind. With more than 115 million professional users in the U.S., it is the perfect medium for sharing her plans to help small business and joining the conversation on what solutions businesses and professionals in America are looking for. We also wanted to find a fun way for a small business owner to tell their story through the campaign. During the 'ramp up' period of her campaign, Hillary has been squarely focused on the stories and challenges of everyday Americans. By working with a NH small business owner to basically live tweet her day and share her thoughts and experiences through the @HillaryClinton account, we're helping spread the word about what challenges these small businesspeople face and the work environment they maintain," a Clinton aide told msnbc. 
LinkedIn was enthused about having Clinton join the platform as well. LinkedIn Executive Editor Dan Roth told msnbc: "It's great to see Hillary here; we have no doubt the other candidates will be using LinkedIn to discuss the most important topics for professionals."
On Twitter, Brown continued to post updates throughout the day to @HillaryClinton's account that documented a day in her life as a small business owner. Here's a look at her tweets: