DETROIT – Democratic presidential candidate Hillary Clinton threw her support behind the movement for higher wages in dramatic fashion, making a surprise phone call Sunday to a convention of fast-food workers to declare: "I want to be your champion."
"No one who works an honest job in America should have to live in poverty," Clinton told the startled crowd of around 1,000 low-wage cooks and cashiers who had gathered at a conference center here to plot the campaign's next steps. "Every worker in every state and every city deserves a fair wage and a real voice on the job."
"Together, we will change the direction of this great country," Clinton pledged.
RELATED: St. Louis could be next to raise its minimum wage to $15 an hour
The prohibitive favorite for the Democratic presidential nomination, Clinton had said previously that she supports raising the minimum wage. But her decision to communicate directly and personally with the labor-backed movement's foot-soldiers—though she stopped short of endorsing their goal of $15 an hour—gives added momentum to an effort that already has amassed an impressive list of victories since launching less than two years ago.
It certainly appeared to encourage the workers, more accustomed to being ignored by people in positions of power. Some leaders of the movement had tears in their eyes as Clinton spoke.
"That a woman who's running for president gives a s--- that they matter enough, and their demand is significant enough for her to call and say, I want to be your champion—I think it's a huge boost," said Mary Kay Henry, the president of the Service Employees International Union (SEIU), which organized the convention and has played a leading behind-the-scenes role in the movement.
For Clinton, getting behind the low-wage workers' campaign can help solidify several key sections of her political base: working people, young people and minorities. It also puts her in sync with the broader push to combat inequality that's currently providing much of the energy on the left. And it came just three days after she showed similar boldness in a speech in Texas on voting access, suggesting that on certain issues at least, her campaign sees the value of staking out clear progressive positions.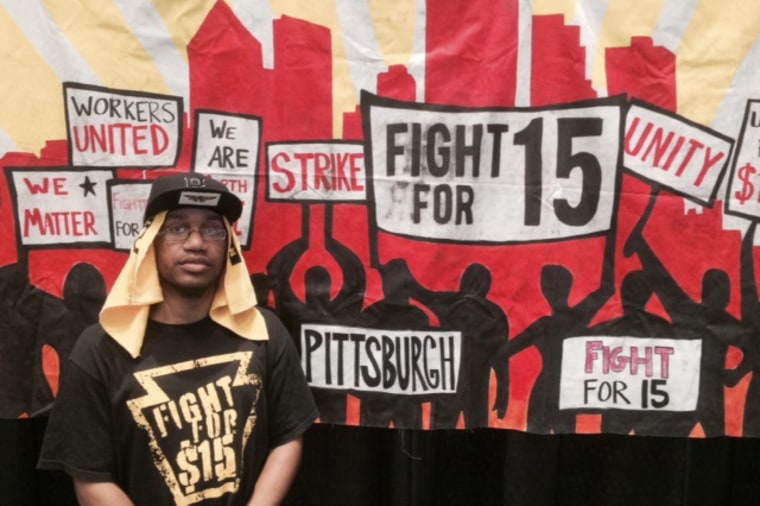 The audience for Clinton's message had traveled from as far as Houston, Los Angeles, and Greensboro, North Carolina, giving up precious days off—some brought young kids with them—for the two-day confab. Many spoke of struggling to support families and pay bills, and of ever-shifting schedules that made planning daily life all but impossible.
Chris Ellis, a McDonald's worker from Pittsburgh, wakes up at 4 a.m. each day to start his shift. After a recent 10-cent raise, he makes $7.70 an hour, which he uses to help support his 4-year-old son.
Ellis, 26, said when he gets his weekly paycheck, "It's judgment day: whether I can pay my phone or whether I can pay my rent. There's nights where I'm crying because I don't have nothing."
Attendees adopted a resolution Sunday to support New York workers as they urge a wage board convened by Gov. Andrew Cuomo to raise the state's minimum wage to $15 an hour. The board held its first public hearing in Buffalo on Saturday.
Cuomo's announcement of the wage board last month was just the latest in a string of successes for the movement. Los Angeles recently raised its minimum wage to $15 an hour, joining Seattle, San Francisco and SeaTac. Last week, St. Louis Mayor Francis Slay announced he'll back a $15-an-hour proposal there. And Senate Democrats, with support from the White House, have introduced legislation to raise the federal minimum wage to $12 an hour—itself a big jump from the current level of $7.25, and far higher than almost anyone deemed realistic just two or three years ago.
RELATED: Low-wage workers take campaign to McDonald's HQ
Advocates for the fast-food and retail industries say hiking the minimum wage that high would lead employers to cut back on entry-level jobs en masse, hurting the very people it's trying to help. But a range of economic studies on the question generally don't support that prediction.
As the 2016 campaign heats up, Henry of S.E.I.U. said the movement is well-positioned to keep the issue at the forefront of conversation.
"Because we have made clear that these are not jobs done by high school students with pocket change any longer, we're going to insist that this be central to the presidential campaign," she said.
Still, Clinton's bid to cozy up to the movement for higher wages may not be without challenges. Throughout Sunday, the crowd in the cavernous hall often seemed disengaged. But Bert Johnson, a Michigan state senator, drew raucous cheers with a message that contrasted sharply with Clinton's.
"Democrats aren't your friends," Johnson declared. "Republicans aren't your friends, Independents aren't your friends. Your only friends are the people who are willing to walk off the job with you."