Picking up an early endorsement from a key leader in the Hispanic community, Democratic presidential front-runner Hillary Clinton on Thursday showed off her personal side, setting herself in direct contrast to her Republican opponents in humanizing the immigration debate.
Clinton held two campaign events in her swing through Texas, first holding a Q&A with members of the U.S. Hispanic Chamber of Commerce before accepting an endorsement from the Secretary of Housing and Urban Development, Julian Castro. 
RELATED: Hillary compares young Bill Clinton to Viking
Speaking before a crowd in his hometown of San Antonio, Castro gave a full-throated endorsement of Clinton's policies and noted that the Latino community will play a critical role in determining the next Oval Office occupant.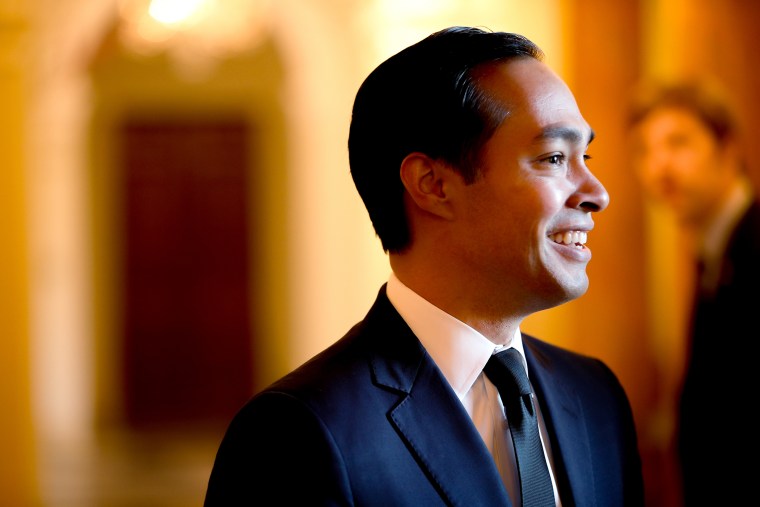 "Having watched and respected for years now Secretary Clinton, I know that she appeals to Americans of all backgrounds and colors, different perspectives and walks of life," Castro said.
Already rumors are bubbling up that Clinton may see a potential running mate in Castro, a youthful Latino from a red state that's turning purple. When asked if Castro may make her shortlist, Clinton laughed, and went on to sing his praises.
"I think really highly of him. I'm thrilled to have his endorsement today," she said. "I'm going to really look hard at him for everything because that's how good he is and he deserves the accolades he's receiving."
Though known as a cautious and calculated candidate, Clinton opened up about her family and personal life. She shared stories about when she was in her 20s and moved to San Antonio with her big-haired boyfriend and soon-to-be husband, Bill Clinton ("He looked kind of like a Viking, if you want to know," she joked), and how they would share green enchiladas and drink Shiner Bock beer between knocking on doors to turn people out to vote.
Appealing to largely Latino crowds, Clinton sought to set herself apart from the anti-immigrant rhetoric being used by Republican presidential candidates. She told a story at both events about how she used to babysit the children of migrant farm workers in her hometown of Chicago. She recalled seeing the children running into the arms of their parents at the end of their workdays, the same way she had with her own father. 
"Somehow we have lost the connective tissue that is built by common experience where we see one another for the human beings that we are," Clinton said.
In the small, intimate forum before the Hispanic Chamber of Commerce, Clinton detailed the ripple effects of divisive rhetoric, indirectly referencing an act of violence against the Latino community that may have been inspired by remarks from Republican presidential front-runner Donald Trump.
"Frankly some of the really harsh, inflammatory language coming from the Republican Party about Hispanics has just added to the ongoing problem we face that it's OK still in America to be condemning groups of people with this kind of rhetoric and opening the door to those who feel somehow free to not only speak in pejorative terms but then to act in a way that is prejudiced and hurtful," Clinton said.
Clinton also took a subtle and unsolicited jab at her nearest competitor in the Democratic field, Vermont Sen. Bernie Sanders, who has surged in national polls and chipped away at her lead. Sanders has a complicated record in his support of comprehensive immigration reform, having come out against it in 2007 with concerns that worker programs would bring down American wages.
"When people of good faith, as opposed to just being partisan, say 'hey we're worried about really depressed wages and take jobs away from folks," that's not how it works," Clinton said. "If we can get people out of the shadows, then our labor market will be more efficient and the undocumented workesr will not be exploited, which does drive costs, wages down."