Hillary Clinton still refuses to engage with Bernie Sanders head on, but with the first Democratic presidential debate just two weeks away, the Democratic presidential front-runner subtly called out one of her challenger's biggest weaknesses in a new interview with MSNBC's Chuck Todd.
Clinton has for months refused to even utter Sanders' name on the campaign trail. But as the leading Democratic candidates approach the first debate next month, both have edged bit-by-bit towards confrontation.
WATCH: No wave of female support for Hillary
"Well, I'm not in any way going to criticize Sen. Sanders," Clinton told Todd in an interview for the new MSNBC show "MTP Daily." And he's running a great campaign and I respect that."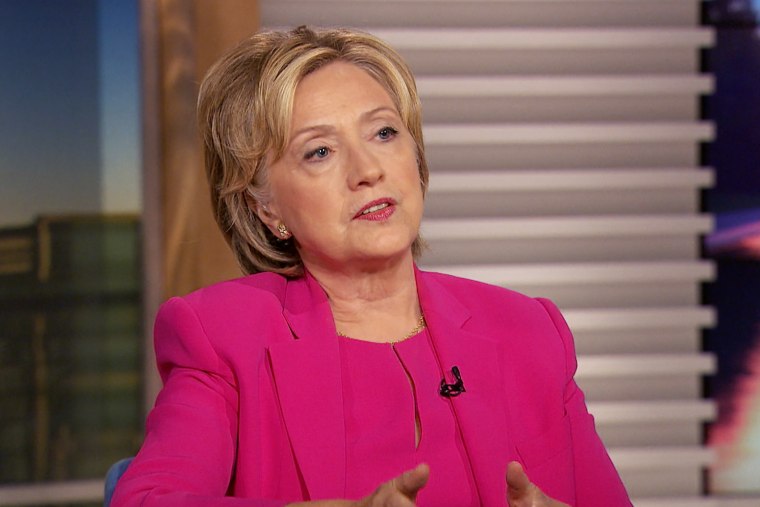 But Clinton went on to note that Democratic lawmakers, who have worked with both Sanders and Clinton in Congress, have lined up behind her, not him.
"But the fact now that I have so many of my Democratic colleagues, present and former, in the House and the Senate, out in state Houses who are lined up to say, you know, 'This is the person we want to see as president,' is very gratifying," she said. "Because they look at what they think I can do for them."
She didn't mention Sanders' name, but she didn't have to.
The Vermont senator has found himself in the unusual situation of attracting support from more than one out of three Democrats nationally, but zero out of more than 250 Democratic members of Congress and governors.
Clinton has support from most sitting Democratic lawmakers, and many high-profile former elected officials, including those in key states like Iowa and New Hampshire. And she has locked down support from many of the Democrats who know Sanders best, including former former Vermont Gov. Howard Dean and current Gov. Peter Shumlin.
History suggests that endorsements are the best predictor of electoral success in a primary.
"I think it is significant that people that have worked with me in the Congress, you know, when I wasn't running for president, even Republicans were praising me," Clinton added.