LGBT voters have been one of Hillary Clinton's most reliable and enthusiastic sources of support, donating to her campaign, buying rainbow t-shirts on her website, and cheering her on at rallies from New York City to Des Moines. 
But behind the scenes, some donors and activists worry the campaign is taking their support for granted and are trying to nudge the campaign to be more proactive in its outreach to the LGBT community after the Supreme Court's gay marriage decision earlier this summer.
"The idea that after marriage, everything's solved is a very dangerous idea."'
Some large donors privately fret that the campaign has not yet hired a dedicated LGBT outreach coordinator, like Obama's 2012 reelection campaign did, even after Clinton has named point people for other key Democratic constituencies like African-Americans, Latinos, Asian-Americans, women, and organized labor.
And they say Clinton has not been outspoken enough about what comes next after marriage in the fight for LGBT rights. That especially includes so-called religious freedom fights, such as a legal battle in Houston.
"People are frustrated. They want the candidate to succeed. But they also want to feel that there's forward momentum," said a person familiar with the thinking of some major LGBT donors, who spoke on the condition of anonymity so as not to damage relations with the campaign. "The idea that after marriage, everything's solved is a very dangerous idea."
Clinton has given major speeches on issues important to other Democratic constituencies, such as criminal justice reform and immigration policy. And while she regularly peppers her stump speeches with LGBT rights messages, she has made no unitary speech on the subject.
On policy, Clinton endorsed in a tweet an anti-discrimination law, which has become a new frontline for the movement, but some activists want that legislation to be a more central focus of Clinton's campaign.
"I think there's a sense of taking for granted the LGBT vote. And I think that would be very foolish of them," said Mike Signorile, an LGBT rights activist and Sirius/XM radio host. "I speak to people every weekday on the radio, so that's one audience, and I speak to people I know in the community, and I hear it in both places."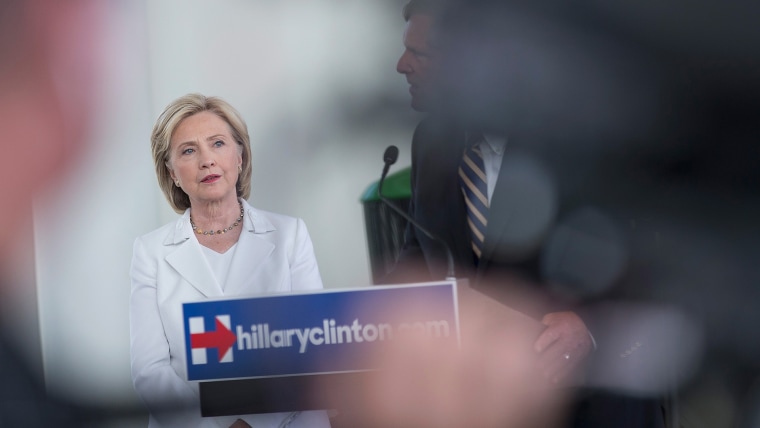 The potential candidacy of Vice President Joe Biden should encourage her to shore up support, Signorile said. Biden supporters are convinced he could peel off gay votes from Clinton, thanks to his early support for gay marriage.
Clinton's campaign says they are in the process of hiring a LGBT coordinator and note that many of the campaign's top leaders, including campaign manager Robby Mook, are members of the LGBT community. Deputy Political Director Brynne Craig, who is gay, has been handling the LGBT outreach portfolio thus far.
And the campaign notes the only constituency-specific merchandise the campaign has sold has been targeted at the LGBT community.
"I spend all day talking to gay people about Hillary Clinton and I have never heard anyone complain about this," said Steve Elmendorf, a Clinton ally who chairs the Gay and Lesbian Victory Fund, which works to elect LGBT people to public office.
Mook is notoriously thrifty and has sought to keep the campaign's headcount down in the early phases of the campaign, Elmendorf noted.  "It's a long campaign. Everything is not going to happen on day one," he said.