Hillary Clinton is on a roll. By the end of the day Thursday, she could be closer to winning the White House than she's ever come. But first she'll have to traverse a grueling eight-hour congressional grilling where anything less than perfection may not be good enough.
Even though Clinton heads into her much-anticipated testimony before the House Select Committee on Benghazi with a strong wind at her back, the former secretary of state knows better than anyone that even a fleeting slip-up could bring her testimony and charmed month crashing back down to earth.
More marathon than sprint, the testimony will be long and it will be difficult. It began at 10 a.m. and is likely to stretch at least eight hours -- not including breaks. With all eyes on the Democratic front-runner and a Republican political apparatus eager pounce, Clinton could be flawless for seven hours and fifty nine minutes, but the one minute she loses her composure will be the only one that matters. Few people will watch the context, many will watch the clip.
"Right now, it looks like the public is more inclined to side with Clinton when she goes up against the House committee. Hillary Clinton's testimony tomorrow can either cement that view or open up a new can of worms."'
And while the committee's credibility has been damaged by Republican lawmakers, the ones on the committee likely won't make it easy for Clinton. She'll face off against seven Republican congressmen, including two former federal prosecutors, hand picked by Speaker John Boehner presumably for just a such an occasion.
Meanwhile, Americans by a 2-1 margin are not satisfied with Clinton's response to the September 11, 2012 attack on U.S. facilities in Benghazi, Libya, according to a new NBCNews/Wall Street Journal. Just 27% of Americans found Clinton's response satisfactory, including 18% of independents and a bare majority of 51% of Democrats.
Clinton's campaign is taking the testimony seriously. They cleared her schedule for the four days leading up to the hearing and she's been holed up at her Washington home prepping with aides.
The campaign has been tight-lipped about what's going on inside, but a mix of State Department and campaign officials -- along with former President Bill Clinton -- were seen exiting Clinton's home Wednesday afternoon.
They included campaign chairman John Podesta, personal lawyer David Kendall and three of the campaign's top communications advisers. Former State Department officials Cheryl Mills and Jake Sullivan, who is now a policy adviser on the campaign, were on hand as well. Also spotted was Philippe Reines, Clinton's press aide at the State Department, who has no formal role in the campaign.
The last time Clinton testified before Congress on Benghazi, in two back-to-back hearings in January of 2013, she was prepared, poised, and disciplined. But the legacy of her two otherwise capable performances will forever be a flash of anger she displayed when challenging Republicans' obsession with the talking points the administration used after the attack.
"What difference – at this point, what difference does it make?" Clinton declared in frustration. Republicans seized on the moment: The clip quickly found its way into Republican attack ads and conservative columns, and lives on to this day.
While the context clearly says otherwise, to the right, it was proof positive that Clinton callously did not care about the fours Americans killed in Benghazi. Conservatives are sure to find something to hate in the hearing Thursday, so Clinton just needs to avoid creating any moments that could resonate beyond the right wing.
RELATED: Sanders was right: Americans tired of hearing about Clinton's emails
Fortunately for Clinton, it will be easy for her own partisans to turn the tables, thanks to Republicans themselves. A poll out Wednesday from Monmouth University found that most Americans -- 52% -- think the committee is mainly interested in discrediting Clinton. Just 32% said the committee was focused on learning the facts of the the matter.
"Right now, it looks like the public is more inclined to side with Clinton when she goes up against the House committee" said Monmouth University Polling Institute director Patrick Murray. "Hillary Clinton's testimony tomorrow can either cement that view or open up a new can of worms."
Committee Chairman Trey Gowdy and Boehner spent months painstakingly constructing an aura of credibility around the committee in preparation for Clinton's testimony, only to have their own colleague, House Majority Leader Kevin McCarthy, take a wrecking ball to it.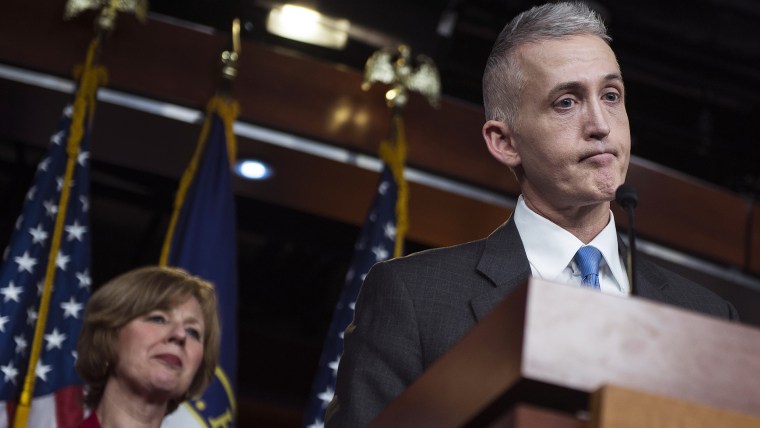 When the number two House Republican suggested in a Fox News interview last month that the committee was created in order to damage the potential Democratic presidential nominee, he seemingly confirmed what Clinton's team had been saying all along. He walked back it back, but another Republican lawmaker said McCarty's only sin was speaking the truth. "There was a big part of this investigation that was designed to go after people and an individual, Hillary Clinton," said Rep. Richard Hanna.
To make matters worse, a former investigator with the committee came forward to claim he was improperly fired for, in part, refusing to target Clinton more directly.
"Shut up talking about things you don't know anything about," Gowdy fumed to fellow Republican lawmakers on CBS's "Face the Nation" Sunday.
Rep. Adam Schiff, a Democratic member of the Benghazi committee, said Republicans have been forced to change their strategy in light of the credibility questions. He told MSNBC he suspects Republicans on the committee will be on their best behavior for most of the hearing, waiting until Clinton is worn down and media interest wanes toward the end before pulling out their knives.
QUIZ: How much do you know about Benghazi?
No matter what, with Clinton and Republicans both eager to avoid any moments that could be fodder for their opponents, both sides may play it extremely cautiously.
"They definitely would have been more adversarial without McCarthy," Schiff said of the majority leader's comments.
Clinton's campaign has declared the committee has "zero credibility left" and the main pro-Clinton super PAC, Priorities USA, will run its first ad of the 2016 cycle Thursday attacking the GOP committee.
"The grand irony here, sir, is that in the end it seems the Benghazi Committee may end up doing a lot more damage to you and your fellow Republicans than it does to Hillary Clinton," top Clinton ally David Brock, who founded another pro-Clinton super PAC, wrote in a letter to Gowdy Wednesday.
Clinton's team has been eager for her testimony. In the darkest days of the email controversy this summer, aides had the date circled as the time she would finally get her chance to answer every last question about Benghazi and the emails.
The Democratic candidate will enter the committee room following one of the strongest weeks of her campaign thus far. It began with a better-than-expected performance at last Tuesday's Democratic debate in Las Vegas and continued with the enormous good fortune of Vice President Joe Biden's decision to forgo a presidential run.
Now Clinton has to hope her good luck holds out for just another eight or so hours.
NBC's Monica Alba contributed to this report.