RALEIGH, N.C. –  Ninety-five-year-old Rosanell Eaton's voice cut in and out like a spotty radio signal as loudspeakers blared "Lean on Me" across the capital's Bicentennial Mall, where hundreds had gathered Monday for a planned protest against North Carolina's controversial House Bill 2. Nevertheless, her contempt with the direction the state was headed came through loud and clear.
"It is just disgusting that these legislators are doing what they're doing," she shouted, minutes before the protest began. "It is wrong."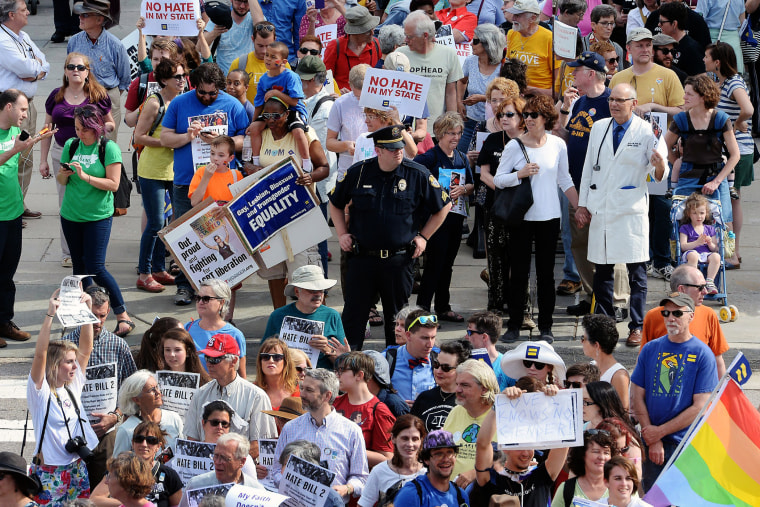 The charge is particularly damning coming from Eaton, the granddaughter of a slave, who in 1942 was forced to recite the preamble to the Constitution and pass a literacy test before she could register to vote in Franklin County, North Carolina. Seven decades after Eaton cleared those Jim Crow-era voting hurdles "with flying colors," as she put it, North Carolina again made it more difficult to cast a ballot, this time enacting a restrictive law in 2013 that imposed a voter ID requirement and eliminated same-day voter registration, among other provisions. (Eaton is one of the plaintiffs in a lawsuit challenging that legislation, which was recently upheld by a federal judge.)
The voting law, described by many observers as the strictest in the nation, is one of several recently adopted measures that brought Eaton and approximately 450 others to the capital Monday to protest the agenda of the state's first all-Republican government since Reconstruction. For years now, North Carolina has been locked in a battle for its soul. The state's latest piece of controversial legislation -- HB 2, which nullified local nondiscrimination ordinances and barred transgender people from using the bathroom in accordance with their gender identities -- is bringing international attention and a renewed sense of purpose to that fight.
"We've kind of had a build-up to what's happening now," said Bishop Tonyia M. Rawls, founder and executive director of the Charlotte-based Freedom Center for Social Justice, outside the legislative building on Monday. "HB 2, without a doubt, was the tipping point."
RELATED: Grassroots protest movement takes aim at NC's 'bathroom bill'
Enacted in a one-day special session in March, less than eight months before Republican Gov. Pat McCrory's reelection bid would be decided, HB 2 has arguably put the coalition of grassroots activists behind Monday's protest -- known as the "Moral Monday" movement -- closer than ever to its ultimate goal: taking back the state from a government it considers to be extremist.
However, changing the political landscape in North Carolina has proven to be no easy feat. Even with the high-profile acts of nonviolent civil disobedience for which Moral Monday became known in 2013, Republicans were able to maintain total control of the legislature in the midterm elections and won a critical U.S. Senate seat that had belonged to Democratic incumbent Kay Hagan. Thanks to the number and nature of seats up for election in 2016, not to mention the fact that North Carolina is one of the most gerrymandered states in the country, Democrats have essentially no shot at winning back either the state Senate or the state House of Representatives come November. But they could, with the help of an even broader Moral Monday coalition, come away with a crucial seat of Republican power that currently resides in the governor's office.
"You can't gerrymander the whole state," said Tom Jensen, director of the North Carolina-based firm Public Policy Polling, in a recent phone interview. "And the governor's race will be a pretty good test of the power of the Moral Monday movement."
Though you wouldn't know it from the protests that have been raging throughout the state for over three years, at times attracting crowds numbering in the tens of thousands, North Carolina hasn't always been such a hotbed of social unrest. Traditionally, the state served as a rare bastion of moderation in the otherwise reliably conservative South. During the 1960s, as other Southern leaders were literally standing in the schoolhouse door to defend segregation, North Carolina's Democratic Gov. Terry Sanford was taking a more measured approach to the civil rights movement, calling for an end to job discrimination against blacks while focusing on improving the state's educational system and promoting economic development.
RELATED: Why the 'tiny, tiny' transgender population should matter to Trump
McCrory was elected as someone who could very much carry on the pro-business policies of his Democratic predecessors, having overseen a period of robust growth in the banking capital of Charlotte, where he served as mayor for 14 years. But since taking office in 2012, he has largely been at the mercy of his state's tea party legislature, which was installed two years earlier with the backing of retail magnate Art Pope and other big donors. Since 2010, North Carolina's Republican lawmakers have fiercely pursued a social issues agenda that includes cuts to education funding, restrictions to abortion access, barriers to voting and now, regulations on government building bathroom use, considered by many to be discriminatory.
For McCrory, resistance appears to be futile. A year ago, he vetoed a different anti-LGBT measure -- this one allowing magistrates and registers of deed to recuse themselves from performing their marriage duties by citing a "sincerely held" religious objection -- only to see the legislature, with GOP supermajorities in both chambers, quickly vote to override him.
"This is not who we are," said 33-year-old Elena Jones, who's lived in Durham for the last 16 years, outside the legislative building on Monday.
George Frink, 69, who was born in Columbus County, North Carolina, echoed the sentiment. "This state has never been that radical," he said. "It has been dragged that way by radical leadership."
In perhaps the clearest example of the identity tug-of-war happening in the state, McCrory's office and the U.S. Justice Department -- led by Attorney General Loretta Lynch, a North Carolina native -- sued each other last week, with each taking opposing stands on whether existing federal statutes protect transgender people from discrimination. Lynch likened the fight to earlier battles over Jim Crow laws. McCrory called the comparison "an insult."
The governor faces long odds in his legal battle, and things don't look much better for him on the reelection front. All four polls to come out since HB 2 became law have found McCrory trailing his challenger, the state's Democratic Attorney General Roy Cooper, who has refused to defend the law and called it "a national embarrassment." It certainly doesn't help McCrory's reputation as a pro-business conservative that the state continues to lose money with every passing day.
"I thought McCrory was in trouble before HB 2. Now I think he's in big trouble," said Steve Greene, political science professor at NC State University in a recent phone interview. "It's hard to argue you're pro-business when you're seeing literally millions of dollars leaving the state over legislation that was passed over a social issues agenda."
RELATED: Governor McCrory faces long odds in legal fight over HB 2
Meanwhile, the Moral Monday movement presses forward.
Eleven people were arrested during this week's protest -- the second since the legislature returned for its biennial short session, which typically lasts six weeks. Such arrests are common for Moral Mondays (54 were arrested on April 25), with charges usually relating to trespassing or noise complaints. The group on Monday was handcuffed delivering a petition to repeal HB 2. But according to the Rev. Dr. William J. Barber, II, president of the North Carolina NAACP and Moral Monday's most visible leader, the coalition's demands extend far beyond the bathroom.
"The people against the LGBT community are the same people against public education, are the same people against Medicaid expansion, are the same people against environmental protection, are the same people against labor rights, are the same people against a living wage," Barber told a group of reporters, two of whom worked for a German publication, inside the legislative building on Monday. He hailed the corporate leaders and entertainers who decided to boycott the state in the wake of HB 2. But he wished they had caught on to what was happening in North Carolina earlier.
"We were here," Barber said. "And we're gonna be here. And now we're glad that the nation is paying attention."