A Florida mailman's epic landing of a gyro-copter on the lawn of the U.S. Capitol Wednesday is just one of several infamous transgressions on government property. Although the mailman's identity has yet to be confirmed, Doug Hughes recently emailed local media expressing his intention to fly a gyro-copter with letters to Congress demanding reform in money in politics. The mailman was arrested by U.S. Capitol Police and goes down in history with several other trespassers whose violations range from wacky to fatal. 
1974: Robert K. Preston stole a helicopter and landed in the South Lawn
After 20-year-old private first class Robert Preston flunked a U.S. Army pilot training program, he took matters into his own hands. He stole a U.S. Army helicopter from Forte Meade and flew it on the White House South Lawn to prove his aeronautic abilities. Preston was chased by the Secret Service for an hour but managed to hover on the South Lawn for six-minutes and land before getting shot. He was sentenced to one year in prison.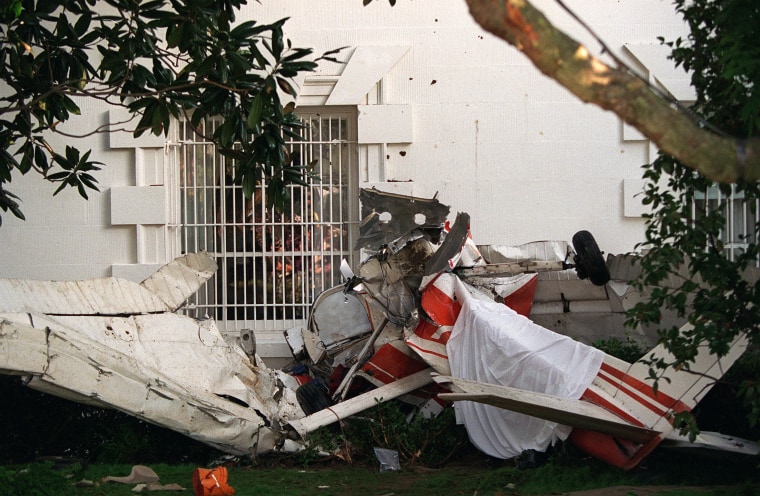 Frank Eugene Corder a truck driver who "struggled with vertiginous moods" and "alcohol" according to the New York Times, stole a red-and-white plane and flew it straight for the White House around 2 a.m. on September 12, 1994. President Clinton was sleeping when Corder, who had mentioned a possible suicide mission to a friend, crashed into the south wall of the White House and died on impact. 
2003: "Tractor Man" drove John Deere tractor into pond of Constitution Gardens and threatened to detonate bombs 
Dwight W. Watson drove his tractor trailer into the pond of Constitution Gardens around the National Mall and threatened to blow it up with "organophosphate bombs," which turned out to be just pesticide. Watson and his family were long-time tobacco farmers in North Carolina and was enraged at the U.S. government for allegedly putting tobacco farmers out of business and mistreating veterans. He kept police in a 47-hour standoff before surrendering. Watson served 16 months in prison for making false threats to detonate explosives and destroying federal property.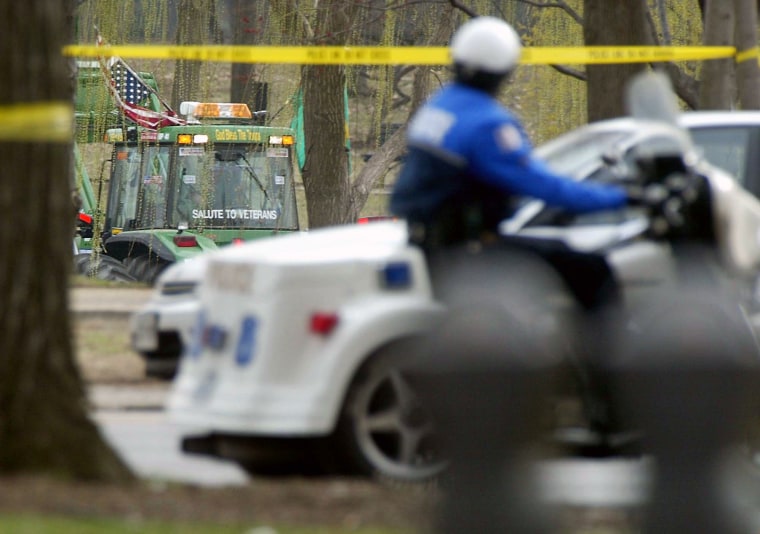 2010: Software consultant suicide attack at Austin IRS office 
Andrew Joseph Stack, 53, flew his plane into an Austin, Texas Internal Revenue Service office in 2010, killing himself, an IRS manager, and injuring thirteen others. Stacks had a history of tax negligence and expressed his frustration with the system in a suicide note. "I would only hope that by striking a nerve that stimulates the inevitable double standard, knee-jerk government reaction that results in more stupid draconian restrictions people wake up and begin to see the pompous political thugs and their mindless minions for what they are," his note said. "Sadly, though I spent my entire life trying to believe it wasn't so, but violence not only is the answer, it is the only answer."
Watch: 'Drunk droning' results in White House breach
2015: Man flies drone on White House grounds while drunk
While drinking nearby the White House, a classified intelligence agent accidentally flew a drone over the White House at 3 a.m. on January 26, 2015. The White House was put on lock down until it was determined that his drone posed no threat. He reportedly told The Secret Service that he was "hammered" and mistakenly lost control of the drone.