The nationwide fight over voter ID laws is heading next to the Show Me State. Missouri Republicans are working to amend their state's constitution as part of an aggressive push to require photo identification at the polls.
The GOP-controlled legislature held a hearing Monday on two voter ID bills. One would place a proposed constitutional amendment on the ballot this November, which, if approved by voters, would allow for a voter ID law. The second bill, to go into effect only if the amendment passes, would impose voter ID.
The two-pronged approach is needed because of a 2006 state Supreme Court ruling which found that voter ID laws violate the state constitution's guarantee of a right to vote. A Pennsylvania judge this month struck down that state's ID law on similar grounds.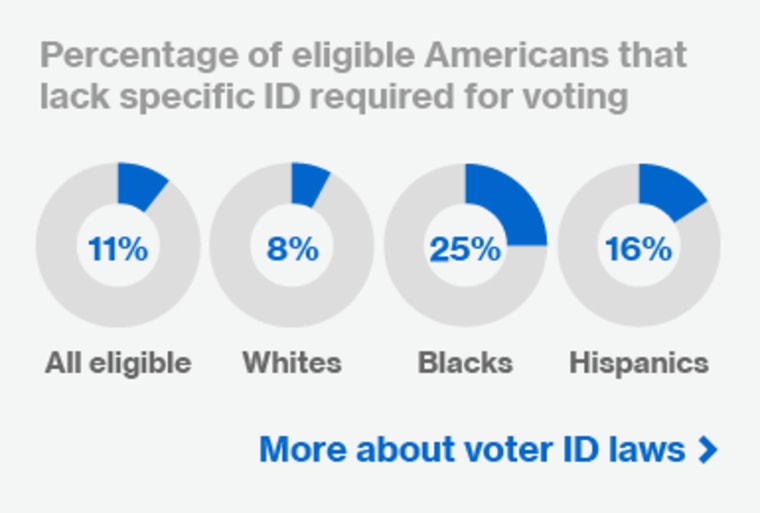 Nor are Missouri Republicans the only ones looking to change their state's constitution in order to enact voter ID. Tea Party activists in California recently launched an effort to get a proposed constitutional amendment requiring voter ID on their state's ballot this November.
In Missouri, the constitutional amendment would appear to have a decent shot at the polls, especially in a low turnout midterm election with no high-profile races on the ballot, a scenario that tends to favor Republicans and conservative causes. Despite the controversy over voter ID, it generally polls well, likely because most people overestimate the prevalence of in-person fraud and underestimate the number of people who lack ID.
Gov. Jay Nixon, a Democrat, has opposed voter ID in the past and could veto the legislation. But there's a real possibility the GOP could over-ride a veto: They have a veto-proof majority in the Senate, and are one vote short of having one in the House, with special elections to fill vacant seats likely coming soon. 
The voter ID bill would require state or federal government-issued photo identification. It would allow military IDs but not student IDs.
Around 220,000 registered voters could be disenfranchised, according to Secretary of State Jason Kander, a Democrat. In a statement issued Monday, Kander called the bill "not only just wrong, but unconstitutional."
Although the bill would require the state to provide free voter IDs, like other voter ID laws it doesn't foot the cost of obtaining the documents many people need to obtain that ID. Nor does it do much to make getting an ID convenient, according to written testimony submitted by the ACLU of Missouri.
Tina Hutchinson, who is disabled, testified that she would struggle to obtain the documents needed to renew her driver's license, and to get to the DMV. "The Missouri Legislature is trying to make it impossible for me to vote even though I have been a consistent voter in this state for 26 years," Hutchinson wrote.
As in other states, Republicans have pointed to the threat of fraud to justify the push. But there's no more evidence of in-person voter fraud—the only kind of fraud that an ID law would stop—in Missouri than there is elsewhere. Denise Lieberman of the Missouri Voter Protection Coalition testified Monday that there have been no documented cases of such fraud in the state.
Sen. Will Kraus, the Republican sponsor of the twin measures, declined to speak to msnbc about the need for the legislation.
Voters without the right ID could still potentially have their ballot counted if they sign an affidavit saying they're too poor to afford the documents needed to get an ID, or that they have a disability or a religious objection to ID.
But according to the ACLU of Missouri, that's far from adequate. The affidavit requirement "may deter people with lower income and educational attainment from voting," the group wrote in its testimony, noting: "Courts in voting rights cases have warned against the use of confusing or threatening affidavits that may deter voting or activities related to voting."