Republican governors are still on the hunt for technical schemes to thwart federal rules and block Syrian refugees from resettling in their states.
The new trend comes from states trying to avoid the process entirely. Kansas and New Jersey were the latest this week to formally withdraw from the federal refugee resettlement program, leaving non-profit groups on the hook to help refugees without the assistance of local governments.
But there's one crucial snag to that plan — it doesn't actually prevent Syrian refugees from being placed in states that don't want them.
RELATED: Immigration reform by 2017? Top Democrats seem slightly optimistic
The heavily politicized debate over Syrian refugees has raged for months, borne out of a heightened climate of fear caused by terror attacks both at home and abroad.
Governors have exhausted virtually all options to stonewall families fleeing the brutal civil war in Syria. They've tried everything from political grandstanding to issuing a flurry of executive orders to ban state agencies from accepting new refugee applicants — some officials have even taken the feds to the court.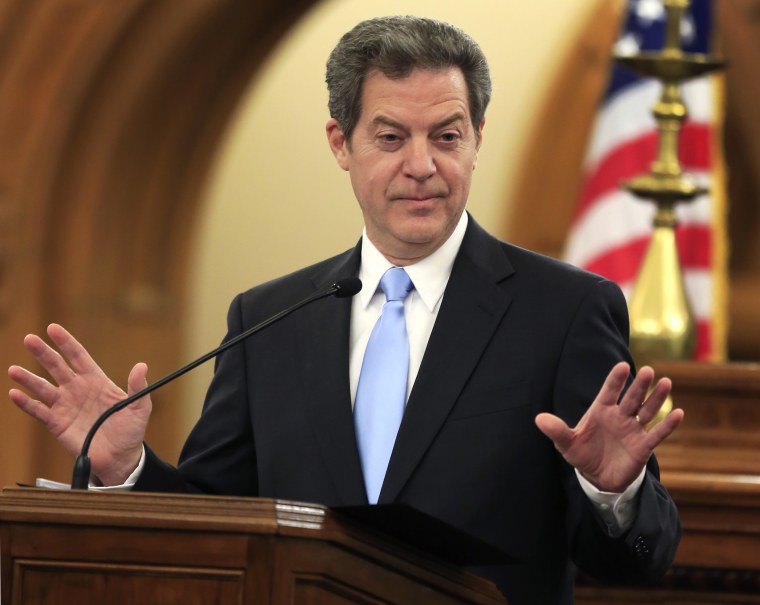 None of it has worked. Individual states have no power to dictate where precisely the federal government places new refugees for resettlement in the United States. But with Syrians being made the face of a deep partisan divide — representing philosophical differences over national security interests and international obligations — more issues are on the horizon.
In announcing the policy change this week, Kansas Gov. Sam Brownback expressed misgivings with the vetting process that new refugee applicants faced before being placed in the U.S.
After meeting with officials from the Department of State, Homeland Security and the National Counter-Terrorism Center — which each represent only a portion of the multi-layer screenings for refugees — Brownback said he was still not satisfied with the level of scrutiny in rooting out potential security risks.
"Because the federal government has failed to provide adequate assurances regarding refugees it is settling in Kansas, we have no option but to end our cooperation with and participation in the federal refugee resettlement program," Brownback said in a statement.
Kansas now joins 11 other states that have opted out of the program. And while the state governments will no longer participate in the process of finding new refugees homes, that doesn't mean they're not coming.
According to the Office of Refugee Resettlement, Kansas was given $2.2 million in federal grants last year to fund assistance, medical and employment programs aimed at helping refugees integrate into their communities. Now, that funding will be rerouted to non-profit organizations, like Catholic Charities of Northeast Kansas, in a transition process that could take as long as 120 days.
"Not all states participate in the administration of the refugee resettlement program, and refugee resettlement will continue in Kansas, coordinated by non-profit organizations," Mark Weber, a spokesperson for the Department of Health and Human Services, which oversees the refugee resettlement program, said in a statement.
While Syrians are at the center of the political crosswinds, other refugees from all over the world will be impacted by states withdrawing from the resettlement programs.
Out of an executive order issued in February, Kansas officials identified three main countries of concern for sponsoring or facilitating terrorism: Iran, Sudan and Syrian. But refugees from those countries by and large aren't making their way to Kansas in large numbers. According to ORR, the largest refugee populations placed in Kansas were originally from Burma, the Democratic Republic of Congo, and Iraq.
The disconnect points to the politicization placed specifically on Syrians, particularly in the midst of a bloody civil war that has claimed the lives and displaced millions of people. Thousands of Syrian refugees are expected to be resettled in the U.S. over the coming months, fulfilling the Obama administration's pledge to accept an additional 10,000 individuals this fiscal year. What's still unclear is whether states would have abandoned their anti-refugee crusade by the time the newcomers arrive.