Careening toward primary season, Donald Trump's presidential candidacy — and the xenophobia he's promoting — is driving a fault line through the center of the Republican Party. It's left the GOP to do more than just preserve its general election viability: It's a fight over the party's heart, soul and future. 
"Trump has essentially divided the GOP into two parties. One is essentially about limited government and the Constitution, and one is about Donald Trump," Republican strategist Rick Wilson told MSNBC on Tuesday. "This guy is an existential threat to the party."
Trump's call to prevent Muslims from coming into the U.S. reflects sentiments shared by much of the GOP's most hardcore voters: White, less educated, older voters who live outside of big cities, and earn less than other Republican voters, according to the latest CNN/ORC poll. And many in that base have expressed alarm at the cultural and demographic changes taking place across the country. Three quarters of Trump's supporters want to both deport undocumented immigrants from the U.S. and bar Syrian refugees fleeing a war-torn nation from settling here, according to ABC News/Washington Post polling. Just a third of most Republicans feel that way.
RELATED: Trump defends anti-Muslim plan amid condemnation from GOP
For years, party leaders have kept the most conservative, xenophobic and racist sentiments expressed by some base voters largely outside the mainstream political conversation. Trump's candidacy has singularly brought that faction back as a driving force in the Republican Party. Whether or not the real estate magnate becomes the nominee, his supporters are now out in the open — their world view more emboldened than ever before, cheering at rallies as the GOP presidential front-runner calls for religious discrimination.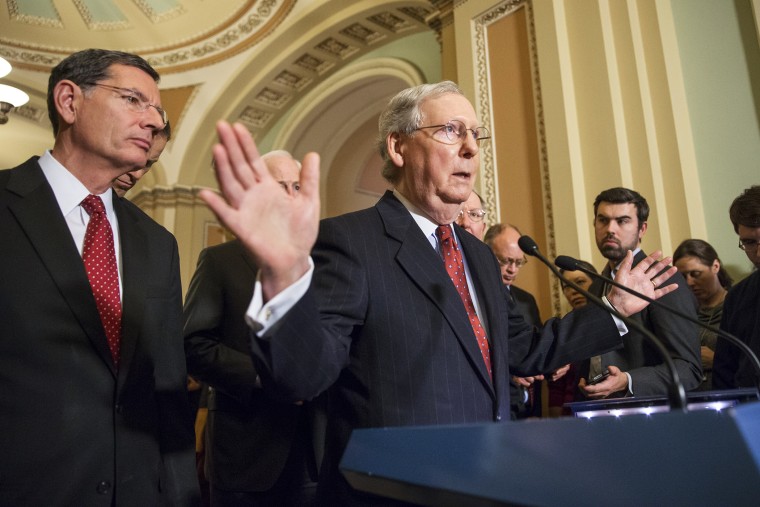 On Tuesday, the two halves of the party duked it out in statements.
Establishment Republican officials, past and present, and former party leaders pushed back strongly.
But candidates who share a similar base to Trump — most notably Texas Sen. Ted Cruz and Dr. Ben Carson — weren't willing to join their more centrist rivals in condemning Trump's statements. Cruz said he disagreed with the policy, but wouldn't criticize Trump personally. Carson proposed monitoring all immigrants. One low-polling candidate who has worked hard to appeal to working-class Republicans, Sen. Rick Santorum, called for barring Muslims from areas where some are "radicalized," like Syria.
Meanwhile, conservative radio hosts — long the power brokers of the far right — sided with Trump, as did many of his followers.
"It's all part of a negotiation. Trump supporters know — they're in on the gag, they're in on the deal," Rush Limbaugh said Tuesday, arguing that Trump's just playing hardball only to later negotiate. "The opener is the outrageous, the most outrageous demand you can make."
RELATED: Bush denounces Trump, but won't say if he'll support him
Strategists across the board said that only time – and votes – will show which way the party is going. But until then, Republican strategist John McLaughlin said, the Republican brand is really up for grabs.
"The Republican Party right now does not have a leader, and the Republican Party is thrashing as it's trying to pick a leader," he said, arguing that the next nominee will set the tone going forward.
For now, the party appears split: in an MSNBC/Telemundo/Marist poll taken before Trump's remark, 43% of Republicans say Trump is helping the GOP's image and 40% say he has hurt it.