BOULDER, Colorado -- After weeks of edging toward a head-on confrontation, Florida Sen. Marco Rubio finally faced off against his former mentor, Jeb Bush, in Wednesday's GOP presidential debate. Rubio won a tough exchange over missed votes, further deflating the former Florida governor's troubled campaign. 
The two rivals sparred over Rubio's missed Senate votes while several other candidates battled with the CNBC moderators during the 2-hour forum on Wednesday night. The Republican National Committee, which worked in partnership CNBC to host the debate, criticized the moderators, saying they were "extremely disappointing and did a disservice to their network, our candidates, and voters."
The primetime debate featured Donald Trump, Dr. Ben Carson, Rubio, Bush, Carly Fiorina, Texas Sen. Ted Cruz, former Arkansas Gov. Mike Huckabee, New Jersey Gov. Chris Christie, Ohio Gov. John Kasich, and Kentucky Sen. Rand Paul. 
The two-hour forum, focusing primarily on economic issues, came at a pivotal moment for several candidates.
Polls have begun to show Trump, the longtime front-runner in the field, falling behind Carson in Iowa and elsewhere, while Bush has slashed staff and tried to reassure nervous supporters he could improve his standing. Carson, a retired neurosurgeon, was under increased pressure to demonstrate fluency on policy issues. Kasich came to the debate a day after trashing most of his GOP opponents as unfit to lead – a theme he renewed early on in the debate.
Bush, who faces a stiff challenge from Rubio for support from donors and voters, accused Rubio early on in the debate of failing to do his job by regularly skipping Senate votes to campaign. 
"Marco, when you signed up for this, this was a six year term and you should be showing up for work," Bush said. "I mean, literally the Senate, what is it, like a French workweek? You get like three days where you have to show up?"
It was the first major clash between Bush and Rubio, his onetime political protégé in Florida. It did not go well for Bush.
Rubio came well prepared for attacks on his absence and had an energetic comeback ready for Bush and for critics like his hometown newspaper, the Sun Sentinel, which recently called on him to resign in an editorial. Rattling off a blizzard of statistics about missed votes from previous candidates from John Kerry to Barack Obama, he accused his detractors of singling him out to drag down his campaign.
"I don't remember you ever complaining about John McCain's vote record," Rubio said. "The only reason why you're doing it now is because we're running for the same position, and someone has convinced you that attacking me is going to help you." 
RELATED: Bush-Rubio feud boils over on debate stage
Despite telegraphing his attack on Rubio's voting record for days (a pro-Bush super PAC even created a parody twitter account devoted to Rubio's absenteeism), Bush seemed caught off guard by Rubio's slickly delivered response. It was a dangerous moment for a candidate whose campaign is under intense pressure to improve.
Bush faced another tough question shortly afterward on a remark he made that he would accept $10 in spending cuts for $1 in new revenue if it led to a deal with Democrats to close the deficit. He responded that the hypothetical was irrelevant now that Obama had raised taxes after winning re-election.
"You find a Democrat willing to cut spending 10 dollars, I'll give them a warm kiss," Bush said.
Bush at one point also seemed to suggest the government should regulate fantasy football -- a position that drew a snort of derision from Christie.
"Let people play. Who cares?" Christie said to big applause from the crowd in the auditorium.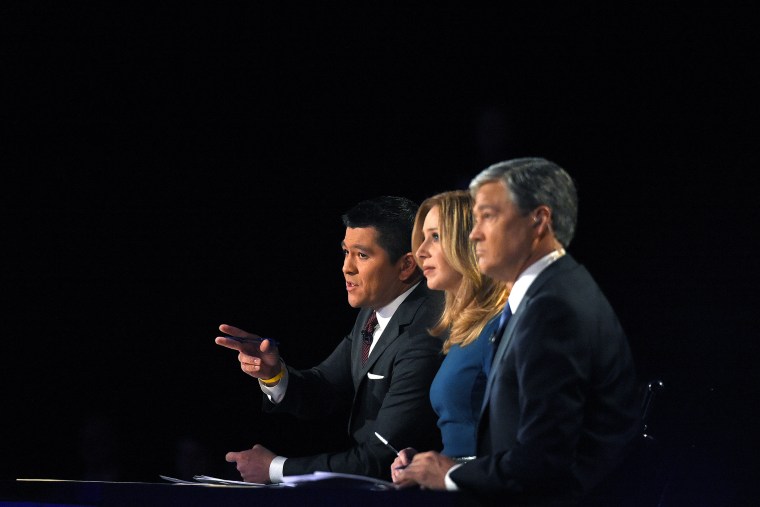 CNBC moderators quizzed the candidates on a range of economic issues, including immigration, entitlements, tax policy, health care, and the role of the Federal Reserve.
Carson, who has struggled with economic issues, muddled through a question on his proposal for a 10% flat tax modeled on Biblical tithing, saying his final proposal would actually end up at a higher rate. He pushed back against estimates that his plan would increase the deficit by trillions and said he would "get rid of all the deductions and all the loopholes" to balance it. That stance, if taken literally, could run into delicate territory -- other candidates have been careful to preserve (in some form) popular deductions for mortgage payments and health care and charitable giving in their own plans.
Carson later found his voice in a question about his position on the board of a company that supported gay rights, saying that "the Constitution protects everybody regardless of sexuality" and that his opposition to same sex marriage did not change that.
The most intense clash wasn't between any two candidates, however, but between the candidates and the media -- especially the moderators -- who they frequently bashed, sometimes to applause from the crowd.
Trump, asked about a quote decrying Rubio as "[Facebook founder] Mark Zuckerberg's personal senator" over his support for expanded visas for tech workers, flatly denied he said it or agreed with it and suggested he was misquoted in the press. The quote was from his own website.
He pivoted from that answer to a monologue on campaign finance reform, where he boasted that he was the only candidate to disavow any support from super PACs.
"Super PACs are a disaster, they're a scam, they cause dishonesty and we better get rid of them because they are causing a lot of bad decisions to be made by some very good people," he said.
Rubio followed up by twisting the topic to more friendly conservative territory -- more media bashing.
"Democrats have the ultimate super PAC: the mainstream media," he said. He accused the press of coddling Hillary Clinton after her appearance before the Benghazi Select Committee, which he said showed she was a "liar."
RELATED: GOP undercard candidates vie for votes at economy-themed debate
Carson was asked about his relationship with a nutritional supplement company that claimed it can cure autism and cancer and said reports on his involvement were "total propaganda" and inaccurate. But he also went on to say he delivered paid speeches for the company and that he thought they sold "a good product."
Cruz, who has made a show of not attacking his rivals, drew applause after accusing the moderators of trying to pit the candidates against each other.
"The questions that have been asked so far in this debate illustrate why the American people don't trust the media -- this is not a cage match," he said.
An undercard debate for lower polling candidates earlier in the evening included South Carolina Sen. Lindsey Graham, Louisiana Gov. Bobby Jindal, former New York Gov. George Pataki and former Pennsylvania Sen. Rick Santorum.