It's hard to find many Republicans willing to defend federal funding for Planned Parenthood, which survived a Senate vote on Monday that split almost perfectly along partisan lines. The party's base is up in arms over secretly-recorded videos of Planned Parenthood employees discussing compensation for fetal tissue donated to medical research. 
Where Republican presidential candidates are split, though, is whether women who terminate their pregnancies should be allowed to release the remains to researchers, with some wary of taking a clear position in interviews with msnbc. 
RELATED: Senate blocks bill to defund Planned Parenthood
Such donations are currently legal. Last year, the National Institutes of Health (NIH) funded around 150 studies using fetal tissue, focusing on HIV, lupus, eye diseases and cell development. But the Center for Medical Progress, the anti-abortion group behind the videos, accuses Planned Parenthood of trafficking in fetal remains for profit, a charge the group strongly denies, and of flouting regulations by taking special measures to preserve organs and body parts. More than just a narrow dispute over the law, however, the videos have sparked an emotional outcry on the right over the graphic descriptions and images of abortion procedures discussed in the tapes. GIven that response, it may come as a surprise that a number of prominent anti-abortion politicians, many of them party standard-bearers, have actually championed fetal tissue research over the years.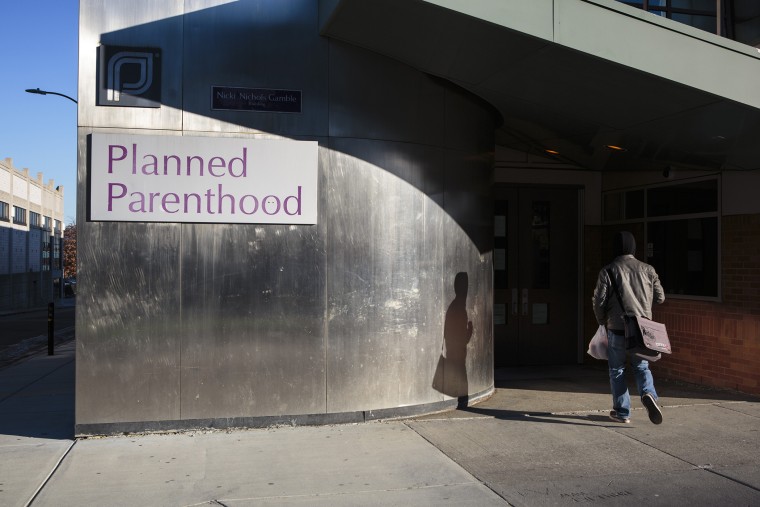 Former Sen. Bob Dole, then the Republican minority leader and later his party's nominee for president, declared during the 1992 debate that lifting a ban on such research "is the the true pro-life position." Around the same time, Sen. John McCain threw his support behind research on fetal tissue from abortions. "My abhorrence for the practice of abortion is unquestionable," McCain said. "Yet, my abhorrence for these diseases and the suffering they cause is just as strong." Fetal tissue research led to the polio vaccine, which may be one reason why Senate Majority Leader Mitch McConnell, who had polio as a child, also voted to lift the ban on it. 
Among Republicans now running for president, Sen. Rand Paul and Sen. Rick Santorum, who as a congressman voted against lifting the ban on fetal tissue research, have come out strongly against voluntary fetal tissue donation. 
"I've always said that we create a rationale where you're saying 'Oh, it's a good thing that's going to happen. You can have an abortion and you're going to help save lives,'" Santorum told msnbc after Thursday's Voters First Forum. "You're talking to a woman in a very vulnerable situation who's going through a tremendous amount of pain and going through a very difficult time and I think using that type of manipulation is actually cruel."
"Really, we probably shouldn't be doing research on these babies, because you would hate to think there is any kind of incentive for that to occur," Paul told The Washington Post. "Donating tissue when you die is an incredibly noble thing. I've worked with donated corneas to give people back vision. But this baby really didn't have a choice. Some people are horrified by the idea of having factories where you'd grow babies for their body parts. Will technology allow that? Technology probably almost already does allow that. But should a civilized society allow that? I don't think so."
Other candidates are less certain. Louisiana Gov. Bobby Jindal told msnbc, "I think what Planned Parenthood did was barbaric," but did not directly respond to a question on whether voluntary fetal tissue donation should be legal. Nor did Ohio Gov. John Kasich, who voted against legalizing donation in 1993. 
"We have a ban on anybody making a profit on all that and I'm glad the Senate has taken this up," Kasich said. 
Ben Carson, a retired neurosurgeon, said he was skeptical of the practice, but reluctant to call for its elimination.
"I don't know that it needs to be banned, but it should be made very clear to people that the types of things we're discovering by using fetal tissue can also be discovered by using non-fetal tissue. So it's not like it is the only source as they try to make it sound," Carson told msnbc.
That's not the medical consensus, however. Sheldon Miller, the scientific director of the intramural research program at the National Eye Institute, told The New York Times, "We couldn't get this information any other way." Other researchers also described fetal tissue as essential.
RELATED: What Planned Parenthood and the NRA have in common
Some prominent GOP lawmakers are also hesitant to address the research question. At a press conference last week in which top Republicans announced legislation to defund Planned Parenthood in response to the undercover videos, one reporter asked if Republicans opposed fetal tissue research itself. Sen. Joni Ernst of Iowa replied, "That is a separate issue." 
Lifting the ban, put in place in 1988, split Republicans back then as well. President George H. W. Bush claimed to find a middle ground by proposing a fetal tissue bank that would be made up only from involuntary miscarriages and ectopic pregnancies, and not elective abortions. Researchers publicly protested that their experience showed that there was not enough usable tissue without drawing from abortion clinics. 
In 1992, Rep. Fred Upton, who opposes abortion, personally lobbied President George H. W. Bush to lift the ban on fetal tissue research, in place since the Reagan administration. "We've written safeguards into the bill to assure that the research does not encourage more abortions and, in the long run, should reduce them," Upton said then. At the time, the focus was on the potential for transplanted fetal tissue, particularly for Parkinson's patients. "Being for fetal tissue transplantation is consistent with being for life," Upton said.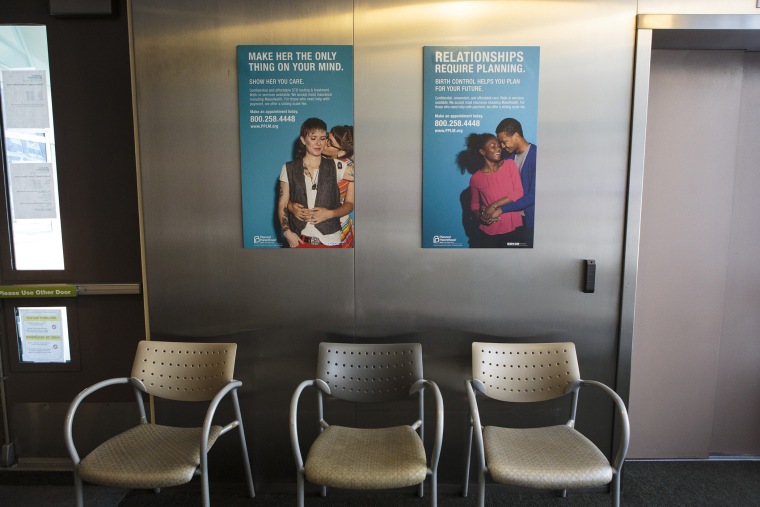 Upton is now leading one of two House investigations into whether Planned Parenthood has violated the regulations he helped put into place. On July 28, he published an op-ed in a local newspaper about the undercover recordings, in which he writes, "On viewing the video, the contents can't help but make you weep for the innocents who were sacrificed in such a cavalier manner for alleged profit." Msnbc reached out to Upton's office to clarify his position but did not hear back. 
Bush held firm in his opposition, though according to reports at the time, he wavered behind the scenes. "In the end, Mr. Bush decided to heed the advice his late political tactician, Lee Atwater, used to give that flip-flopping on abortion was far more dangerous than sticking to a seemingly unpopular stand," The New York Times reported in 1992. 
Bush vetoed the bill. "He will have to tell the people with Parkinson's disease and diabetes and Alzheimer's disease that it's more important to throw fetal tissue in the trash than it is to use it for saving their lives," then-Rep. Henry Waxman, a Democrat, said at the time. But after Bill Clinton won the presidency later that year, the bill was the first to be introduced in the Senate, and Clinton signed it into law in June 1993.
That law contained many of the regulations Planned Parenthood stands accused of violating. Planned Parenthood has said that it is only compensated for costs and does not profit off fetal tissue donation, and its president, Cecile Richards, has denied violating the regulations that forbid changing procedures for the purpose of medical research. The doctors recorded by the Center for Medical Progress do show an openness to discussing doing so. 
As fetal tissue donation after abortion finds itself in the cross hairs again, Richards has asked the NIH to convene a blue-ribbon panel to examine the issue more broadly. "Planned Parenthood is currently under attack for violating the 1993 law on fetal tissue research, when in fact we go above and beyond its requirements," she wrote. "While Planned Parenthood has been targeted to make our organization stand in for the field of fetal tissue research, in fact our role is limited. Planned Parenthood affiliates operate in all 50 states, but at this time affiliates in fewer than five states help women donate tissue."