More than 30,000 organizations worldwide will take to social media on December 1 to partake in #GivingTuesday's 24-hour campaign to ignite the spirit of giving across the globe.
Drawing on the power of social media and community collaboration to spread its message of generosity worldwide, #GivingTuesday inspires individuals, families, communities, nonprofits, government organizations and big companies to get involved and give back – whether through online donations, charity work, spreading the word, small acts of kindness or simply celebrating and encouraging the spirit of giving.
Before its launch in 2012, the #GivingTuesday campaign started as a small idea at the 92nd Street Y in New York City, where building community spirit has been a mission for the cultural center since it opened its doors in 1874.
By 2014, the movement had developed into a global day of giving back, with individuals and organizations across 68 different countries joining hands in the name of kindness and service – leading to an estimated 470% increase in online donations on the Tuesday after Thanksgiving.
This year, the 92nd Street Y partnered with Microsoft and Blackbaud to highlight the impact of #GivingTuesday in real-time using statistics to be featured in an online dashboard. The efforts and results of #GivingTuesday will be displayed, including the amount of money raised, the number of gifts given and an interactive map of global giving, so the world can see the movement's staggering reach.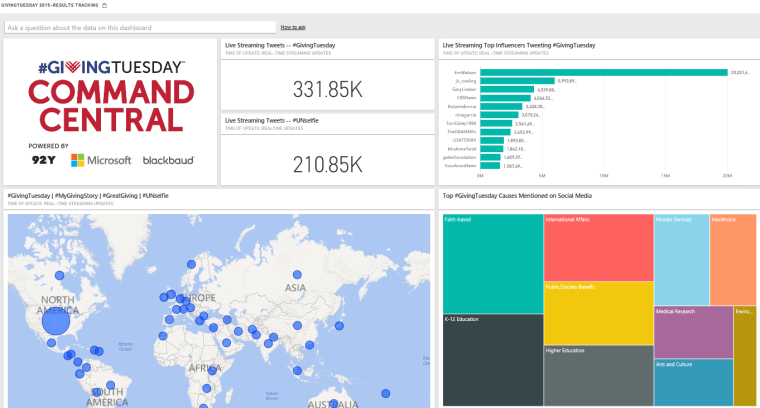 MSNBC is celebrating #GivingTuesday by encouraging its audience members and their families, communities and organizations to share their stories of giving on Twitter and Instagram as part of its social campaign to contribute to and encourage the spirit of giving around the world.
You can follow the #GivingTuesday movement on Twitter and Facebook, and find #GivingTuesday on Snapchat on December 1 – where you'll see curated Snapchat stories of people and communities sharing their acts of kindness. Visit msnbc.com/givingtuesday and share what you will give with @MSNBC on Twitter, Facebook and Instagram using #GivingTuesday.
Learn more at GivingTuesday.org.