JACKSON, Georgia — A death row inmate who insisted he was innocent shook his head while looking at Georgia officials before his death sentence was carried out early Wednesday.
Prison Warden Bruce Chatman announced that the time of death for Brian Keith Terrell, 47, was 12:52 a.m. Terrell was convicted of malice murder in the June 1992 killing of 70-year-old John Watson of Covington, a community some 35 miles east of Atlanta.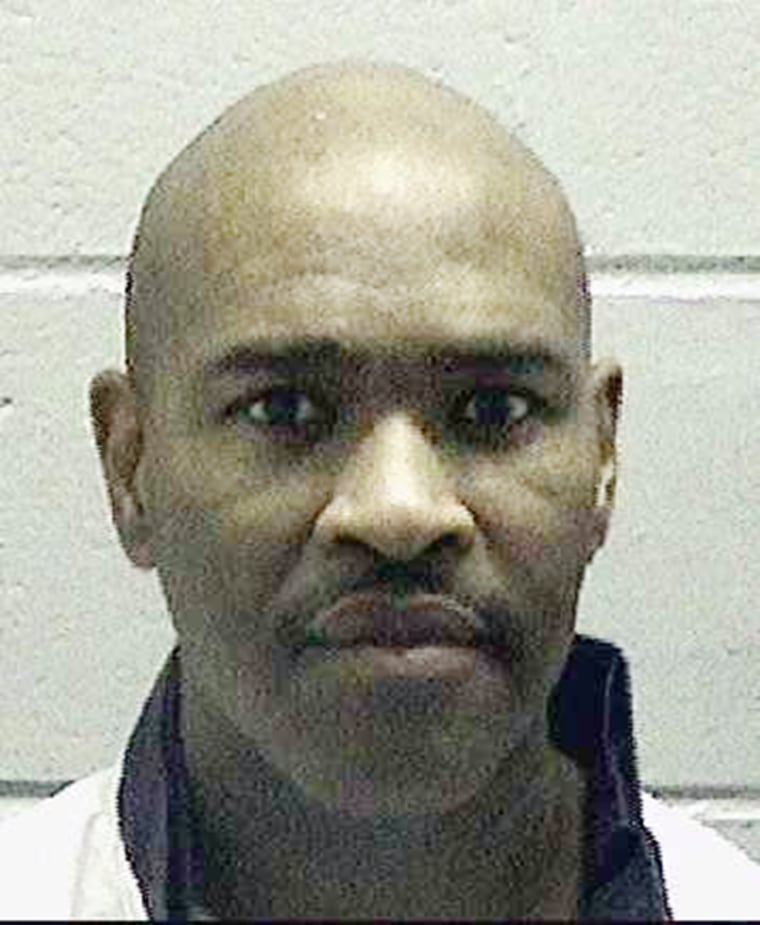 Terrell stole checks belonging to Watson, a friend of his mother's, but the older man said he would not press charges if Terrell paid him back. But, prosecutors said, Terrell killed Watson instead.
When Chatman asked if he wanted to record a final statement, Terrell said, "No, sir." But he did accept a final prayer.
Terrell lifted his head after the prayer and shook it while looking out at the front row where Newton County Sheriff Ezell Brown and other state witnesses were seated.
The warden left the execution chamber at 12:29 a.m. Records from previous executions show the lethal drug generally starts flowing within a minute or two after the warden's exit.
Terrell lifted his head again and looked out at the front row twice after the warden left and also shook his head back and forth multiple times while laying on the gurney.
Four news reporters witnessed the execution, but only a reporter from the Newton Citizen newspaper was allowed to be in the room when Terrell was strapped to the gurney and IV lines were placed. She said nurses appeared to have trouble placing the needle in his left arm, and the process took about an hour, which is longer than usual.
Terrell was the fifth inmate executed this year in Georgia. That's the most executions the state has carried out in a calendar year since 1987, which also saw five executions, according to a database kept by the Death Penalty Information Center, which opposes executions and tracks the issue.
RELATED: Georgia executes man convicted in 1994 slaying
Terrell was on parole in 1992 when he stole 10 of Watson's checks and signed his name on some, prosecutors said. Watson told police about the theft but asked them not to pursue charges if most of the money was returned. The day he was to return the money, according to the prosecutors, Terrell had his cousin drive him to Watson's house where he shot Watson multiple times and then severely beat him.
The Georgia Board of Pardons and Paroles, which is the only entity authorized to commute a death sentence, declined Monday to grant Terrell clemency.
State and federal courts on Tuesday rejected legal challenges filed by Terrell's lawyers, clearing the way for his execution. The U.S. Supreme Court, without explanation, denied a request for a stay about four hours after the 7 p.m. scheduled execution time.
Terrell's lawyers had said their client was innocent. They argued that no physical evidence connected Terrell to the killing and that prosecutors used false and misleading testimony to secure the conviction that drew the death penalty.
Terrell's lawyers also challenged the drug the state planned to use for his execution, saying the state could not guarantee the drug's safety and effectiveness. The state has not adequately determined what caused a problem with the drug it planned to use for an execution earlier this year which means it could happen again and could cause excruciating pain for their client, they argued.
Corrections officials stopped the scheduled execution of Kelly Gissendaner on March 2 after they noticed solid chunks had formed in the normally clear compounded pentobarbital solution. They temporarily suspended all executions — including Terrell's which was originally set for March 10 — to allow time for an analysis of the drug.
An expert consulted by the state concluded that the most likely cause of the problem was that the drug was shipped and stored at a temperature that was too cold. The state has taken precautions to ensure the problem won't happen again and would not proceed with an execution if a problem with the drug was detected, state lawyers said.
Terrell's first trial in Watson's death ended in a mistrial after jurors couldn't agree on his guilt. He was convicted and sentenced to death in a second trial, but the conviction was overturned by the Georgia Supreme Court because of an error during jury selection. In a third trial, Terrell was again convicted and sentenced to death.