COLUMBIA, South Carolina — Former President George W. Bush will make his first public appearance on behalf of his brother's presidential campaign on Monday in South Carolina.
"I'm a Bush and proud of it," Jeb Bush has taken to saying during speeches.
The appearance comes just a week after the family's matriarch, former First Lady Barbara Bush, hit the campaign trail in New Hampshire with her son and appeared in two joint national interviews.
The campaign confirmed to NBC News that the brothers will appear together in North Charleston, S.C. Monday night.
RELATED: George W. Bush cuts radio ad for brother's SC campaign
For months the former president's role had been only behind closed doors, raising money and courting support. But he recently appeared in a television ad produced by the super PAC backing his brother's campaign and a radio ad produced by the campaign.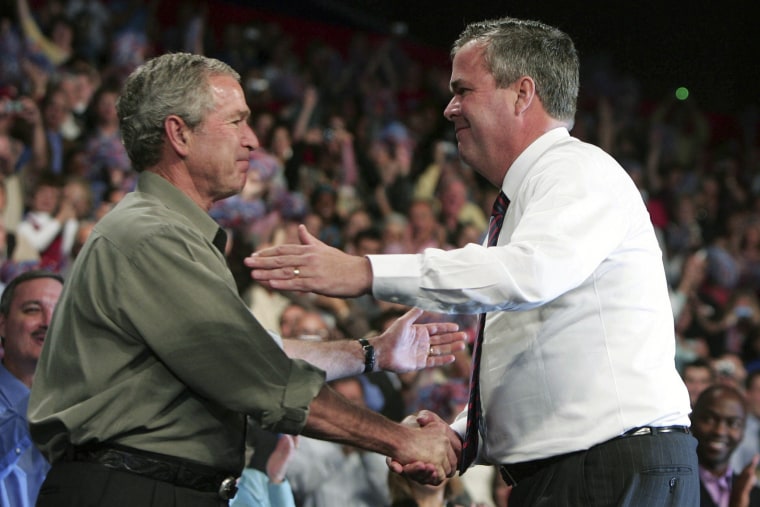 The candidate's older brother is also playing a more prominent role in Jeb Bush's stump speech beyond simply gushing with pride for his lineage. The candidate likes to say he's seen presidencies "done right" by having a close view to his dad and brother and has begun using an anecdote about the need to be prepared and steady in the Oval Office for when unexpected tragedy arises - chiefly events like the September 11th attacks.
"You want someone there who has a steady hand, who has a backbone and knows how to lead, who can comfort people when they feel scared - who can do kinda like my brother did after 9/11," he said. "The question is who do you want to sit behind the big desk."
Bush's campaign has also sent fundraising emails under George W.'s name and raffled off autographed baseballs.
In the radio ad that began airing this week in South Carolina, the former president says, "We live in troubled times with the military deployed around the world. We need a strong leader with experience, ideas and resolve."
"There's no doubt in my mind that Jeb Bush will be a great commander-in-chief for our military," he vouches.
The candidate frequently says his brother is the most popular Republican in the country and voters at events ask about the Bush family on a daily basis, despite some concern over Jeb being the third Bush to occupy the White House.
Monday's appearance marks George W's first foray back into public campaigning since leaving the White House in 2009. 
This article first appeared on NBCNews.com.